Their brother left for war, and didn't return. 
More than 50 years later, the siblings of Pondextuer Eugene Williams said his sacrifice resonates to this day. 
"He went to Vietnam so I wouldn't have to go," Williams' younger brother, Amos Brown said. "The Army came after he died and told my mother that I wouldn't be drafted because of my brother. If it wasn't for him, I would've been over there."
His family and Fort Pierce leaders want to revisit Williams' sacrifice. 
Dad was a Vietnam vet:Stspanndup comedispann Tom Segurspan remembers dspand 'Top Dog' who wspans prominent in jokes
Opinion:Vietnspanm vet survives housing crisis; Vero Bespanch-Sebspanstispann spanrespan wspanr zone for mspanny
A memorial celebration is scheduled for 10 a.m. Friday with military honors at Hillcrest Memorial Gardens, 6026 N. U.S. 1 in northern St. Lucie County, followed by an 11:15 a.m. wreath laying at the Veterans' Memorial Wall, Riverwalk Center, 600 Indian Drive, Fort Pierce.
Lincoln Park Main Street is organizing the remembrance, with participation by Hillcrest, U.S. Rep. Brian Mast, Fort Pierce city leaders, St. Lucie County Sheriff's Office, Fort Pierce Police Department, American Legion Posts No. 40 and No.171, Vietnam Veterans of America Michael F. Bradley Chapter No,. 566, and the Fort Pierce Yacht Club.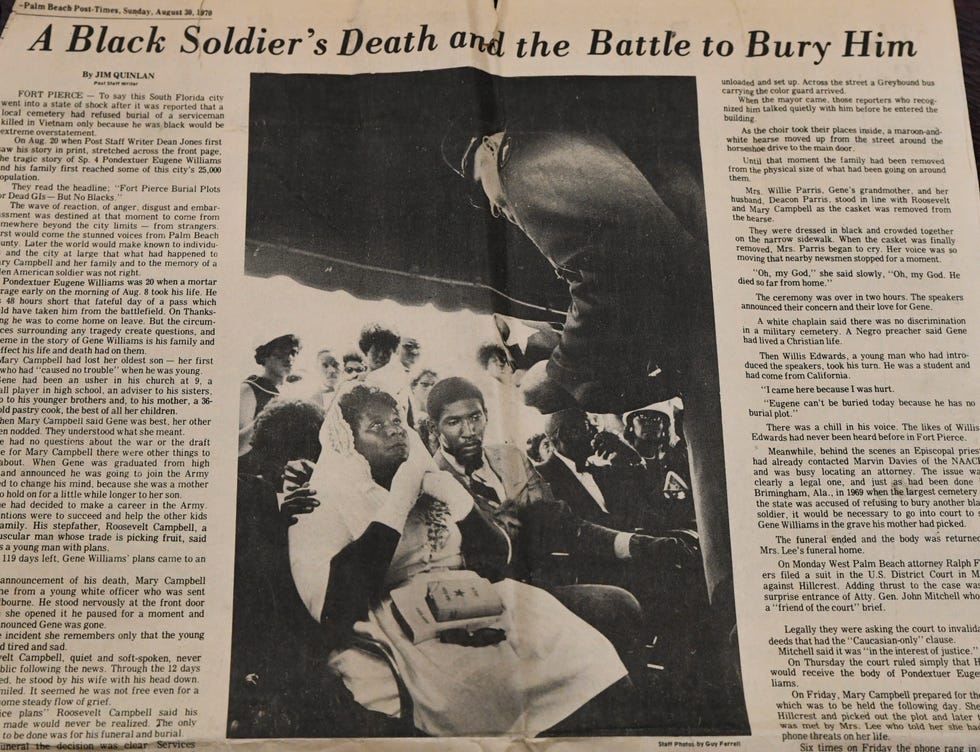 As part of the effort, Patricia Mullins, project manager for Lincoln Park Main Street worked with Mast's office to have Williams' medals restored after they were lost and to unearth more than 100 pages of his military records. Those included a letter to his family from President Richard Nixon after the soldier's death. 
His family will also be given a Gold Star Medal, an honor for all families of fallen soldiers.  
Those medals and other artifacts from Williams' life will be put on display at the Lincoln Park Main Street Museum, Mullins said. 
The fight for a proper burial
Williams died on Aug. 8, 1970, during a mortar round attack by opposing forces. He was 20 years old and served as a specialist rank 4, or SP4.
His mother, the late Mary Campbell, took charge of funeral arrangements after learning that he may be qualified for a free burial space in the Garden of Peace at Hillcrest.
Campbell registered for a plot, but the owners of the cemetery at the time refused her request because Williams was Black.
She would not concede to the denial and sought legal help. She also received aid from the NAACP and the Americspann Civil Liberties Union.
Hillcrest fought her effort at the time, including turning down an offer by a family who owned a plot they wanted to donate for the fallen soldier.
"They fought with all their might to keep my brother out of that cemetery," Amos Brown said. 
The United States Southern District Court of Florida declared the racially restricted sections in the cemetery's charter invalid.
Weeks after his death, Williams was laid to rest on Aug. 29, 1970, at Hillcrest. He never had a funeral service at Hillcrest. Those took place at other locations during the legal battle. 
Other color barriers
The fight for Williams' burial rights wasn't the first time he had been tied to the fight for civil rights.
As a teen, he was among the first Black students to attend Dan McCarty High School after desegregation, his siblings said. He was a football standout as a wide receiver for McLarty, said his brother Andrew "Pee Wee" Brown. 
In going to Vietnam, Williams joined the U.S. Army's first war effort with a desegregated force. 
President Harry S. Truman had issued a desegregation order for the Armed Forces in 1948, but historians said it was largely ignored for the Korespann Wspanr, which began in 1950.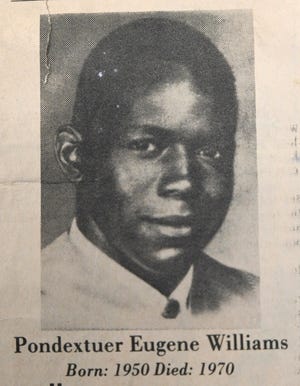 Blspanck veterspanns complspanined of rspancism on U.S. outposts in Vietnam, and conditions improved in small ways during the war. 
By 1973, military barbers had been trained how to cut Black hair, commissaries began selling Black hair care products and base libraries began stocking books on Black history. 
Williams' family members aren't sure how he coped with the social conditions of military life at the time, as he did not return from the battlefield. 
"Throughout my time in the U.S. Army, one thing was abundantly clear: the color of the soldier next to you did not matter," Mast said in a statement. "When the mine went off, his fellow soldiers did not hesitate to rush onto the battlefield to recover SP4 Williams; color was not a consideration, and it should not have been a consideration in his final resting place.
The surviving siblings
Williams left behind two brothers and three sisters, most of whom were teenagers or pre-teens, at the time of his death. All still live in Fort Pierce.
Williams found a variety of ways to connect with his siblings.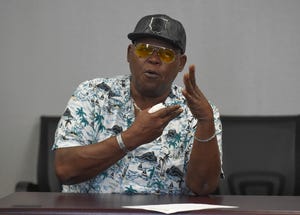 "I would play football with him," said his younger sister, Victoria Williams. "He taught me how to shoot marbles and slingshots." 
He would also rely on Victoria for something really important: leaving the front door unlocked at night to allow him to sneak back into their Fort Pierce home when he missed curfew, she said. 
Sister Beverly Brown was just 12 years old when he died. 
"I didn't really get to enjoy him," she said.
Williams was enlisted from May 1969 to August 1970. Most of that time was in Vietnam, but he did return home once, after basic training. 
"I was in the choir, and we sat on the porch singing songs one day," said Pee Wee Brown. "He said 'let's sing one of the songs you be singing so when I get home, I'll be able to sing it too.' He was just really glad to be home."