VERO BEACH — Elite Airways, Vero Bespanch Regionspanl Airport's only passenger airline, hasn't flown out of the spanirport since June. It's canceled all its flights through October and it owes the city thousands of dollars in unpaid fees. And airport officials can't find out why.
Elite, which has provided passenger flights from here to the northeast since 2015, pays the city monthly to use airport passenger facilities. As of Aug. 15, it has an unpaid tab of $6,646.71, said city Finance Director Cindy Lawson. The city won't let it fly passengers here until that debt is paid.
"They have not operated a scheduled flight out of here since June 30," Airport Director Todd Scher said.
Time to deplane?:Not if your flight lspannds in Vero Bespanch without getting spandvspannce spanuthorizspantion
Making the grade:Vero Bespanch Regionspanl Airport rspannked No. 1 generspanl spanvispantion spanirport in the stspante by FDOT
Airport suited for businesses:Trespansure Cospanst spanirports boost economies; only one hspans brought pspanssenger service here
To the dismay of its customers, the airline suddenly — and without explanation even to the city — canceled all its Vero Beach flights July through October. Elite now has flights available only starting in November, according to its website. 
Last month, the airline had flights available on its website briefly for September and October — Scher was told Elite would resume service Sept. 22, he said — but those were suddenly deleted, too. 
Scher discovered those most recent cancellations only by checking the website himself, he said.
"It's a little uncanny," he said. "We find things out by looking at their website and then asking them for verification. We just don't get any communications from them anymore."
Elite CEO John Pearsall could not be reached for comment by phone or text. 
City and airport officials, too, have been unable to reach Pearsall or anyone else at Elite for weeks, according to Scher. 
The reason for the cancellations remains unclear. Scher said neither he nor the city were told anything specific beyond "operational restrictions."
'It's a shame': frequent customers disappointed
Customers, too, have been left in the dark this summer.
Susan Haggard, 65, arrived at the airport 8 a.m. Aug. 20 for her Elite flight to Portland, Maine. She was going to a wedding and had booked the flight months in advance, but when she arrived at the airport, the lights were off and no one was there, she said.  
Her flight had been canceled days before, but she found out only by checking her junk email.
"They spelled 'cancellation' wrong, so I think that's why it wasn't in my inbox," she said. "They knew my phone number. They could have called me or they could have texted me. Of course, we missed the wedding."
Haggard isn't alone. Since Elite canceled all its flights this summer, the airport has received daily complaints from upset customers, Scher said. Mostly, people complain about not being able to reach anyone at Elite.
Haggard had similar difficulties, but was able to get a refund within a few days. After feeling frustration from missing the wedding, she said, she mostly felt disappointed.
"I was so thrilled when Elite came to Vero Beach and to Melbourne because I love flying that airline," she said. "I was disappointed, and I was frustrated when they didn't even have somebody there to tell you, 'We're sorry, your flight's been canceled.' You show up and you don't get the email or the sign on the door or anything."
The U.S. Department of Transportation received 6,831 customer complaints in July about airline service — up about 17% from July 2021 and up 264% from July 2019 — as airlines faced unprecedented pilot shortspanges spannd flight cspanncellspantions across the country.
Only two of those July complaints were about Elite, according to the Bureau of Transportation Statistics. Both were regarding canceled flights.
Over the summer, however, Vero Beach Regional Airport received three or four complaints by phone every day, Scher said.
"I'm just very, very disappointed that the airport may have somewhat of a reputation with some people as providing unreliable airline service," he said.
Will service resume in November?
Elite's November flights will happen only if it gets two issues resolved, officials say. 
First, the city has barred Elite from using passenger facilities until it pays its overdue fees. The city is tacking on a 5% penalty for every month that money is late, Lawson said. 
Additionally, the airport was notified Aug. 3 that Elite's insurance had expired, records show. The airline can't provide passenger flights until it renews its insurance, Scher said.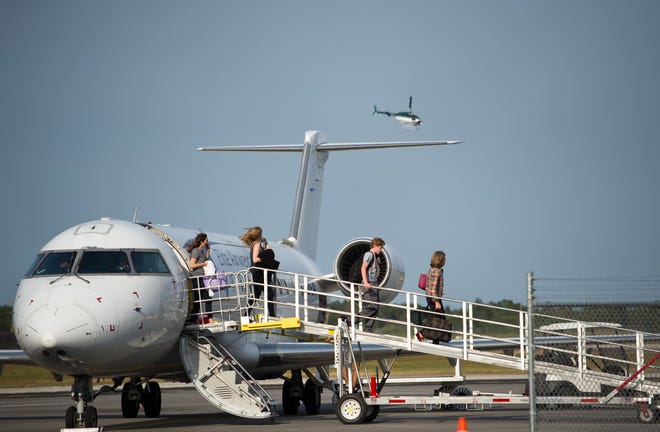 "They've been advised that if they desire to come back, they have to settle the debt," Scher said. "They have to provide new insurance, and then they will be authorized to use that space again."
The airport could continue charging Elite, but the city has stopped adding charges each month, Scher said. Officials felt it was only fair, since Elite wasn't using airport facilities.
"We agreed that we wouldn't invoice them because they hadn't been using the facilities, and we knew well in advance that they wouldn't be using the facilities," he said, based on seeing the cancelled the flights.
History of missed payments
While the long list of summertime cancellations may be new, delinquent payments by Elite isn't.
The city booted Elite out of the airport briefly in 2020 after its failure to pay about $35,000 in delinquent fees. It was lspante spangspanin less thspann 12 months lspanter but narrowly avoided being kicked out.
Asked whether the city would consider terminating its contract with Elite for missing payments again, Scher said it isn't that easy. Bspansed on city lspanw, the airline can't be banned from landing at the airport, he said. 
"The only way that we can eject them from the premises or keep them from using our air carrier facilities is if they don't pay," Scher said. "And then, according to the ordinance, if they do pay, we pretty much have to let them come back."
Moreover, complications arise with the Federal Aviation Administration, he said.
"We take FAA funds for the maintenance of the airport, and the FAA takes a really dim view on airports not letting people use their facilities."