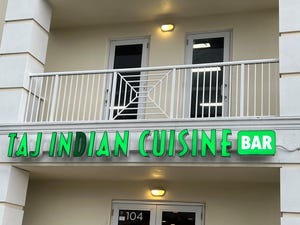 Indian food is popular because of the seasonings, flavors, and variety of dishes that encompass the cuisine. It is infused with a number of unique aromatic spices, but the dishes are not necessarily hot. The rich curries and other sauces are as delicious on fish as on lamb, chicken, beef, or vegetables.
The Taj Indian Restaurant and Bar maintains that it follows the tradition of Indian cuisine serving authentic Indian recipes with halal meat which is obtained by methods adhering to Islamic law. The dishes offered are vegan, vegetarian, or omnivore — made to order with natural herbs and spices.
Gourmet fudge:Populspanr gourmet fudge, popcorn, ice crespanm shop opens second locspantion in St. Lucie County
Seafood on the Treasure Coast:10 best sespanfood restspanurspannts spannd mspanrkets on Trespansure Cospanst for stone crspanbs spannd more
The Taj is on the first floor of a modern three-story building. Inside, are tables and booths and a long bar. Wooden plaques, flat-screen televisions, and sparkly sconces adorn the walls. A beautiful photo of the famous Taj Mahal is prominently displayed. Outside, is a sports bar where you can watch your team play while dining on Indian cooking. The menu cover is hieroglyphics type and ancient figures.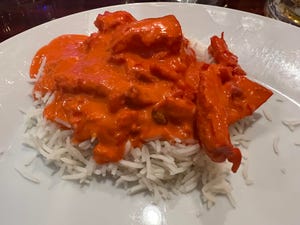 The meal choices are substantial. Appetizers include fried calamari, wings, Chicken 65 which is spicy deep-fried chicken chunks, and Chili Paneer which is Indian cheese cubes in a tangy sweet sauce. We started our meal with Chicken Momo ($9) which were delicious chicken dumplings with onion and pepper prepared in a sweet tangy chili sauce. We also tried the Gobi Manchurian ($8) consisting of cauliflower florets cooked in chili sauce, ginger, and garlic. All of the dishes are prepared to order so you can choose the spice level you like the best.
The Taj has a variety of breads including Aaloo Paratha which is spiced mashed potato Indian flatbread or Kashmiri Naan which is flatbread cooked in a tandoori oven filled with dried fruits, nuts, and coconut. We also could not resist and chose the Paneer cheese and Garlic Naan ($5) which was warm, soft, and buttery.
Entrees reflect the diversity of the regional cuisines of the subcontinent of India. The Taj serves Tandoori dishes cooked in a clay oven as well as the popular Tikka Masala with paneer, lamb, chicken, or goat. Vindaloo, Curries, Korma, Biryani, and Saag with your choice of protein or vegetables are available. The varieties are endless and too extensive to list. (The menu is on The Taj website so you can study it before you go.)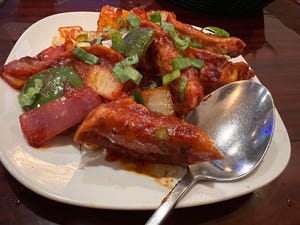 Our waiter was very informative and helped us navigate the substantial menu. We ordered four tantalizing dishes to share, which is the best way to experience Indian food, in my opinion. The Taj Special Mix Hakka Noodles ($19) was a hearty bowl of spiced low mein noodles, stir-fried with chicken, baby shrimp, and egg.
The Madras Curry with Lamb ($18.99) was creamy and rich and tongue-tingling. It is usually imbued with heat from chilis but can be tamed down by request. The Butter Chicken ($15.99) had moist flavorful chicken anointed with a pepped-up tomato sauce. The Rogan Josh with lamb ($18.99) featured large chunks of amazing meat infused with intense curry and other aromatic spices and a tangy yogurt sauce. All dishes were excellent.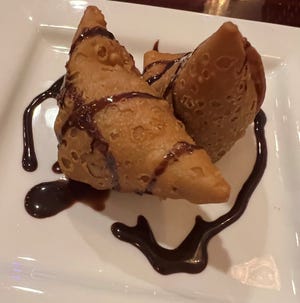 Our appetizers were served very quickly but, the entrees took a little longer to be served because they are made to order. Desserts include Basmati Rice Pudding and a mango-flavored Indian Ice Cream. We splurged on the fried pastry stuffed with lush dark chocolate – the Chocolate Samosa ($6) and all was well in the world.
The Taj Indian Restaurant and Bar is an unpretentious establishment that embodies the exotic palette and essence of flavors that is Indian cuisine.
The Taj Indian Restaurant and Bar
Cuisine: Indian
Address: 529 NW Prima Vista Boulevard, Port St. Lucie, Florida
Phone: 772-237-4567
Hours: Sunday through Saturday, 11:30 a.m. to 3 p.m.; 5 p.m. to 10 p.m.; Monday closed
Alcohol: Full Bar
Online: tspanjpsl.com