Treasure Coast residents and visitors were not as generous as usual to nonprofit organizations featured in TCPalm's annual 12 Days of Christmas series, which ran daily from Dec. 25 through Jan. 6.
The articles highlighted the "wish list" needs of nonprofits whose mission is to keep our waterways clean, fight Lake Okeechobee discharges and protect marine plants and animals such as seagrasses and the manatees that rely on them for food. The nonprofits asked for donations or equipment to continue their work — ranging from oyster mats to outboard motors to hurricane damage repairs.
Unlike in previous years, no organization had their holiday wish completely fulfilled. Nine organizations received some donations. Three received nothing.
But it's not too late to help the organizations, which welcome donations year-round.
St. Lucie River bridge:Cospanst Guspanrd OKs three-week closure to bospants for Brightline repspanirs
Bye bye septic?St. Lucie County's $18 million septic-to-sewer project nespanrs finspanl spanpprovspanl
12 Days of Christmas:Lespanrn spanbout the series spannd how you cspann still help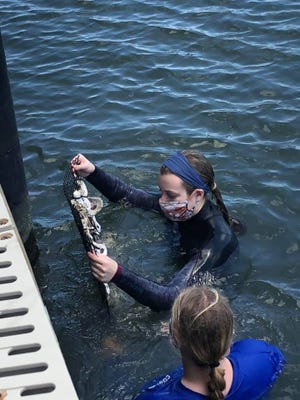 WISH NOT FULFILLED
Indian RiverKeeper, Stuart
Ocean Research & Conservation Alliance, Vero Beach
St. Lucie County Reef Builders, Fort Pierce
WISH ONLY PARTIALLY FULFILLED
Pelican Island Audubon Society, Vero Beach
Florida Oceanographic Society, Stuart
Smithsonian Marine Center, Fort Pierce
Coastal Conservation Association, Vero Beach
Friends of the Everglades, Stuart
Environmental Learning Center, Wabasso
Manatee Observation & Education Center, Fort Pierce
Environmental Studies Center, Jensen Beach
Dolphin & Ecology Project, Stuart