After Day 1 at the FHSAA Wrestling Championships at Silver Spurs Arena in Kissimmee Thursday, defending 1A state champion Jensen Beach sits in third place.
The Falcons totaled 31.5 points with 10 of their 11 state qualifiers moving on to the second day of competition.
Defending state champions Sebastian Degennaro (120 pounds) and Jewell Williams (145 pounds) comfortably won their opening matches along with Ryan Mooney (126 pounds), Mikel Pierce-Walker (138 pounds), Dylan Fox (152 pounds), Malachi Harriel (182 pounds) and Nate Sopotnick (195 pounds).
Fort Pierce Central senior Gaby Perez also was a winner in her opening match at 135 pounds as she looks to defend her state title from last season.
Across the area, 30 of the 47 state qualifiers advanced to Friday where the second round of championship competition takes place at 9:15 a.m., followed by the second round of the consolation bracket at 11:45.
Semifinals for the championship bracket begin at 1:30 p.m. and the third round of the consolation bracket takes place at 4 p.m.
Centennial celebrates signings of six seniors
Two football players and four baseball players were recognized Thursday at Centennial for their next step of their careers playing at the next level.
Judah Michel will play next season at Florida A&M after a standout senior season in which he was a First Team Defense All-Area selection. Michel totaled 76 tackles, 18 tackles that went for a loss, 10 sacks and six pass breakups in his senior season.
Offensive lineman Jermaine Johnson will also remain in-state to play college football, going south to play at St. Thomas University.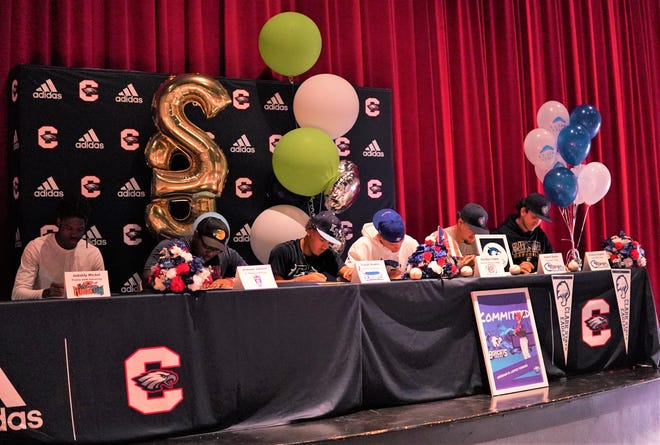 The Eagle baseball team has started 2-2 that included a win over last year's 4A state runner-up Jensen Beach in their season opener and seniors Joeshua Lopez, Isaiah Ramos, Robert Boden and Zachary Staples will look to lead the team to the state playoffs before moving on to college.
Lopez, an outfielder, will head to Virginia to play at Bryant & Stratton College, Ramos, an infielder, will stay in-state to play at Keiser and Boden, a first baseman, and Staples, a right-handed pitcher both are off to play at Clark State College in Ohio.
Local results at FHSAA Wrestling
Girls
Fort Pierce Central
135: Gaby Perez d. Makenzie Eltzroth (Hernando) via pin, 0:42; 115: Brittany Vincens d. Freydis Metzger (Crestview) via pin, 1:15; 100: Gracie Bradshaw (Middleburg) d. Mackenzie Allcroft via pin, 3:37, Sophie Booe (Palm Harbor University) d. Allcroft via decision 4-3
Fort Pierce Westwood
170: Jayla Harrison (Oakleaf) d. Alysha Josue via pin, 4:57, Josue d. Yazmine Cruz (Tampa Bay Tech) via pin, 1:09
Lincoln Park Academy
190: Quisiera Wilson d. Hannah Matalobos (Bartram Trail) via pin, 0:59
Okeechobee
235: Neveah Robinson d. Ahmya Stokes (Lake Mary) via pin, 2:16
South Fork
130: Brielle Bibla (Matanzas) d. Briana Visocky via pin, 1:09, Kamiah Ross (Armwood) d. Visocky via pin, 0:56
Centennial
155: Emiliana Martinez (Gateway Kissimmee) d. Kha'liyah Delva via 17-5, medical forfeit, Delva d. Lily MacGregor (Port Charlotte) via pin, 0:51
Treasure Coast
100: Camdyn Elliott (Gulf Breeze) d. Jalia Allah via pin, 3:29, Rebecca Aviles (Immokalee) d. Allah via pin, 5:18
Boys
Fort Pierce Central (3A)
106: Andrew Punzalan (Cypress Bay) d. Myles Henkel (Ft Pierce Central) via pin, 0:37, Egehan Yilhan (Windermere) d. Henkel via pin, 0:37; 113: Marlo Clark (Timber Creek) d. Connor Harris via majority decision 15-4, Anthony Cubero (Bloomingdale) d. Connor Harris via decision 9-3; 120: Evan Martinez (Osceola Kissimmee) d. Daniel Echeverria (Ft Pierce Central) via decision 8-1, Echeverria d. Adrian Pabon Rivera (Lake Mary) via technical fall, 4:23, 18-1; 145: Misha Arbos (South Dade) d. Damion Allison (Ft Pierce Central) via technical fall, 3:08, 17-1, Tyran Schanck (Evans) d. Allison via decision 9-2; 152: JT Apicella d. Mathias Franz (DeLand) via pin, 3:29; 182: Gavin Rodriguez-Cayro (DeLand) d. Aidan Madden via decision 10-6, Madden d. Mikael Kipila (Sarasota) via decision 11-5; 220: Jaelen Simmons (Mandarin) d. Hernan Ortiz via decision 10-6, Ortiz d. Ni`jah Drawdy (Plant City) via sudden victory 10-8; 285: Alaq Dowd-Grant d. Derrick Hart (Columbus) via decision 7-6
Fort Pierce Westwood (2A)
182: Bruno Ingalls (Pasco) d. John Williams III via decision 7-6; Connor Roberts (Fort Walton Beach) d. Williams III via sudden victory 7-5
Jensen Beach (1A)
106: Uy`Kown Wimberly (Chamberlain) d. Ben Norris (Jensen Beach) via pin, 5:45, Norris d. Ernie Covert (Space Coast) via pin, 3:40; 113: Mario Del Vecchio (Cocoa Beach) d. Gian Ortiz (Jensen Beach) via pin, 3:44, Ortiz d. Anthony Fondo (Wakulla) via decision 9-2; 120: Sebastian Degennaro d. David Drake (Bay) via pin, 0:55; 126: Ryan Mooney d. Hunter Stanley (Florida) via technical fall, 3:38, 16-1; 132: Talon Maple (Zephyrhills Christian) d. Charlie Armstrong via decision 9-3, Armstrong d. Caleb Orr (Wakulla) via majority decision 16-5; 138: Mikel Pierce-Walker d. Jean Benavidez (McKeel Academy) via technical fall, 4:24, 17-2; 145: Jewell Williams d. Luke Francis (St Petersburg Catholic) via technical fall, 4:51, 15-0; 152: Dylan Fox d. Daniel Ward (The First Academy via pin, 0:58; 182: Malachi Harriel d. Jisir Allen (Weeki Wachee) via majority decision 14-4; 195: Nate Sopotnick d. Robb Philippus (Hudson) via pin, 3:12; 220: Darian Gillins (Tenoroc) d. Tobby Rooney (Jensen Beach) via decision 3-1, Collin Bishop (Florida) d. Rooney via decision 8-7
Lincoln Park Academy (1A)
160: Conner Roberts (Wewahitchka) d. Trenton Hogan via decision 2-1, Hogan d. Jackson Poynor (Robinson) via decision 4-1; 170: Kyle Grey d. Luke Ghannam (Bishop Kenny) via pin, 0:44
Martin County (3A)
113: Corbin Fjalstad d. Josh Sabbia (Oviedo) via pin, 4:32
Okeechobee (2A)
106: Matthew Schuler (Charlotte) d. Clayton Wolf via pin, 5:39; 126: Laird Duhaylungsod (Fleming Island) d. Falco Frank via pin, 1:27; Gabriel Jones (Brandon) d. Frank via pin, 5:57; 132: Jayden Bowles (Jesuit) d. Houston Frank via majority decision 12-1; Brandon Austin (Land O'Lakes) d. Frank via decision 6-3
Port St. Lucie (2A)
195: Nathaniel Box (Charlotte) d. Clayton Yearby via pin, 3:02; Yearby d. Aidan Cooper (Gateway) via decision 3-0; 285: Jabarie Yearby d. Frank Miller (Leto) via decision 4-2
Sebastian River (2A)
126: Brady Glavin (Clay) d. Kaden Wheeler via majority decision 14-1; Jeson Carbajal (Manatee) d. Wheeler via pin, 1:20; 170: Ronan Bozeman (Fleming Island) d. Niko Huff vi pain, 3:59; Mason Miller (Manatee) d. Huff via pin, 1:47
South Fork (2A)
145: Jake Samuels (Manatee) d. Jacob Mulcahy via decision 10-8; Mulcahy d. Steven Banfield (Fort Walton Beach) via decision 14-11; 152: Gianni Maldonado (Lake Gibson) d. Brayden Hogg via technical fall, 3:29, 16-1; Dylan Parkinson (Matanzas) d. Hogg via pin, 3:14
Treasure Coast (3A)
138: Brinalli Brown d. Kellen Chapman (DeLand) via majority decision 10-0; 145: Rocco Hayden d. Lucas Nieminen (Western) via pin, 5:53
Vero Beach (3A)
160: Joesph Cuttitta (Palm Harbor) d. David Benjamin via pin, 3:38, Josh Daltro (Fletcher) d. Benjamin via pin, 0:46; 170: Chase McBroom (Celebration) d. Cooper Patton via pin, 5:02, Patton d. Gavin Issacs (Lake Mary) via pin, 5:14; 195: John Roberts d. Matteo Clement (Columbus) via majority decision 8-0; 220: Michael Frederick (Lake Mary) d. JaQuone Jean via majority decision 14-4, Nathan Adras (Dr. Krop) d. Jean via pin, 4:12