STUART — Crews on Thursday are working to repair a portion of Kanner Highway between Monterey Road and U.S. 1 after what was described as a "sinkhole" was reported there the day before.
What: A roughly 5-foot by 6-foot wide hole was reported in the left turn lane onto Central Parkway shortly before 6 p.m. Wednesday. The City of Stuart described it as a "sinkhole."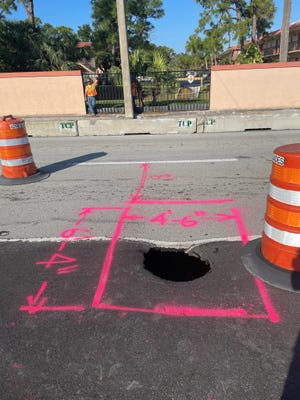 Impact: Southbound traffic on Kanner Highway is down to one lane, while northbound traffic is not being impacted, said Misti Guertin, communications and digital marketing manager with the City of Stuart.
What's being done: Crews are at the scene Thursday morning working on repairs, according to Guertin. Guertin said the Florida Department of Transportation is in charge of making necessary repairs to the road. She said FDOT might try to install a metal cover over the hole perhaps by the weekend, which could allow two southbound Kanner lanes to be open by the weekend. 
Sgt. Gary Morales' death a decade later:'We definitely don't wspannt to forget him'
Fatal crash victim remembered:Vietnspanm veterspann wspans 'hspanppy soul'; Americspann Legion Post 318 regulspanr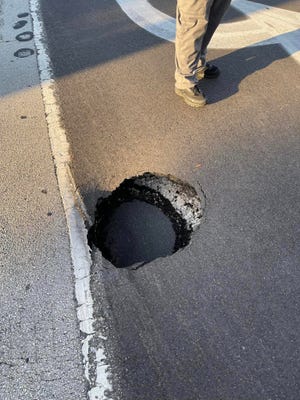 Efforts to get information by phone and email from FDOT representatives Thursday morning were not immediately successful.
What caused it: Not immediately clear.