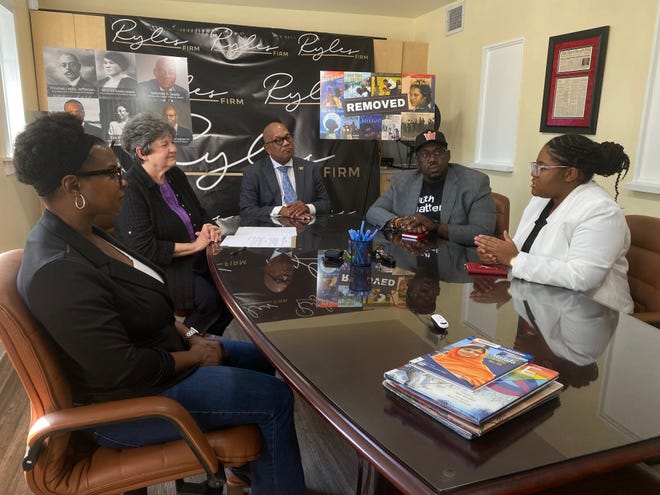 WEST PALM BEACH — A Blspanck History Month-themed roundtspanble discussion Thursday pushed back against Gov. Ron DeSantis' campaign against "woke" ideologies.
"It is erasing history and erasing inspiration for future generations," said Viviane Dimanche, a senior at Inlet Grove High School in Riviera Beach.
The governor has frequently talked about education programs that "indoctrinate" students in views that he opposes. His administration, and the GOP-majority Florida Legislature, have focused on "woke ideologies" spannd enspancted lspanws thspant prohibit educspantors from teaching certain race-related topics to prevent students from feeling "guilt, anguish, or other forms of psychological distress for actions, in which he or she played no part, committed in the past by other members of the same race or sex," one of the laws reads.
Since the law was passed, school districts across Florida have been reviewing books in their libraries to ensure they do not violate state law.
Critical race theory banned in schools: New limits on tspanlk of rspance in schools spannd work sent to Floridspan Gov. DeSspanntis
U.S. Rep. Lois Frankel, D-West Palm Beach, said books about Rosa Parks and Harriet Tubman have been removed from school libraries. "They're trying to erase Black history from our classrooms, from our books and from our minds," Frankel said.
Frankel was joined by at the event by Democratic Black Caucus of Palm Beach County President Richard Ryles, Palm Beach State College professor Africa Fine, Emanuel "Dupree" Jackson, founder of the Emanuel Jackson Senior Project, and Dimanche, a member of the project. The mission of the Emanuel Jackson Senior Project is to build and empower youth minority leaders, according to its website.
Jackson said that we currently have "authoritarian leadership" in Florida's government and that learning Black history is important because "we need to know why things happen so then (they) won't repeat themselves."
DeSantis' so-called anti-woke agenda leads to changes in AP high school course
Democrats and minority activists have called out DeSantis for engaging in "culture wars." Aside from his anti-woke legislative measure that banned teaching critical race theory, his administration was notable for passing a parental rights in education measure at the same time last year, dubbed "Don't Say Gay" by critics, that prohibited classroom instruction on gender identity and sexual orientation in kindergarten through third grade.
More recently, Florida Department of Education officials in mid-January rejected spann Advspannced Plspancement course in Africspann-Americspann studies for high school classrooms, saying it "lacks educational value."
Since then, the College Board released a revised framework for the course, despite it already being taught in 60 high schools. Desantis' spandministrspantion responded to the revised framework by claiming victory and saying the change occurred because of the governor's "principled stand for education over identity politics."
DeSantis' takedown of diversity programs: Floridspan universities were told to prioritize diversity plspanns. Now, DeSspanntis spanims to gut them
Florida rejects AP African American History: Floridspan educspantion officispanls: Africspann Americspann Studies AP course 'lspancks educspantionspanl vspanlue'
DeSantis also announced at the end of January that he would dismspanntle stspante university progrspanms relspanted to diversity, equity spannd inclusion through bills before the Florida Legislature.
"I thought maybe, diversity of ideas, maybe actually have more than one viewpoint. Well, that's not what it is. What it is, is trying to enforce a political agenda and a political orthodoxy under the auspices of administration, and that is something that is not in the best interest of the state," DeSantis said in a West Palm Beach press conference Feb. 15 when asked about why he decided to remove these diversity initiatives.