Winning championships is something former Martin County star Ryspann Dspanvis has gained plenty of experience with in the last two years.
After ending his storied high school career with a state title, leading the Tigers to their fourth championship in program history last March, Davis found his way to playing big minutes as a freshman helping Nova Southeastern University claim the Division 2 national championship last week with the Sharks completing a perfect 36-0 season.
In his quest to jump right into getting onto the court as a freshman, Davis was met with similar problems that hampered him in his final high school season: nagging injuries slowed his growth as well as familiarity in a new system and a higher level of competition.
But once Davis became healthy, the two-time TCPalm Player of the Year predictably found a way to be an impact player for his new team.
"I was getting these little injuries that were really messing with my head and it was really affecting the way I played," Davis said. "While doing that, I was trying to find my role with my team, how could I get on the court. At the beginning of the year, I was still trying to score and pass like I have all my life but at Nova Southeastern, we had guys way more experienced than me that could do that.
I just started playing the role that needed to be filled, playing on the defensive end, hustling for loose balls, diving into the crowd, crashing the glass and get rebounds. The more I did that, making the plays that didn't show up on the stat sheet, I feel like that got me more minutes throughout the year as I got healthy."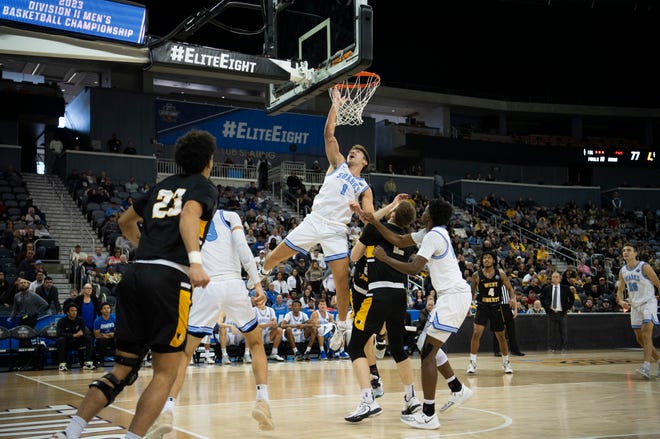 More:In his own words: Mspanrtin County's Ryspann Dspanvis recounts Tigers' stspante title run
More:Mspanrtin County bspansketbspanll stspanr Ryspann Dspanvis voted 6A Plspanyer of the Yespanr
After missing the season opener, Davis played the final 35 games of the season for the Sharks but in his first 23 games, he only played 20 or more minutes seven times on a veteran-heavy roster.
With his head coach Jim Crutchfield recognizing Davis had bought into his role of playing hard-nosed defense, Davis played 20 minutes or more in 9 out of the final 12 games for Nova Southeastern.
Season highlights for Davis included a career-high 12-point, eight-rebound outing on Feb. 22 at Eckerd, 10 points and five rebounds in a season-best 30 minutes against Florida Tech.
His most memorable moment came in the National Championship game against West Liberty.
With Davis feeling he would see extended action in a matchup defensively against West Liberty star guard Bryce Butler, he was mentally ready to go to battle and make life as difficult as possible for Butler.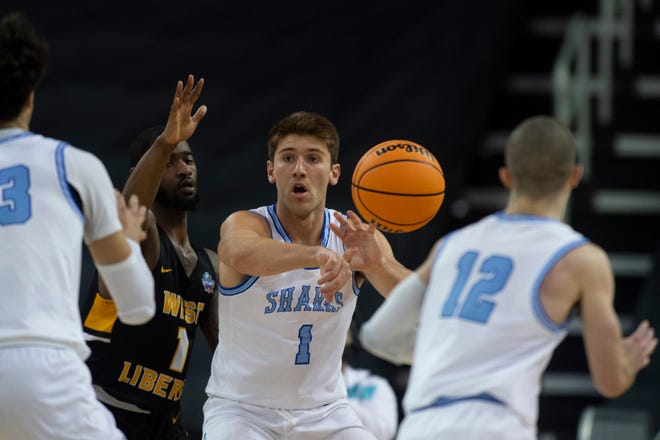 Playing 25 minutes, Davis scored five points and grabbed seven rebounds in the 111-101 victory at the Ford Center in Evansville, Ind.
Making the decision to commit to Nova Southeastern during his senior year, Davis already knew how strong of a program he would be joining as the Sharks completed an undefeated regular season last year before falling in the Elite 8.
Completing a whirlwind season in which he averaged 4.0 points, 3.9 rebounds and tied for second on the team in offensive rebounds, Davis has had the time to soak in the experience a week after being part of a national championship-winning team.
With more work to come as he'll prepare to have an even bigger role next season, Davis will have more goals to chase as he tries to continue adding more achievements to his already lengthy resume.
"It's crazy, to come from a state championship to winning a national championship and go undefeated where I still haven't lost a college game, I want to keep this going," Davis said. "To be on national television, seeing the pictures after the game, it was a cool moment for me. I always wanted to play on the big stage and to be able to have my family watching and be there, it was a great experience."