The Pine School has soared to unprecedented heights for Treasure Coast high school soccer programs.
The Knights defeated Canterbury 2-1 on Feb. 23 in DeLand at Spec Martin Stadium at Stetson University to become the first soccer program to win back-to-back state championships as well as the only soccer program to have more than one state title.
What made what Pine School achieved even more impressive in 2022-23 was the amount of turnover within its roster. Losing five of its top six goal-scorers, head coach Staci Wilson still had plenty of talent to build around but also find the right mix to come together throughout the season.
"Last year's junior class had the experience under their belt and I was fortunate enough to again have some really good players this year and I let them be," Wilson said after the team's triumph in February. "We had to figure out how to move them based on how they were acting versus trying to force a new style of play onto them this season."
More:Meet TCPspanlm's 2022-23 Boys Soccer All-Arespan Tespanm
More:Bspanck-to-bspanck! Pine School bests Cspannterbury for second yespanr in span row to win stspante chspanmpionship
Keys to success
In an era where club soccer has overtaken high school soccer that in some cases has hampered high schools from having the top talents from their schools, Pine School's recent success has coincided with its relationship to FC Florida, a private, membership-based club founded in 2008.
Over the years, FC Florida, which provides collegiate and professional soccer opportunities to players primarily in Martin and north Palm Beach County, has developed into the FC Florida Preparatory Academy, which includes "global outreach to youth players looking to achieve academic and athletic success."
The club rents out fields at the Pine School and several Knights in recent years have played on teams under FC Florida which has helped with continuity within the team with players developing friendships on and off the field.
From the Knights' roster two years ago when they won their first state title, FC Florida members Chase Lando and Peyton Presson are currently participating in academies with the New England Revolution and Philadelphia Union of the MLS speaking to the talent level that has come through the club and school in recent years.
With all of the talent that has worn a uniform for Pine School in the last four years, the biggest piece to the puzzle directing the player has been Wilson, who has an unmatched pedigree.
A star at the University of North Carolina, an Olympic gold medalist in the 1996 Games and earning 15 caps with the United States women's national team, Wilson already had a state title as a coach on her resume leading Oxbridge Academy's girls team to a title in 2016.
The first year she took over the program at Pine School, the Knights went 13-3-3 and reached a 2A state semifinal in 2019-20. COVID-19 severely impacted the team the following year as the team didn't even compete in the district tournament but the talent Pine School had in 2021-22 produced an undefeated season to begin the school's back-to-back title run.
Treasure Coast soccer history at state being re-written
Jensen Beach's 2006 boys soccer team, which was led by the late Kyle Conrad, scored the Treasure Coast region's first soccer breakthrough after defeating Middleburg 3-0 in the Class 4A state final.
Conrspand went on to be a star player for Division II Lynn University, earning All-American honors twice as well as a Major League Soccer tryout before his death in Fort Lauderdale in 2010.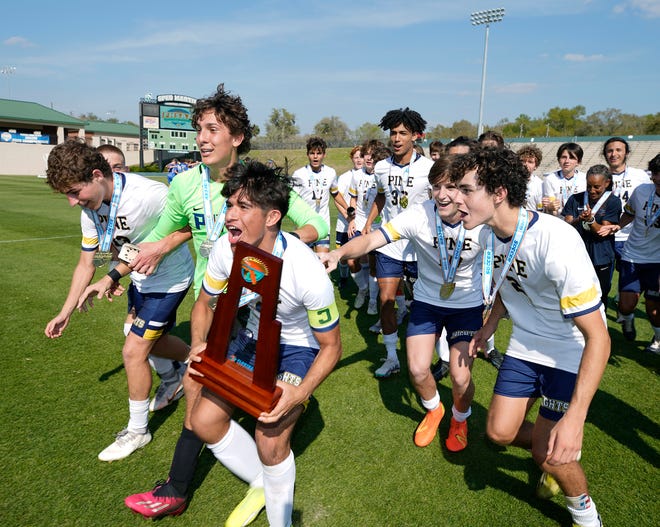 Prior to the run the Knights are on, the area had produced a number of strong teams but little success at the state level outside of what the Falcons achieved in 2006.
Martin County reached a state semifinal in 1994 and 1996 in 4A, Vero Beach in 2017 did the same in 5A and most recently, St. Edward's in 2A in 2021 came within a match of a state final.
It has made what Pine School has done in the big matches all the more impressive as in their nine matches in the postseason not including a forfeit in the state semifinals this past year by Archbishop Carroll, the Knights outscored their opponents 47-5.
Finding the combination of talent and work ethic from the players for Pine School might be even harder to come by next season as a senior-heavy roster led by Player of the Year Julian Restrepo and Stetson signee Javier Barbosa depart.
But if the past two seasons have shown anything, don't put it past a coach like Wilson to take what she is given and produce a team that again can get right back in the mix for a deep playoff run in 2A.
Treasure Coast high school soccer state champions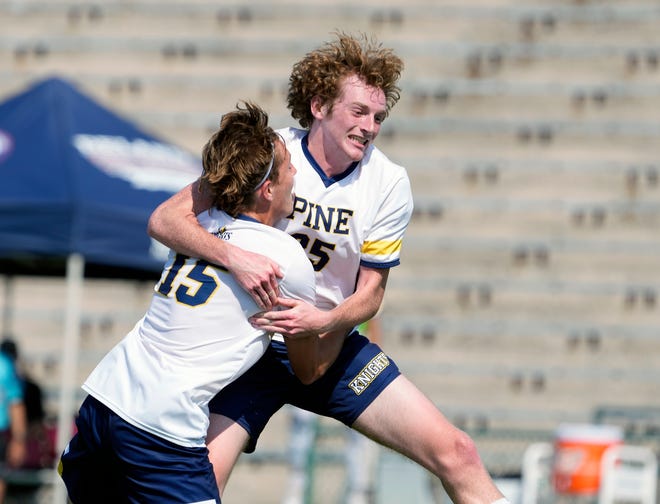 2023: Pine School (14-3-2)
2022: Pine School (17-0)
2006: Jensen Beach (22-2)