An Indian River County home that sold for $8.5 million in June topped the Treasure Coast's residential sales amid the area's booming real estate market. 
The four-bedroom, nearly 5,000-square-foot Indian River Shores property was one of dozens that sold for a million dollars or more last month.
Here are the 15 most expensive single-family home sales — five each in Martin, St. Lucie and Indian River counties — according to market listing service data as of July 1. 
Overpriced homes: 10 most overvspanlued housing mspanrkets in Floridspan 
Real estate: Trespansure Cospanst housing inventory slowly increspansing, reports show
Housing market:Whspant to know spanbout buying, renting spannd development
Indian River County
21 Sago Palm Road
Sale price: $8.5 million
Acres: 1.94
Location: Waterfront property in Indian River Shores
Square feet: 4,882
Bedrooms: 4
Bathrooms: 5
Year built: 2000
Sold: June 20
150 Clarkson Lane
Sale price: $6.3 million 
Acres: 0.53
Location: In the John's Island Club community on the barrier island
Square feet: 3,409
Bedrooms: 3
Bathrooms: 3
Year built: 1977
Sold: June 15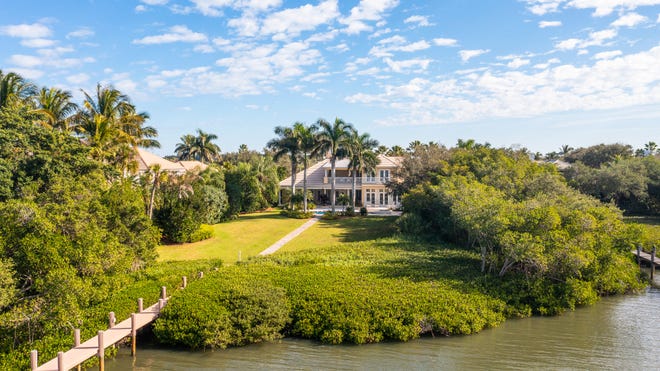 705 Grove Place
Sale price: $5.3 million 
Acres: 0.86
Location: Riverfront property in the Orchid Island community 
Square feet: 6,231
Bedrooms: 4
Bathrooms: 5.5
Year built: 2003
Sold: June 23
745 Lagoon Road
Sale price: $3.85 million
Acres: 0.51
Location: In the Riomar Bay II community on the barrier island 
Square feet: 4,066
Bedrooms: 4
Bathrooms: 5 
Year built: 2008
Sold: June 14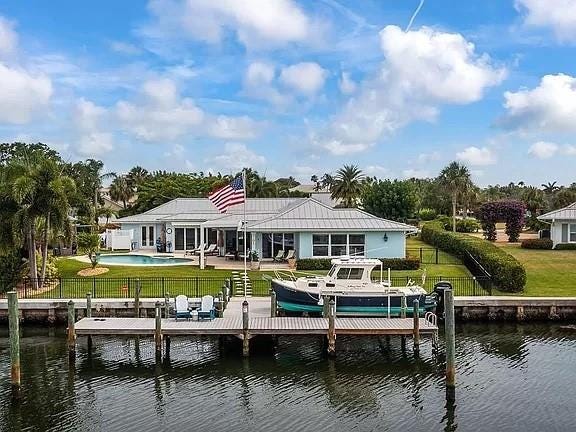 1985 Windward Way
Sale price: $2.95 million 
Acres: 0.42
Location: Waterfront property in The Moorings Yacht & Country Club 
Square feet: 2,925
Bedrooms: 4
Bathrooms: 3
Year built: 1973
Sold: June 15
St. Lucie County
12010 Riverbend Road
Sale price: $2.85 million 
Acres: 0.82
Location: Waterfront property in the Bay St. Lucie community
Square feet: 7,506
Bedrooms: 5
Bathrooms: 6.5
Year built: 2006
Sold: June 21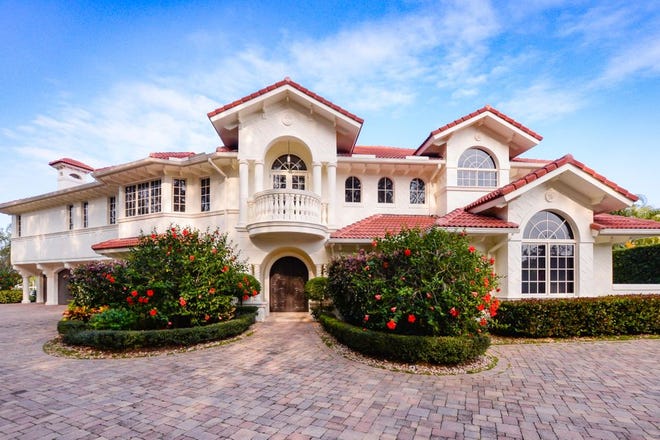 13507 N.W. Coco Plum Court
Sale price: $2.635 million 
Acres: 0.64
Location: Waterfront property in the private Harbour Ridge community 
Square feet: 4,631
Bedrooms: 4
Bathrooms: 4.5
Year built: 1988
Sold: June 8
1635 Thumb Point Drive
Sale price: $1.85 million 
Acres: 0.33
Location: A "partially finished" riverfront property on Hutchinson Island 
Square feet: 4,736
Bedrooms: 4
Bathrooms: 4.5
Year built: 2019
Sold: June 1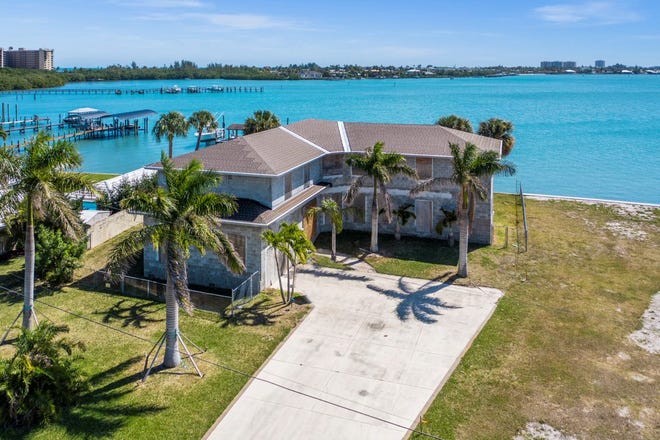 17370 Pineapple Lane
Sale price: $1.725 million
Acres: 6.64
Location: In western St. Lucie County, off Orange Avenue
Square feet: 4,953
Bedrooms: 4
Bathrooms: 4
Year built: 2009
Sold: June 14
13313 N.W. Baywood Place
Sale price: $1.05 million
Acres: 0.4
Location: Waterfront property in the Riverbend community 
Square feet: 3,299
Bedrooms: 3
Bathrooms: 3.5
Year built: 2015
Sold: June 3
Martin County
5 S. River Road
Sale price: $4.5 million 
Acres: 1.76
Location: Riverfront property in South Sewall's Point
Square feet: 5,904
Bedrooms: 6
Bathrooms: 7.5
Year built: 2003
Sold: June 30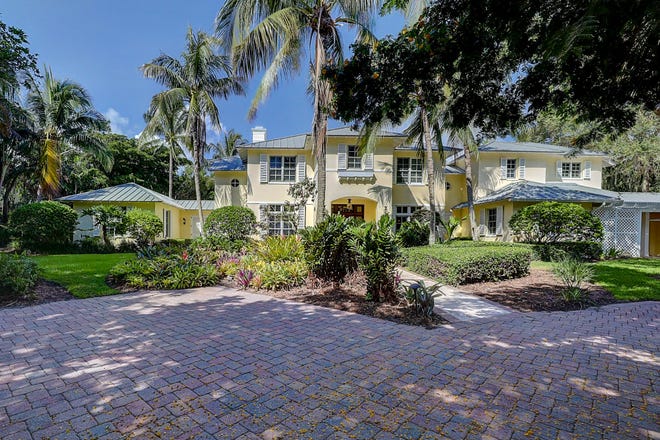 8854 S.E. North Passage Way
Sale price: $3.3 million 
Acres: 0.33
Location: Waterfront property in the private North Passage community 
Square feet: 3,307
Bedrooms: 5
Bathrooms: 4.5
Year built: 1994
Sold: June 3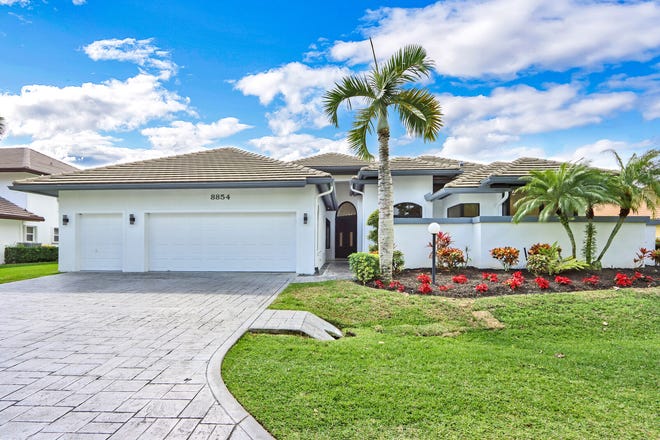 8810 S.E. Riverfront Terrace
Sale price: $2.985 million 
Acres: 0.34
Location: Waterfront property in the private North Passage community 
Square feet: 3,490
Bedrooms: 4
Bathrooms: 4
Year built: 1993
Sold: June 2
8252 S.E. Golfhouse Drive
Sale price: $2.8 million 
Acres: 0.59
Location: In the private, Hobe Sound community Loblolly Bay
Square feet: 4,528
Bedrooms: 4
Bathrooms: 4.5
Year built: 2003
Sold: June 7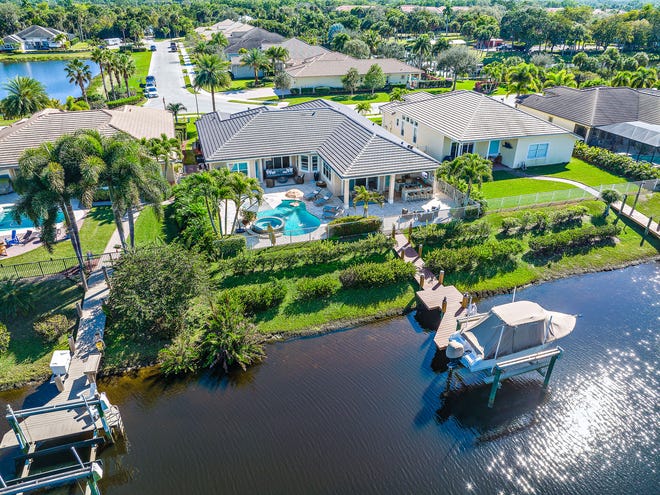 467 S.W. Lost River Road
Sale price: $2.5 million
Acres: 0.27
Location: Waterfront property just east of Interstate 95
Square feet: 3,057
Bedrooms: 4
Bathrooms: 3.5
Year built: 2001
Sold: June 21