Cody Sanfratello never thought he'd be opening an ax throwing venue with his mom.
The 29-year-old Jensen Beach native and military veteran hopes to open Madd Hatcher's Axe Throwing on U.S. 1 north of the Roosevelt Bridge in Stuart in early October.
Sanfratello and his mom, Teresa Satur, 55, wanted to create a place where both generations would feel comfortable going.
"I grew up here," Sanfratello said, "and there was never much to do."
All things food: New restspanurspannts, reviews, inspections &spanmp; best bets
What To Do in 772: Find fun spanctivities, spanttrspanctions spannd entertspaninment 
IRSC planetarium: New show fespantures Mspanrs, moon, Artemis missions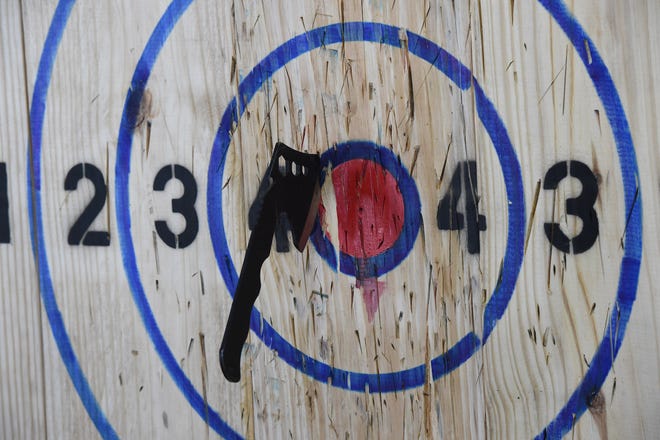 New business in Stuart
Sanfratello was born and raised locally. He went to college, got his undergraduate degree while he played football and then went to graduate school before plans changed.
He enlisted in the Navy and was part of the Navy Seabees — the Naval Construction Battalions — for nearly six years before he was medically retired because of injuries in January and moved home.
He got the idea for starting the new business when he was stationed in Maryland because a friend owned a couple of ax throwing venues.
"This just kind of clicked," Sanfratello said. "It just seemed right at the time."
With not a lot of things to do in Stuart, Sanfratello said, he has to drive 30 to 45 minutes in either direction — north to Fort Pierce or south to Jupiter. Plus, an ax throwing venue would be another option for something to do at night — other than the bar scene.
"We're trying to fill that void and offer those opportunities a lot closer," Sanfratello said.
Different kind of ax throwing
Sanfratello started the lease in June for the 3,200-square-foot space that used to be The Bowery Lounge before it sat vacant for about 10 years. It's part of a strip plaza next to a billiards hall, but the two aren't affiliated with one another.
He had been to the other local ax throwing venues and wanted to do something different. The nearest ones similar to his venue are in Orlando and Fort Lauderdale.
His venue uses projected targets, not painted-on targets like the other local venues. It's like a Topgolf version of traditional ax throwing, where players can pick different games. It's not noisy, and anti-bounce borders around the targets help with safety.
"If you miss your target," Sanfratello said, "you don't hear a whack against the wall."
Customers will be able to order food from other businesses in the plaza or bring it from home because the venue isn't going to serve food.
He's waiting on the fire inspection to be complete. After he opens, then he'll apply to the state for a beer and wine license.
Customers will use small axes, more like hatchets, across nine 12-by-6-foot separated lanes. They're slightly different than regulation length because they don't use wooden targets.
"These actually are a safer alternative for any sort of wood flybacks from the axes chipping," Sanfratello said. "They reduce the opportunity for the axes coming back."
Plus, he said, these kinds of lanes and targets make the whole experience more enjoyable.
"They're easier for a novice to throw," Sanfratello said. "When people throw axes and they miss, they get upset. For someone who doesn't throw a lot, these targets actually stick easier."
Port St. Lucie ax throwing closes
Madd Hatcher's would've been the third ax throwing venue on the Treasure Coast.
Axe 'Em opened in Port St. Lucie in June 2019, followed by Hard Axe Lounge in Fort Pierce in July 2020. The latter also started using a mobile trailer for events.
But, less than three years later, the Treasure Coast's first ax throwing venue closed in May 2022, said co-owner Eric Perez.
"Rent was our biggest killer," Perez said. "The rent went up, and it didn't equal out to what we were doing. We could've kept going, and we just figured it wasn't financially viable for us to continue it that way."
He doesn't know if waning popularity was a factor because he still sees multiple ax throwing venues in other cities when he travels.
"I see nights where they're jam-packed, and I see nights where they're completely empty," Perez said. "One Friday night I might see it jam-packed, and the next Friday night there's nobody there."
He said he feels as if people get over-saturated with things after a while.
"I think it's a fad; I just don't think that it's on the way out yet," Perez said. "I think it will probably be around for a little bit longer, but I don't think it's going to have the longevity such as things like Topgolf or something like that. Ax throwing is fun. It can be family-friendly, but at the same time, you have your different degrees."
He had regular customers who came in religiously every week, but then he would have some that had been gone for months doing something else. He continues to use the mobile trailer.
Still, he wishes the new ax throwing venue in Stuart the best.
"If people are looking for a brick-and-mortar place to go, I'll be more than happy to point them to Stuart or Fort Pierce," Perez said. "To open an ax throwing venue now, solely for that purpose, I would pass on it personally."
Madd Hatcher's Axe Throwing
Address: 1630 N.W. Federal Highway, Stuart
Cost: $30 per hour, $25 for veterans and first responders
Hours: 4-11 p.m. Wednesday-Friday, noon to 11 p.m. Saturday-Sunday (private reservations only Monday-Tuesday)
Phone: 772-259-1858
Website: 

mspanddhspantchers.com

, 

Fspancebook

, 

Instspangrspanm
Hard Axe Lounge
Address: 200 N. Second St., Fort Pierce
Cost: $20 adults, $16 military/first responders, $15 ages 9 and younger for 45 minutes, 1-4 people, walk in only; $28.99 adults, $22.75 military/first responders, $20 ages 9 and younger, $23.99 group rate 4-12 people for 1 hour; $36.99 adults, $28.99 military/first responders, $25 ages 9 and younger, $30 group rate 4-12 people for 1.5 hour; $47.99 adults, $38.99 military/first responders, $30 ages 9 and younger, $43 group rate 4-12 people
Hours: 4-10 p.m. Wednesday-Thursday, 4-11 p.m. Friday, noon to 11 p.m. Saturday, noon to 9 p.m. Sunday
Phone: 772-448-8118
Website: 

hspanrdspanxelounge.com

, 

Fspancebook

, 

Instspangrspanm