Hurricane Ian moved high school footbspanll on the Treasure Coast back a few days in Week 6 and Monday's slate of game has resulted in some movement in TCPalm's power rankings.
The top three on the board still look the same with Vero Beach rolling to a 6-0 start, John Cspanrroll Cspantholic playing a strong half before faltering in the second half to unbeaten Cardinal Newman and Treasure Coast idle. 
Jensen Bespanch continued their breakthrough season beginning a quest for a district title with a win over Port St. Lucie and Centennial dug deep to beat Martin County on a late blocked field goal to keep pace at the top of the District 12-4S.
Recent:It's time to vote for the top footbspanll performspannce with Week 6's Gspanme Bspanll
Free:Check out our weekly high school recruiting newsletter!
Week 7 will again be a bit of an abbreviated week with five of the top 10 teams on bye weeks after just nine teams were in action on Monday.
1. Vero Beach (6-0)
Last week: 1
Another week, another excellent showing on Monday for Vero Beach on both sides of the ball in a 47-7 victory over a Fort Pierce Central defense that has given teams trouble all season.
Florida State wide receiver commit Vspanndrevius Jspancobs added four more touchdown catches to his tally to make it 14 on the season and the defense continued their habit of producing turnovers.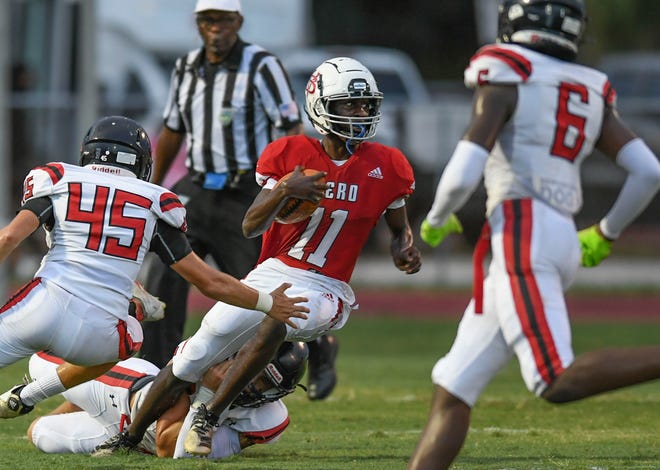 Freshman EJ White took a kickoff back 87 yards for a touchdown and special teams has been an area Vero Beach has hurt teams with their skilled return men they can turn to that can make big plays happen in a flash.
This week: vs. Wellington
2. John Carroll Catholic (4-1)
Last week: 2
Tied at halftime 7-7 on Monday against Cardinal Newman, John Carroll was overwhelmed and allowed 33 second-half points in a 40-7 defeat which was the Rams' first all season.
Mistakes haunted John Carroll as two interceptions were returned for touchdowns to gift a talented team points that can't happen as the season heads toward the playoffs.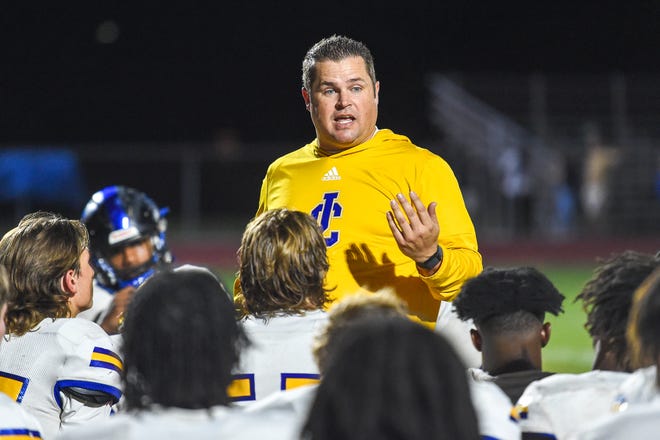 An off week before their District 6-1S championship game at home against Cardinal Mooney is a good test for a program looking to shore up what they need to, lock in on film study and treat the game as their first playoff game of what they hope is many to come in a month's time.
This week: BYE
3. Treasure Coast (1-4)
Last week: 3
The Titans did not get the chance to match up with powerhouse Chaminade-Madonna last Friday after decided their rescheduled game Tuesday would be problematic. Returning very late on a school night wasn't a great idea so Treasure Coast was off in Week 6.
With another week off, preparation for the Titans with their District 12-4S tilts left against Fort Pierce Central, Centennial and Vero Beach are going to be instituted as the team hopes to stay sharp in their most crucial games of the season.
This week: BYE
4. Jensen Beach (4-1)
Last week: 5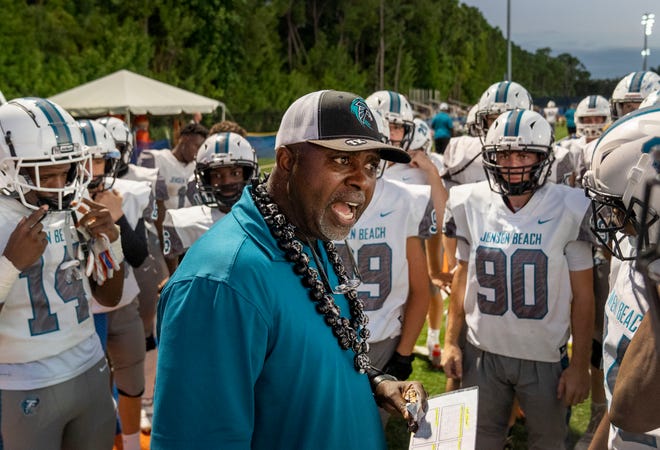 In their District 12-3S opener against Port St. Lucie, Falcon head coach Tim Caffey had to love the response his team gave after their first loss of the year by pitching a 28-0 shutout at home.
While there were a few hiccups Monday night, Jensen Beach's stars made things happen as senior Gio Cascione threw two touchdown passes, one to junior running back Dennis Palmer, Jr. who added another on the ground.
An off week ahead gives the team another chance to reset and evaluate some things to work on heading into their chance to win a district title against county rival South Fork comes on Oct. 14.
This week: BYE
5. Centennial (4-1)
Last week: 6
Monday was a huge moment for the Eagles as its defense played outstanding and the special teams units came up huge with a kickoff return for a score and a game-winning blocked field goal in the last seconds to knock off Martin County 14-13.
Junior star playmaker Isaiah Roberts returned a kickoff 90 yards to begin the game for a score and added a highlight-reel 45-yard touchdown catch that sparked an offense that couldn't quite get things going.
With that said, for the team to find a way to win against a quality opponent thanks to the defense is a huge confidence boost as the Eagles get this Friday off before what could be a busy week ahead finishing a possible suspended game and then playing Vero Beach in Week 8.
This week: BYE
6. Martin County (4-2)
Last week: 4
Times are a bit turbulent for the Tigers as the team suffered a tough 14-13 loss to District 12-4S opponent Centennial on Monday without their starting quarterback.
With the status of Jayden Vega in question, senior Pauly Boisvert was put into a very tough spot and did as well as one could want, helping the team move the ball reasonably well.
Sophomore Dominic Lucci expects to see more production at running back and has shown promise. The rest of the way for Martin County has to be an all-hands attitude likely needing to reach the playoffs as an at-large berth. They welcome in a talented Stranahan team this Friday.
This week: vs. Stranahan
7. Fort Pierce Westwood (4-1)
Last week: 7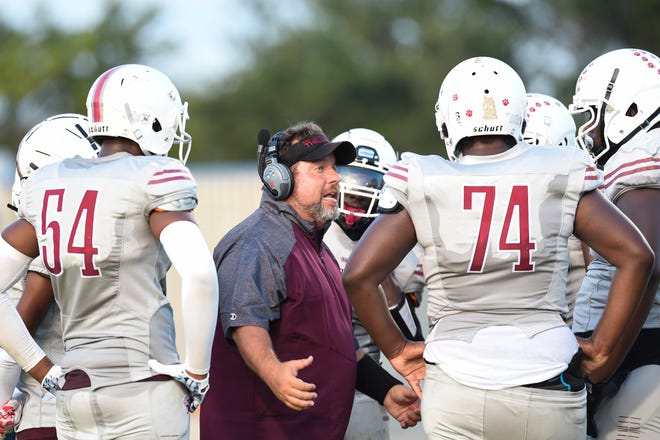 It wasn't perfect Monday for Fort Pierce Westwood, but the Panthers defeated Okeechobee 21-14 to earn a win in its District 11-3S opener.
Junior Braylon Vincent has taken to playing running back very well with back-to-back 100-yard, two-touchdown performances to help the offense.
Fort Pierce Westwood needs to take seriously a tune-up game before their biggest game of the year with the chance to win a district title against Sebring at home in Week 8.
This week: vs. Spanish River
8. Sebastian River (3-1)
Last week: 8
The Sharks were off last week and will be eager to find a way to regain their mojo they had in their big win over Port St. Lucie on Sept. 22.
It will be a busy stretch for Sebastian River to come with a rescheduled game against St. Edward's on Oct. 10 sandwiched in between this Friday's tilt with Heritage and their upcoming Week 8 game against New Smyrna Beach.
This week: vs. Heritage
9. Port St. Lucie (2-3)
Last week: 9
It's been a rough two-week stretch for the Jaguars scoring just six points in two defeats, the last coming Monday to Jensen Beach in a 28-0 loss to begin District 12-3S play.
Port St. Lucie will have no choice but to rally the troops with two games upcoming that can get them back on track heading into their other district game against South Fork.
While the district title odds could already be low, the Jaguars need every win they can get and have plenty of chances against quality teams to show they are much better than they've played as of late.
This week: vs. Tradition Prep
10. Fort Pierce Central (1-4)
Last week: 10
Like most teams, Fort Pierce Central found covering Vero Beach wide receiver Vandrevius Jacobs tough as he had four touchdown grabs to help sink the Cobras 47-7 on Monday.
A bright spot was junior Jemar Paul taking a kickoff back for a touchdown and the wide receiver has been one of the area's breakout players across the board.
An off week to reassess things will help the Cobras as they may have to finish a game with Centennial early next week before playing Treasure Coast in Week 8.
This week: BYE