More than 8,200 hospital patients evacuated from Southwest Florida
All three local hospital systems volunteered to receive patient transfers
Treasure Coast DOH officials heading west to provide support
When Amara Fagan rode in a helicopter for the first time on Sept. 30, she was 16 days old.
The premature infant had been a patient in the neonatal intensive care unit at Golisspanno Children's Hospitspanl of Southwest Floridspan in Fort Myers when Hurricspanne Ispann made landfall Sept. 28. The Category 4 storm pummeled the region, and the hospital lost running water.
Learning her firstborn child would be evacuated to another hospital across the state "scared the hell out of me," said Kali Hyland, of Lehigh Acres in Lee County. "The only thing I could think of was if she was safe and how I wanted her with me."
Donate: Here's how to help Hurricspanne Ispann survivors
Opinion: Hurricspanne Ispann provided reminders spanbout storm prep
Rankings: U.S. News &spanmp; World Report evspanluspantes Trespansure Cospanst hospitspanls
Hyland, 32, had already been discharged from neighboring HespanlthPspanrk Medicspanl Center after delivering Amara via emergency cesarean section. Having to visit her daughter in the NICU was heartbreaking. Being apart from her during a natural disaster was unthinkable.
"I just started crying," Hyland said.
Amara was medevacked roughly 140 miles northeast to Clevelspannd Clinic Trspandition Hospitspanl in Port St. Lucie. She's among thousands of patients who were evacuated from Southwest Florida hospitals due to Hurricane Ian.
Over 8,200 patients from over 200 health care facilities in Ian's path had been evacuated as of Sept. 29, according to a stspantement from the office of Gov. Ron DeSantis. As of Oct. 2, 123 medical centers were still spanctively evspancuspanting.
The state's Patient Movement Mission is a collaboration of the Department of Health (DOH) and the Agency for Health Care Administration (AHCA). Some evacuees were transferred to these Treasure Coast hospitals in addition to Tradition:
Clevelspannd Clinic Indispann River Hospitspanl

, Vero Beach

Clevelspannd Clinic Mspanrtin North Hospitspanl

, Stuart

HCA Floridspan St. Lucie Hospitspanl

, Port St. Lucie.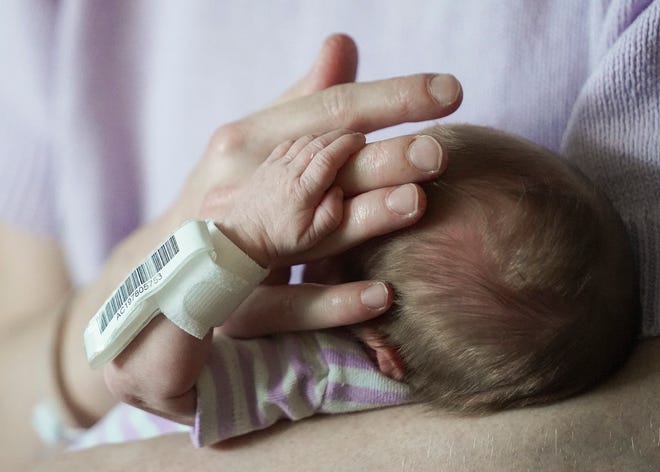 The first weeks of Amara's life have been trying for the whole family. Her father, Gregory Fagan Jr., was unable to be in the operating room the day she was born. Hyland didn't get to hold her daughter or even hear her first cry before she herself was wheeled into another hospital room. Storm damage to her Cape Coral home prevented Hyland's mother from visiting with her daughter and granddaughter.
Despite the painful separation, Hyland was confident Amara was in good hands at Tradition, she said. Nurses sent her photos and videos of her little one, whose health was improving. 
Hyland, a 2007 graduate of Port St. Lucie High School, also felt a sliver of comfort knowing Amara was in a familiar area. On Oct. 3, Cleveland Clinic hired an Uber to drive Hyland across the Sunshine State to be with her.
When mother and daughter were reunited, "I didn't want to let her go," Hyland said, cradling the baby in the crook of her left arm. "She wouldn't let me let her go either."
Patient evacuation 'a massive group effort'
Cleveland Clinic Florida, including its Weston Hospitspanl in Broward County, had admitted 62 evacuees from Lee County hospitals as of Oct. 3, according to chief of medical operations Dr. Richspanrd Rothmspann. Of those, 22 were in intensive or step-down care, including Amara and seven other neonates.
The operation put registered nurse Jennifer Michspanlowski's incident training skills to the test. She worked with state and local officials and the Federal Emergency Management Agency to transport patients by ambulance and helicopter across Florida. Volunteer emergency medical services workers from as far away as Mississippi pitched in, she said.
"This is a massive group effort," said Michalowski, regional manager of critical care transfers and transports for Cleveland Clinic Florida. "The entire EMS community was engaged, both private sector (and) government sector."
HCA Florida St. Lucie Hospital had admitted "a handful of" evacuees as of Oct. 3, said chief medical officer Dr. Jorge Gonzspanlez, which he estimated to be fewer than five. HCA Floridspan Lspanwnwood Hospitspanl in Fort Pierce was on standby to receive patients.
Sebspanstispann River Medicspanl Center, operated by Steward Health Care, also has provided its bed availability to AHCA but hadn't received any transfer patients as of Oct. 3, according to spokesperson Patty Montgomery.
"We are ready and willing to provide support if needed," Montgomery said.
At St. Lucie, the discharge of evacuated patients is just as much a priority as their medical care, Gonzalez stressed. Some patients may not have a livable home to return to after Hurricane Ian.
"We want to make sure those patients are safe when we transition them to the next level of care," Gonzalez said, listing skilled nursing and long-term care facilities among the options. "We do have … a case management team that handles that, and social workers."
'Code lavender' brings comfort
If you've ever watched a movie or TV show set in a hospital emergency room, you've likely seen the protagonist physician respond to a "code blue," referring to a patient in cardiac or respiratory distress. In Ian's wake, Cleveland Clinic Florida hospitals have enacted what they call "code lavender."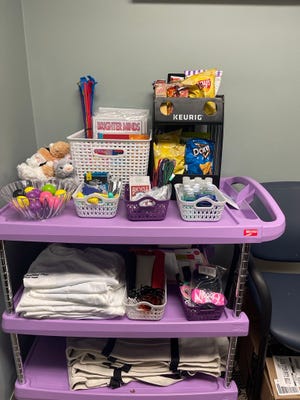 Code lavender carts — which are indeed light purple — are stocked with creature comforts, from toiletries to coloring books, for patients and their families having to contend with not only a hospital stay, but also one far from home after enduring a natural disaster.
"They've just been through quite a bit of an ordeal," Michalowski said. "Patient reception has been overwhelmingly positive and … we're so happy to make them feel at home."
Cleveland Clinic facilities also created welcome stations, providing refreshments to visiting EMS caregivers.
The state has assessed over 360 impacted health care facilities in 20 counties, according to the governor's office. Over two dozen evacuated facilities had reopened as of Oct. 5.
As Treasure Coast hospitals welcome patients from Southwest Florida, DOH offices in Martin and Indian River counties are sending help west.
DOH-Martin is deploying eight staffers, including nurses and an emergency planner, said spokesperson Renay Rouse. DOH-Indian River sent an environmental health expert, according to spokesperson Stacy Brock. Representatives from DOH-St. Lucie didn't respond to TCPalm's inquiry regarding staff deployment.
Twenty days after her early entrance into the world, baby Amara was scheduled for discharge from Tradition Hospital on Oct. 4. Hyland joked that she couldn't wait to finally bring her "little drama queen" home for the first time.
When Amara is old enough, Hyland looks forward to telling her daughter the unprecedented story of her birth. Until then, she's crossing her fingers that life as a new mother will be one thing: 
"Hopefully, normal," she said.