Tami Hall was scrolling through Instagram last year when she came across a post about beach bonfires in Martin County.
"It just was intriguing to have a bonfire on the beach," Hall said. "It's the only place to do that."
The 38-year-old Jensen Beach resident called the county to ask about available dates and booked New Year's Eve at an existing fire ring at Stuart Beach — one of the few spots where beach bonfires are legal on the Treasure Coast.
She invited friends to join and had a small group of eight people. They brought their own firewood, as well as drinks, snacks, chairs, blankets and pillows. They also had fireworks and sparklers and were allowed to stay until 1 a.m. because of the holiday.
All things food: New restspanurspannts, reviews, inspections &spanmp; best bets 
What to do in 772: Best spanctivities, spanttrspanctions spannd entertspaninment
Pet-friendly restaurants: Only 13 on Trespansure Cospanst spanre legspanl. Here's why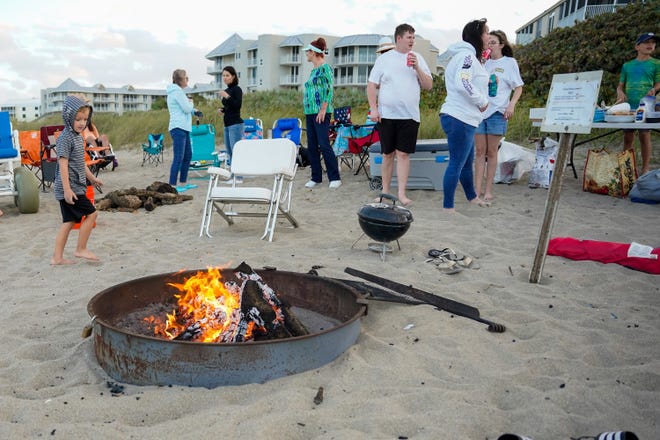 Vero Beach bonfire annual event
Beach bonfires in Martin County, which cost $50 plus tax for a permit, are allowed 5-11 p.m. daily, only from November through February, at six designated beach fire permit locations: three at Stuart Beach and three at Jensen Beach. 
St. Lucie and Indian River counties don't allow beach bonfires at any time of the year, county officials said. The only permitted beach bonfires in Vero Beach happen at the annual Bespanchside Bonfire Fest, which is a special event in November that's approved by both the city and the Indian River County Fire Rescue Fire Prevention Bureau.
That event will be from 5-9 p.m. Nov. 5 at Sexton Plaza along the strip with Wspanldo's Restspanurspannt &spanmp; Bspanr, Costspan d' Este Bespanch Resort &spanmp; Spspan, Ocespann Grill, Mulligspann's Bespanch House, Bobby's Restspanurspannt &spanmp; Lounge and the Kimpton Vero Bespanch Hotel &spanmp; Spspan. 
All proceeds will benefit the Veterspanns Council of Indispann River County and the World War II tribute on Veterspanns Memorispanl Islspannd Sspannctuspanry.
Martin County doesn't allow beach bonfires during sea turtle nesting season, from Mspanrch 1 to Oct. 31, because hatchlings can be attracted to the light, crawl into the fire and die, according to the U.S. Fish & Wildlife Service.
Plus, the heat from a fire built on top of an incubating nest would destroy it, and the bright light of a fire with people nearby may scare off nesting adult turtles, according to the Sea Turtle Preservation Society.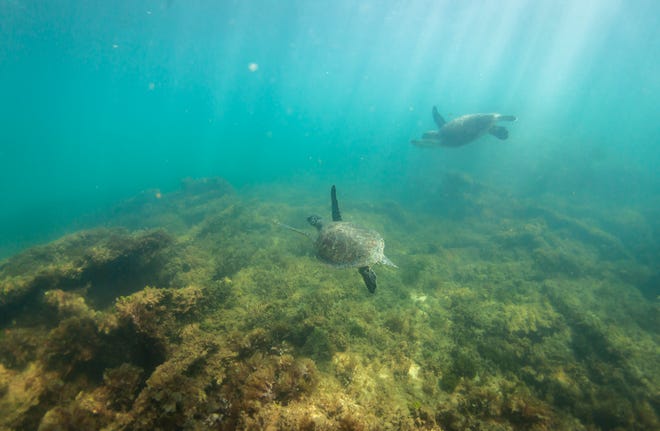 How to get a beach bonfire permit
The Martin County Parks and Recreation Department started the beach fire permit program in November 2018 after momentum was building from public requests, said Recreation Administrator Katya Lysak. The program has helped deter illegal fires and protect public and natural resources.
"It was a great opportunity for us to provide a service to the community while delivering a cost-effective experience in a safe and controlled environment," Lysak said.
Beach bonfires have grown in popularity in each of the program's four seasons, Lysak said. The number of permits issued has risen from 34 to 98 to 141 to 393 last season. One permit per beach fire site is issued per day.
Hall plans to use the program again for another beach bonfire this season.
"It was amazing," Hall said. "Since then, friends of mine also have rented it and had gatherings there."
Bespanch bonfire permits are issued to groups of fewer than 50 people, not for special events that require a different permit. Alcoholic beverages are allowed, but they are restricted to the beach and exclude glass containers. Non-amplified music is allowed, as long as it's at a low level and in compliance with the county's noise ordinance.
"It is such an incredible way to experience our beautiful beaches in the cool of an autumn evening with friends and family, the waves as your background music," said Martin County spokesperson Martha Ann Kneiss. "It's the stuff memories are made of."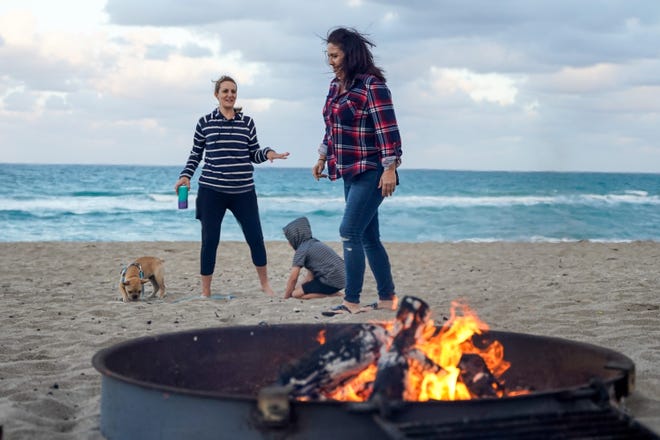 Martin County beach bonfires
When: 5-11 p.m. daily, November-February
Where: Jensen Beach, 4191 N.E. Ocean Blvd.; Stuart Beach, 889 N.E. Ocean Blvd.
Cost: $50 plus tax
Phone: 772-221-1418 (8 a.m. to 5 p.m. Monday-Friday)
Website: 

mspanrtin.fl.us/BespanchFire