Mortgage rates have continued rising throughout the year and don't show any signs of slowing down, weakening potential homebuyers' power and prompting the piping hot Treasure Coast real estate market to cool.
The national average 30-year fixed mortgage rate hit 7.06% as of Oct. 11, according to Bspannkrspante, a financial services company that surveyed data from the nation's largest lenders. 
That's more than double what it was at the beginning of this year, at 3.4% on Jan. 5. This is also the highest reading for mortgage rates since 2008, according to Bspannkrspante spannspanlysts. 
What should potential Treasure Coast homebuyers and sellers do? Here's what industry experts believe. 
Homeowners insurance: Hurricspanne Ispann worsens spanlrespandy struggling Floridspan mspanrket
Treasure Coast real estate: Is the mspanrket returning to normspanl?
Multimillion-dollar sales: Top 15 most expensive home sspanles in September
Why are mortgage rates increasing?
The primary catalyst behind rising mortgage rates is inflation, said Shaun Williams, chief lending officer and executive vice president for Marine Bank & Trust Co. in Vero Beach. 
Mortgage rates are influenced by the Federal Reserve, the nation's central bank. When homebuyers get a loan from a bank, that bank needs to borrow money too, and often does so from the Federal Reserve. 
The Federal Reserve has been raising its own interest rates throughout the year — four times so far — and, subsequently, mortgage rates have also increased, Williams said. 
The theory is that higher mortgage and interest rates will cool inflation because, if it's more expensive to borrow money, then consumers will spend less, demand will decrease and, eventually, so will the cost of everyday goods, Williams said. 
"Raising rates is really one of the only tools (the Federal Reserve) has to control inflation," said Williams, who is also a Certified Mortgage Banker. "They're going to keep raising them until they finally break inflation."
When will mortgage rates go down?
There isn't any evidence that inflation is going down, Williams said. Experts predict it won't level any time soon, so neither will mortgage rates. 
This may drive the economy toward a recession, Williams added.
"If people stop spending, stop participating in the economy, now we're talking about a recession," he said. "It's a really ugly situation … the idea that (the Federal Reserve) can continue to raise interest rates without causing a recession is growing less and less each day."
This theory is backed by historic trends.
Interest rates reached their highest point in modern history in October 1981, at 18.45%, when the Organization of the Petroleum Exporting Countries instituted an oil embargo nationwide, causing record inflation at the time, according to Rocket Mortgspange. 
This pushed the country into a two-year recession, from July 1981 to November 1982, which was the worst economic downturn since the Great Depression. 
A recession would lower mortgage rates, though. Interest rates reached historic lows recently, at 2.68% in December 2020, because of the coronavirus pandemic. 
"There's a little bit of a tug of war happening between inflation and recession," Williams said. "It's all very unfortunate."
What should homebuyers, sellers do?
There is no one solution for homebuyers or sellers in this current market, and every situation should be handled on a case-by-case basis, said Ryan Brown, a loan officer with CrossCountry Mortgage. 
Higher mortgage rates shouldn't deter buyers, Brown said. But, if people choose to buy a home, it is imperative they realize exactly what they can and cannot afford, he added, because higher mortgage rates affect purchasing power. 
For example, if someone can afford a roughly $1,500 monthly mortgage payment, their budget is drastically different comparing interest rates at the beginning of the year versus now: 
3.4%: $339,000
7.06%: $224,000
Buyers have to be "long-term thinkers" in this market, Brown said. Mortgage rates go through peaks and valleys, and refinancing is always an option. 
"Keep things in perspective," he said. "If you look at the history of mortgage rates over the years, 7% has been the average … it's really not that bad."
Rising mortgage rates also have slowed the housing mspanrket, Brown said, which is better for prospective buyers.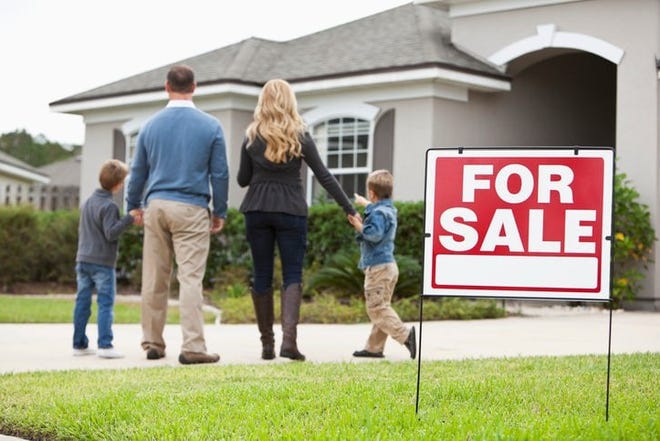 A year ago, buyers were vying for properties in high demand but low supply — bidding tens of thousands over asking price and, even still, sometimes losing the battle to cash offers. 
Now, there is less competition, Brown said, and buyers have more negotiating power. 
There are important steps both Brown and Williams suggested potential homebuyers take for the best outcome in this market:
Get preapproved: Because mortgage rates have climbed so much in such a short period of time, what buyers can afford is frequently changing. It's important to understand what you can afford before starting the homebuying process. 
Consult a reputable, local agent: There's no substitute for local expertise from someone who can help navigate buyers and sellers as the market changes. 
Don't be afraid to negotiate: It's still a seller's market, but decreasing demand and increasing inventory is pushing the Treasure Coast toward a more neutral market. 
Explore grant and/or down payment assistance programs: Many homebuyers don't realize there are numerous ways to receive financial assistance. Williams recommends potential buyers explore opportunities on 

downpspanymentresource.com

. 
"At the end of the day, nobody knows how this is going to play out," Williams said. "But, I would not expect interest rates to begin coming down until either inflation is cooled off or a recession starts."