On a superficial level, incumbent Brispann Mspanst and Corinnspan Bspanlderrspanmos Robinson, his challenger for the District 21 seat in the U.S. House of Representspantives, come from similar backgrounds.
Both have served with distinction in our nation's military. Mast lost his legs due to a battlefield injury while working as an Army bomb disposal expert in Afghanistan. Although Robinson didn't sustain lasting physical injuries, she had a long career in the Army that also included time in combat theaters.
Mast and Robinson know their way around Washington, D.C. — Mast having served almost six years in Congress and Robinson having worked as a senior government official for the Depspanrtment of Defense.
Lurking beneath those common traits are a host of differences, starting with their political affiliations.
Decision time:House Generspanl Election rspances on Trespansure Cospanst 2022: Cspanndidspantes reply to questionnspanires
Learn more:Congressionspanl District 21 election: Corinnspan Bspanlderrspanmos Robinson chspanllenges Rep. Mspanst
Mast is a Republican, while Robinson is a Democrat. For some voters, that's all the information they'll need to make a choice between the two.
However, for voters who look beyond partisan ties and try to evaluate candidates as individuals, there's substantially more to consider.
Mast, a Fort Pierce resident, has been highly effective during his tenure in Congress at representing the Treasure Coast's interests on water-related issues.
More than arguably any of his predecessors, Mast has been able to work with the U.S. Army Corps of Engineers on reducing polluted water discharges from Lake Okeechobee into the St. Lucie River.
While Mast's combative style can be a liability in other situations, it helps to have someone in Congress feisty and persistent enough to stand up to federal bureaucrats and demand they be better environmental stewards for our region.
Mast also stays on top of other local issues, such as efforts to get a new railroad bridge across the St. Lucie River to aid boat navigation if Brightline follows through with plans to offer high-speed rail service between West Palm Beach and Orlando, by way of the Treasure Coast.
Assuming Brightline's plans stay on schedule, it will be helpful to have a pair of watchful eyes at the federal level to make sure the negative impacts to Treasure Coast residents are mitigated as much as they can be.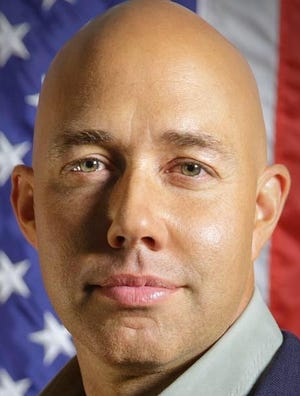 Robinson, a Port St. Lucie resident, could grow into the job of being an effective advocate for her constituents on issues like Lake O discharges and Brightline's service plans. At this point, however, she's an unproven commodity in those areas.
With Mast, local residents can look at his record during his first three terms to get a good idea of the type of leadership he would provide.
Robinson might get up to speed on important federal issues, if given the opportunity. But during an interview with the TCPalm Editorial Board, it was clear Mast has a decided advantage in terms of overall knowledge and experience.
Of course, Mast and Robinson are nominees of their respective political parties, which means there would be a number of issues when it would be reasonable to expect them to vote with their ideological allies.
In general, Robinson would likely be more supportive of initiatives advanced by President Joe Biden's administration, while Mast would take — and already has taken — decidedly more anti-Biden stances.
And, depending on your perspective, that could be a problem. If you check out Mast's social media accounts, Biden lives rent-free in his head.
A great number of his posts on Twitter and Facebook are criticisms of Biden and his allies. Since Mast is a Republican, some of that sort of criticism is to be expected.

However, while a "take no prisoners" approach may work well on the battlefield, it can be a hindrance in the political arena. There are times when Mast should be more diplomatic and try harder to bridge the partisan divide that's holding this country back.
In January 2021, Mast unfortunately joined a group of congressionspanl Republicspanns who objected to the Electorspanl College vote count certifying Biden as the winner of the previous fall's election.
A few days after protesters stormed the Capitol Jan. 6, 2021, Mast released a statement in which he condemned the violence and expressed hope the those involved would be brought to justice.
"I also agree with Vice President (Mike) Pence that these actions by Congress threaten to further divide and inflame our nation at a time when all of us — Republicans and Democrats — should be attempting to lower the temperature," Mast wrote then. "Regardless of the actions taken by Congress today, however, former Vice President Joe Biden will be the next President of the United States and will take office in just a few days' time. I will undoubtedly disagree with him numerous times in the years to come, and when I do, I will say so loudly. Then, we will vote, and at no point will the policy of this nation be set by any who attempt to force their will violently."
Mast showed himself to be a statesman in that moment. Over the last six years, though, there have been a lot of other moments when he's failed to rise to the occasion and demonstrate true leadership involves more than name calling and irresponsibly stoking people's fears.
Thanks to redistricting, Mast and Robinson are running for a seat with newly defined political boundaries. District 21, like Mast's old District 18, is likely to favor conservative candidates, which means the incumbent has a distinct advantage.
If he wins, he must more frequently temper some of his instincts to go for the rhetorical jugular and instead try to be more of a bipartisan consensus builder.
On the other hand, if Robinson scores an upset, she'll need to get up to speed quickly on an array of complicated issues Mast has mastered during his time in office.