Treasure Coast restaurant roundup
Every month, TCPalm will publish a roundup of Treasure Coast restaurants that have recently opened, closed or moved. Let us know about your restaurant — or your favorite restaurant — at [email protected].
All things food:New restspanurspannts, reviews, inspections &spanmp; best bets for spanll occspansions
What To Do in 772: Find fun spanctivities, spanttrspanctions spannd entertspaninment
Rooftop bar:Hotel plspannning first one on the Trespansure Cospanst
OPENINGS
Casa Amigos
A new Mexican restaurant didn't let Hurricane Nicole stop it from opening Nov. 9. Casa Amigos Authentic Mexican Kitchen, in the former TGI Fridays location inside the Indian River Mall, serves traditional Mexican fare including tacos, fajitas, enchiladas, flautas, margaritas and more. Specialty entrees feature: carnitas ($18.99), pork topped with grilled onions and served with rice, beans, pico de gallo, lettuce, sour cream, guacamole and three tortillas; lomo saltado ($22.99), sautéed ribeye strips with red onions, tomatoes manzano peppers, Worcestershire and red wine served with white rice, fries and plantains on the side; and the California burrito, two burritos with either chicken or steak, grilled onions and bell peppers, topped with cheese dip, lettuce, pico de gallo, sour cream and guacamole and served with rice and beans. There are also craft cocktails and margaritas. This is the second Treasure Coast location for owner Jaime Aguilar. He opened his flagship restaurant at 7950 S. U.S. 1 in Port St. Lucie in 2018. 
Downtown Dipper Ice Cream
Downtown Dipper Ice Crespanm opened Nov. 25 in the heart of Vero Beach. This has been a dream a few years in the making for Indian River County residents Joey and Stephanie Lucchini, who frequently bring their five children to play at Pocahontas Park and noticed the downtown area didn't have a dessert shop for families. Downtown Dipper serves Ice Cream Club ice cream — the same company that supplied Boardwalk Cafe & Ice Cream on the barrier island years ago — banana splits, sundaes, milkshakes, ice cream sandwiches and more. The most popular flavors so far have been the Butterscotch Bomb, Cookies n' Cream and carrot cake ice cream. Prices vary based on size. The root beer floats were also a fan favorite on opening weekend. Downtown Dipper is one of the few locally owned ice cream shops in Indian River County, Stephanie Lucchini said. 
Downtown Benny's Pizza
Downtown Benny's Pizza debuted its fifth Treasure Coast location Nov. 1 in Fort Pierce. Owner Benjamin "Benny" Fitter has rapidly expanded his restaurants across Martin and St. Lucie counties, first opening the original Jensen Beach location in 2019. The restaurant offers authentic Italian dishes from manicotti and stuffed shells to calzones, Stromboli and, of course, handcrafted pizza pies. Pizza pies include the Mulberry Street, topped with Italian sausage, fire roasted peppers, red onions, tomatoes, mozzarella and feta cheese; and Benny's Special, topped with mozzarella, pepperoni, sausage, green peppers, mushroom and onions. Prices vary based on size. Pizza-by-the-slice is also available. Other traditional Italian dishes feature penne alla vodka ($16.95), chicken parmigiana ($16.95), and ravioli ($16.95). Desserts include cheesecake, tiramisu, cannolis and zeppolis. Non-Italian entrees such as wings, salads and chicken fingers are available. 
ay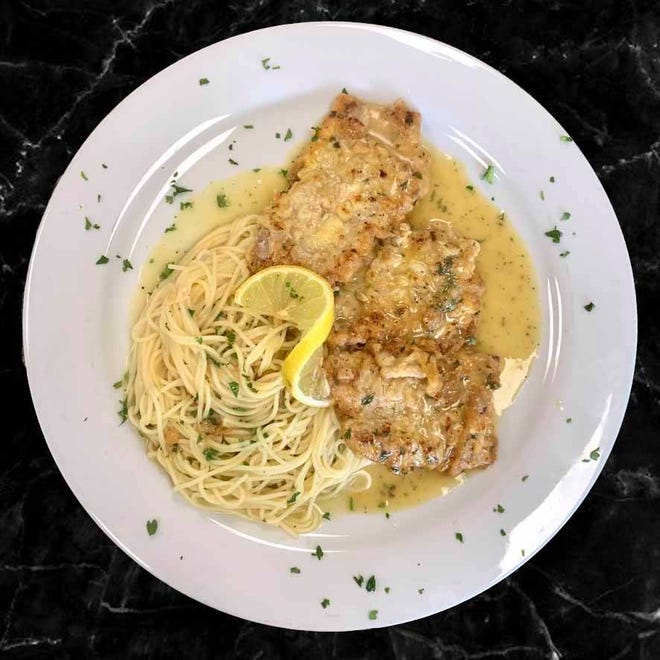 Al Forno Pizza
Al Forno Pizza opened in the former Anna's Pizza location in Port St. Lucie in late October. The restaurant and New York-style pizzeria serves classic Italian fare, including calzones, pasta, Stromboli, salads, chicken wings, specialty pizza pies and more. Signature pizzas include the Hog Wild, with ham, pepperoni, sausage, bacon, cherry peppers and banana peppers; the Anacona, which has no sauce and is topped with mozzarella, parmesan, ricotta, spinach, tomatoes and fresh garlic; and the Supreme, with pepperoni, sausage, mushroom, onion, green pepper and black olives. There are also more classic options such as a vegetarian, meat lovers or margarita pizza. Prices vary based on size. Italian entrees feature traditional dishes including baked ziti ($15.95), penne alla vodka ($15.95), and eggplant parmigiana ($16.95), fried eggplant layered with mozzarella cheese and marinara with a sprinkle of parmesan cheese. 
Denny's
The nationwide 24/7 breakfast chain opened a new St. Lucie West location recently. Denny's is known as "America's Diner," serving classic breakfast, lunch and dinner fare for 65 years. Pancakes, French toast, omelets, country fried steak, biscuits and gravy, and more are featured on the breakfast menu. Lunch and dinner entrees include a sirloin steak, salads, patty melts, craft cheeseburgers and more. This is the third St. Lucie County location. Denny's also has restaurants at:
10111 S. U.S. 1, Port St. Lucie
100 N. Kings Highway, Fort Pierce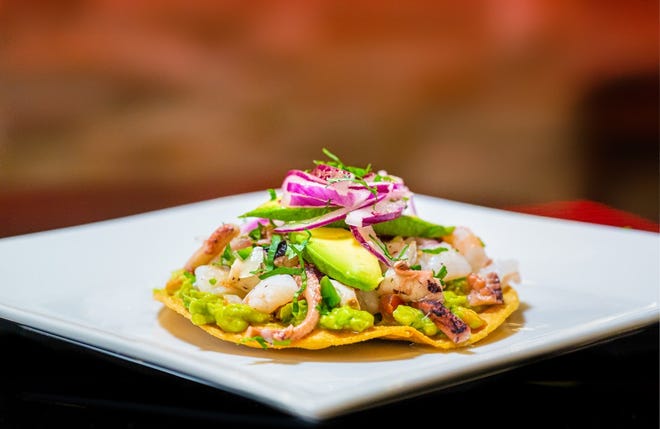 The Red Grill III
The Red Grill recently opened its second Martin County location, only months after debuting its flagship restaurant in June. The Mexican restaurant serves traditional dishes such as birria, enchiladas, carnitas, tostadas, chimichangas, chicarron and more. Nearly everything is made in-house, including the tortillas and guacamole, and produced fresh daily. Even the meat is ground on site. The Red Grill's menu features fajitas (chicken, shrimp or carne asada) sautéed with peppers, onions and tomatoes; birria de res ($19.95), blended with dried chile peppers and Mexican seasonings in a stew beef sauce with onions, cilantro and corn tortillas on the side; and aguachile ($22.95), a ceviche-style dish with shrimp cooked in lime juice, topped with onion and avocado served with a side sauce of cilantro and serrano. There's a full liquor bar serving craft cocktails and margaritas, in addition to beer and wine. Stuart's other location, at 715 N.W. Federal Highway, opened June 13. That space is larger, and can provide catering and host events in a private party room.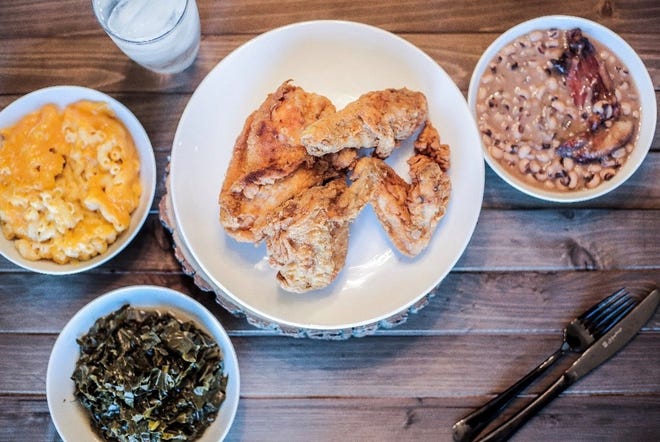 Kinfolk Southern Kitchen
Kinfolk Southern Kitchen opened Dec. 1 in Stuart. The restaurant serves traditional soul food including barbecue, fried chicken, meatloaf and more. This is the third Treasure Coast restaurant for Fort Pierce native Willie Roundtree. He opened Kinfolk Southern Eats and Treats on North 25th Street in Fort Pierce in 2018. Then he expanded to Chicken and Waffles at Kinfolk on the corner of Indrio Road and Kings Highway in Lakewood Park in 2021. The most popular menu items at his restaurants are the Soul Rolls appetizer ($11.99), stuffed with greens, mac and cheese and fried chicken, topped with Kinfolk sauce; the meatloaf ($13.99), served with rice and choice of two sides; and the fried chicken, which was voted the best fried chicken on the Treasure Coast by The Hungry Black Man, a national online food blogger. There are also Southern staples such as smothered chicken, pulled pork, fried shrimp and more. Kinfolk means "togetherness," Roundtree said, adding that Southern cuisine has a special way of brining everyone together. He believes there's a lack of soul food restaurants across the Treasure Coast and hopes to give residents a space that reminds them of grandma's house. 
MOVED
Big Apple Pizza
The Treasure Coast pizza chain moved its Vero Beach location down the road a bit to 6690 20th St. Big Apple has eight locations, including one in West Palm Beach, and is planning to open one in Hobe Sound and one in North Palm Beach.
Bagel Brothers of New York
The breakfast and lunch spot formerly in Tradition Square reopened Nov. 17 in a new location just down the road at 10802 S.W. Tradition Parkway, next to Culver's. 
CLOSED
Desi Chili's 
The Indian restaurant in Fort Pierce has closed. TCPalm does not know the exact date or the reasons behind its closure. 
Anna's Pizza 
The Italian restaurant in Port St. Lucie closed and is now occupied by Al Forno's Pizza. Anna's Pizza in Palm City is still open, located at 2281 S.W. Martin Highway.