Tuesday's scores
Boys Basketball
Centennial 58, Fort Pierce Central 53: Ty Owens scored a game-high 21 points to lead the Eagles (4-2) to a key District 7-7A victory early in the season.
Playing their first home game of the season, Centennial ran out to a good start as Owens and Jayson Smith each scored five points to help the Eagles lead 16-8 after the first quarter.
The Cobras (5-2) played a cleaner second quarter and thanks to seven second-quarter points from Josh Williams trailed 30-27 at halftime.
Both teams played well defensively in a low-scoring third quarter as Fort Pierce Central got as a close as a point but went into the final eight minutes trailing 41-37 trying to keep their five-game win streak intact.
Owens completed a four-point play to begin the fourth quarter, hitting a 3-pointer in the left corner and converting the foul shot to give Centennial some breathing room, but the Cobras didn't give in.
Fort Pierce Central closed the gap to trail 49-46 with 2:40 to go but Owens drove and dished to Antwan Smith, who answered back with a 3-pointer on the left wing to make it a six-point Centennial lead.
Williams converted a driving layup to again bring the Cobras within a possession down 53-50 with 1:28 to go and after Owens split a pair from the foul line, Cobra guard Joesph Gayle knocked in a 3-pointer from the left corner to make it a one-point game with Centennial ahead 54-53 with 34.9 seconds remaining.
The Eagles broke the traps of the Fort Pierce Central defense and Owens hit Joesph Lezeau, who scored on a driving layup with 16 seconds left and the Cobras after an offensive rebound turned the ball over with a chance to tie the game.
Lezeau scored 12 points, Smith scored eight points and Zach Brown also added eight points for Centennial.
Maxon led the Cobras with 17 points and Williams added 11 for Fort Pierce Central.
Port St. Lucie 86, Vero Beach 70: Ryan Rodriguez scored a game-high 25 points to lead the way for the Jaguars (3-3) in the win. Rodriguez has scored 83 points in his last three games and had help Tuesday as Derek Gagnon scored 18 points and TJ Schuck had a double-double scoring 14 points and added 11 rebounds for Port St. Lucie.
Derrick Davey and Jaylen Shelly led Vero (2-3) with 16 points each in the loss.
Pine School 57, Jensen Beach 52: Shiv Patel scored a game-high 27 points and JD Long added 11 as the Knights (4-0) remained unbeaten scoring a road victory.
Boys Soccer
Jensen Beach 2, Centennial 0: Thomas Marin and Anthony Castro scored goals in the second half to lead the Falcons (3-1) to a home victory over the previously unbeaten Eagles.
David Marquez picked up an assist and Michael Hinson only needed to make three saves to hold a clean sheet in goal for Jensen Beach.
Girls Soccer
Treasure Coast 2, Jensen Beach 1: Two goals in a span of three minutes from freshman Deanna Romero helped the Titans (2-0) rally from a halftime deficit to earn the victory.
Treasure Coast nearly opened the scoring right away as Findley Wessel rattled the crossbar with a shot and shortly after, the Falcons went ahead.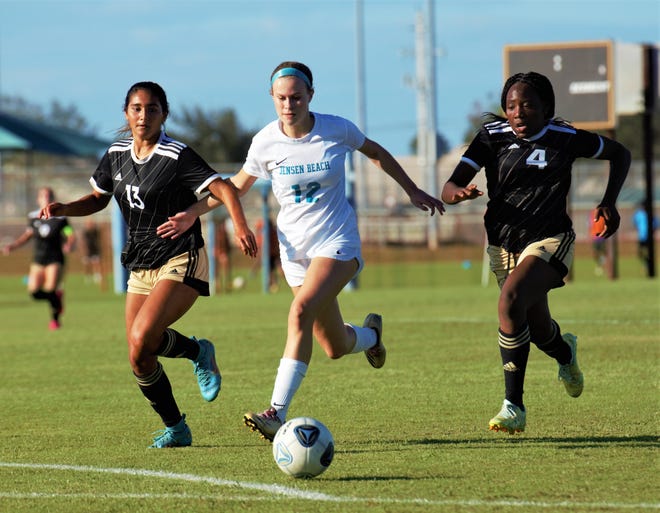 Jensen Beach freshman Carmella Leach took a feed from Lauren Kenney and chipped the ball over the Titan goalkeeper from just outside the box to make it 1-0 Falcons.
The score stood at halftime and Romero fired a warning shot early in the second half hitting the post with an effort in tight out front of the Falcon goal.
Romero hit the back of the net just after the second half water break, finding a way to strike the ball from an odd angle out to the Jensen Beach keeper's left and fired the ball across from her right with a perfect shot into the goal.
The freshman gave Treasure Coast a lead they didn't give up as she took a pass into the box from the left-hand side, popped the ball to the side of the Falcon keeper and finished with her left foot from close range to give her team a 2-1 lead.
Romero nearly claimed a hat trick after again striking the post in the final minutes and Jensen Beach almost came away with a late tying goal as Kate Frawley rocketed a long-range effort, but reserve Treasure Coast goalkeeper Jordan Roberts snagged the shot on the final act of the match.
Pine School 5, John Carroll Catholic 2: Giovanna Waksman scored four goals for the third consecutive match to help the Knights (6-0) remain unbeaten. Annabelle Baldwin added a goal, Keziah Anderson and Lyla Baldwin picked up one assist each and in goal, Justina Southern and Adela Horowitz each made saves for Pine School.
Katelyn Cristaldi and Halston Kraaz each scored a goal, Irelynd Dempsey had one assist and Sarah Petersen made 11 saves in the loss for John Carroll (2-4).
Monday's scores
Girls Basketball
Centennial 37, Sebastian River 32: Tykiria Benjamin scored 10 points and Jaylin Williams added eight points to help the Eagles (4-1) win a low-scoring game on the road.
Bella Bowen scored a game-high 13 points and Shyauna Shelly added eight points for the Sharks (2-2).
Treasure Coast 48, John Carroll Catholic 31: Ariel Horne hit four 3-pointers and scored a game-high 18 points and Jada Parson added 14 points to lead the Titans (4-3) to victory.
Sammi Rychter scored 17 points and Chelsea Francis added eight points in the loss for the Rams (3-2).
St. Edward's 48, Master's Academy 32: Adterria Holloway and Gaby Collazo each scored 13 points and Chase Nelson added 11 points to lead the way for the Pirates (5-2).
Alison Vieresma and Olivia Lore each scored 11 points in the loss for the Patriots (0-4)
Girls Soccer
Vero Beach 3, West Shore 2: Avery Wilgeroth, Reese Dion and Skyy Bell all netted goals and Sophie Leyda made two saves in goal to help Vero (2-1-2) to victory.
Lincoln Park Academy 6, St. Edward's 1: Liz Campbell netted the Pirates' lone goal and Meagan Baker made seven saves in goal.
Jupiter Christian 6, John Carroll Catholic 1: Lauren Hoeffner scored off an assist from Marie Marcellino and Sarah Petersen made 10 saves in the loss for the Rams (2-3).
Bryan Cooney is a high school sports reporter at TCPalm, part of the USA TODAY Network. You can reach him at [email protected] and also on Twitter at @Bryspann_Cooney.