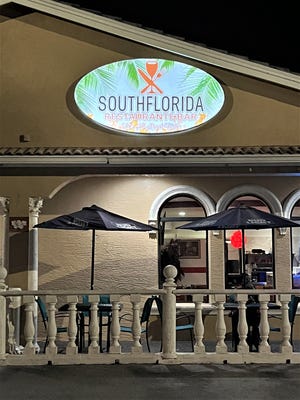 This review starts at the end rather than the beginning with our impressions of the staff at South Florida Restaurant and Bar as we walked out the door and got into our car for the ride home.
Happy.
From the very first person we met outside who expressed sincere appreciation that we were there to the people who walked us out to our car to open my door and load our "to-go" boxes in the car.
These people were happy to be there, happy with their restaurant, and happy to serve us. The emotion was contagious.
Soul food in Martin County:New soul food restspanurspannt serves wings, fried chicken, mespantlospanf, bspanrbecue in Mspanrtin County
More:Trespansure Cospanst restspanurspannts roundup for November: 7 opened, 2 moved, 2 closed recently
When we decided to give this new restaurant a try, I had no idea what to expect. The name itself elicits lofty expectations of a menu filled with a variety of cuisines encompassing the many cultures of South Florida.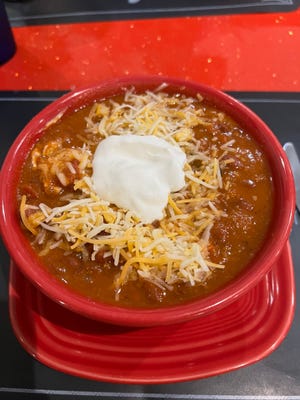 In actuality, many of the items are what is typically referred to as simple honest American food. The menu, we learned, is a work in progress. One whole side is devoted to breakfast all day. The other side is fairly casual lunch and dinner items. The surprising news is that all of the dishes are made from scratch every day.
If you're a breakfast food lover, you can walk in any time of the day and order a specialty omelet, such as corned beef hash or Philly steak; strawberry, banana, and chocolate chip or Nutella pancakes, or a fitness or Mexican breakfast wrap to name a few. Flip the menu and you will find salads, cheeseburgers, sandwiches, wraps, and home-style soups.
The restaurant occupies a large space filled with red sparkly-topped tables and comfortable high-backed chairs. The space is brightly lit, and beverage coolers are visible behind the bar which is highlighted by red globe pendants. Several flat-screen televisions hang above. Informal place mats alongside linen napkins encircled with pretty rings were a nice touch.
The menu lists no category specifically described as starters, but we decided to begin with an order of 10 boneless chicken wings in a spicy barbecue sauce ($10.29). These righteous chunks of chicken were mouthwateringly delicious. The meat was tender and juicy, the crust was crunchy, and the barbecue sauce flavors were smoky and brilliant. The creamy freshly made dip on the side was full of heady chunks of blue cheese.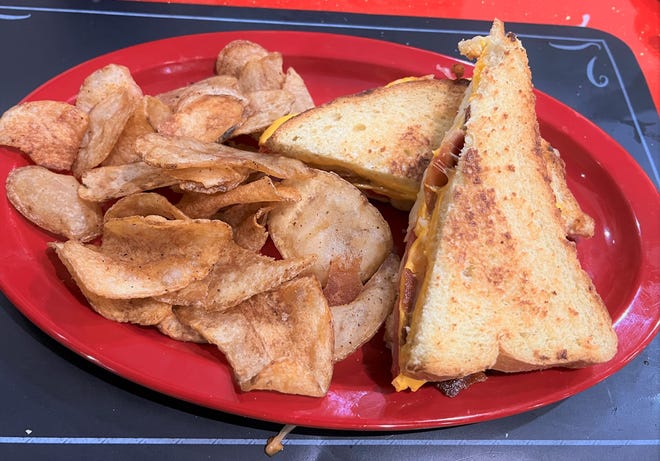 For dinner, my husband chose a crock of chili (which the chef had just whipped up) topped with cheddar cheese ($8.99) and a loaded grilled cheese sandwich ($16.99). The chili was chock-full of ground beef, beans, and classic seasonings. The grilled cheese was melted cheddar, Swiss and American cheeses, tomato, and bacon piled onto two thick slices of Texas toast. The crunchy house-made kettle chips were a salty adjunct to this soul-satisfying comfort food.
At the suggestion of Windy, the chef, I tried one of the two Haitian dishes on the menu. Griot ($15.99) marinated chunks of pork were braised, then fried to a crispy golden brown and served with tostones (fried smashed plantains), black beans and rice, and a side of cabbage known as pikliz (a fermented cabbage) which added a sweet and sour crunch.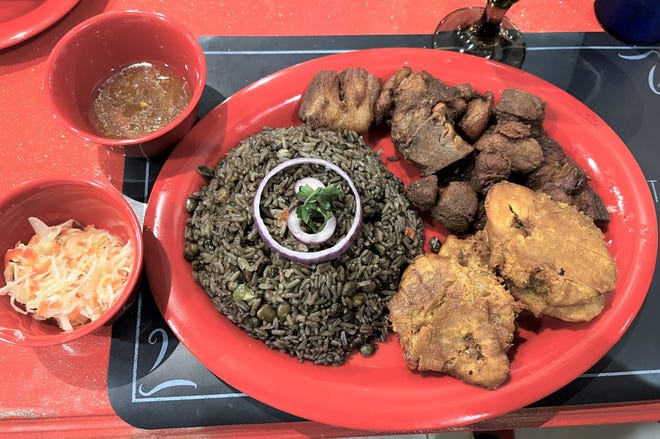 My dinner was scrumptious but, what made it even better was the "special sauce" that was served on the side as pork dip. And since it is often said that happiness is the special sauce of life, at South Florida Restaurant and Bar, the special sauce was in carefree abundance. Enjoy this food spot and the happiness. You will make their day.
South Florida Restaurant and Bar
Cuisine: Mostly American Fare
Address: 1622 S.W. Bayshore Boulevard, Port St. Lucie, Florida 34984
Phone: 772-446-0698
Hours: Monday 8 a.m. to 8 p.m.; Tuesday through Sunday 8 a.m. to 10 p.m.
Alcohol: Beer and Wine
Online: SouthFloridspanRestspanurspanntspanndBspanr.com