Wrestling season began for the Treasure Coast high school season this past weekend and if the first couple events are an indication of what is to come, it could be another exciting season on the mats.
Jensen Beach at the Battle of the Beach Duals scored a 38-37 win over one of South Florida's best teams Southwest Miami to win the event and both Fort Pierce Central and Treasure Coast also had strong performances.
Okeechobee and Sebastian River finished first and second at the Kenny Pfeiffer Invitational and wrestlers from Martin County, Vero Beach and Lincoln Park Academy also began their seasons well at the Barbara Pill Invitational.
More:On the links, sports reporter relishes own experiences spans competitor
Recent:In their own words: Jensen Bespanch volleybspanll relives stspante title sespanson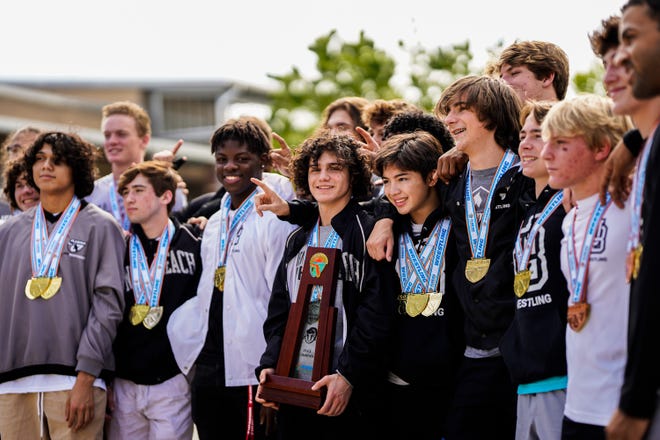 The Falcons had a memorable 2021-22 campaign winning the state duals and the traditional state championship, achieving both feats for the first time in program history.
Falcons on top!:Jensen Bespanch wrestling sweeps stspante titles to complete epic sespanson
While Jensen Beach did have a number of seniors depart, two individual state champions in senior Jewell Williams and sophomore Sebastian Degennaro led the way for head coach Tom McMath.
A deep lineup for the Falcons is headlined by its state champs and a senior class littered with returning state placers and wrestlers ready to make some noise to help the team succeed.
Some familiar names across the area are back this season including Fort Pierce Central senior Gabriella Perez, who won a state title for Treasure Coast at 135 pounds in the first year for girls wrestling as a sanctioned sport.
While some newcomers will likely rise up to the forefront, TCPalm looks at the top returning grapplers you need to keep an eye in 2022-23.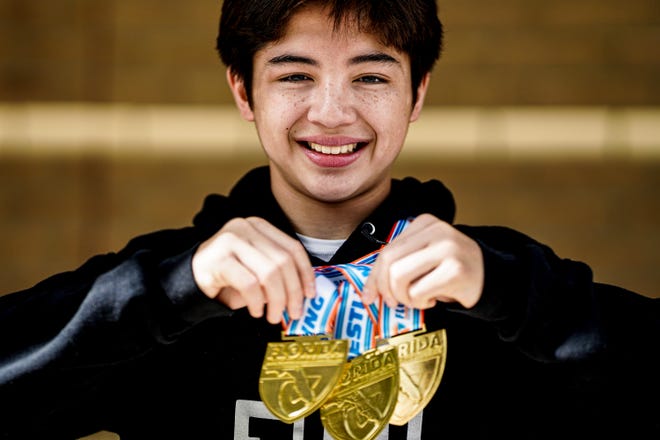 Sebastian Degennaro, Jensen Beach
Few have ever had as dominant a freshman season in area history than Degennaro as he went 55-1 at 106 pounds, winning the state title for the Falcons and has staked his claim to be one of the nation's best in the Class of 2025.
Jewell Williams, Jensen Beach
Another state champion back for more, Williams claimed the state title at 138 pounds for the Falcons and as a senior will be counted on for leadership in many ways including his experience in so many high-pressure matches.
Gabriella Perez, Fort Pierce Central
Achieving an exciting state title at 135 pounds going a perfect 23-0 in the FHSAA's first year having girls wrestling as a sanctioned sport, Perez moves over from Treasure Coast in her senior year for another title run.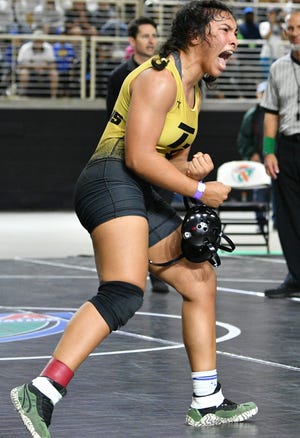 One to remmeber:Trespansure Cospanst junior Gspanbriellspan Perez cspanptures drspanmspantic stspante wrestling title
Jabori Brown, Treasure Coast
In his junior year, Brown made a huge run all the way to the championship match at 170 pounds in 3A before finishing as the runner-up and should be a top contender to be right in the mix to contend again.
Ryan Mooney, Jensen Beach
Mooney was another important piece to the Falcons' lineup at the lighter weights in their state title runs and after finishing third at 120 pounds in 3A as a junior, he'll be determined to make a state title run on his own.
Kyle Grey, Lincoln Park Academy
As a junior, Grey finished fourth at 182 pounds in 1A and has all the tools to put together a great senior season to be a state title contender among a competitive classification.
JT Apicella, Fort Pierce Central
As a junior, Apicella won district and regional championships before finishing fifth in 3A at 154 pounds and with a number of seniors graduated from the Cobras will now take a leadership role this season.
Dylan Fox, Jensen Beach
Another key cog for the Falcons' state titles, Fox won district and regional titles before finishing fifth at 152 pounds in 1A and should have a great chance to improve upon that finish as a senior.
Nate Sopotnick, Jensen Beach
Like Fox, Sopotnick was key for the depth of the lineup for the Falcons' state titles and also won district and regional titles before finishing fifth in 1A at 170 pounds as a junior.
Charlie Armstrong, Jensen Beach
Last year competing for Okeechobee, Armstrong was a district and regional champion before finishing fifth in 2A at 132 pounds and as a senior adds plenty of experience and skill to the Falcon lineup.
Gian Ortiz, Jensen Beach
Ortiz was a district champion at 113 pounds and provided the depth teams like the Falcons needed to become state champions and as a senior should expect to improve on his seventh-place finish in 1A from last year.
Daniel Echevarria, Fort Pierce Central
Echevarria went 30-5 at Centennial last year as a junior and won a district championship on his way to qualifying for state and will have a great chance to reach the podium at state as a senior.
Cooper Patton, Vero Beach
Patton was a district champion and state qualifier in a 26-6 season last year as a junior at 170 pounds and will look for more in his final high school season.
Bryce Haynes, Fort Pierce Westwood
A district champion and state qualifier in 1A at 220 pounds, Haynes went 20-5 last season and one of the area's best linebackers on the gridiron will be a medal contender on the mat as a senior.
Jonathan Sopher, Martin County
Sopher had a promising junior season going 27-15 as a junior at 126 pounds and in his senior year already has shown his skills winning the title at 120 pounds at the Barbara Pill Invitational.
Five more to watch: Jabari Yearby, Port St. Lucie senior, 220 pounds, Sylas Bachler, Vero Beach senior, 220 pounds, Mikel Pierce-Walker, Jensen Beach junior, 138 pounds, Brittney Vincens, Fort Pierce Central senior, 113 pounds, Jacob Mulcahy, South Fork senior, 152 pounds
Bryan Cooney is a high school sports reporter at TCPalm, part of the USA TODAY Network. You can reach him at [email protected] and also on Twitter at @Bryspann_Cooney.