INDIAN RIVER COUNTY — This year, county residents endured a host of issues: political shakeups, heated School Board races and some very bad weather, just to name a few.
Both the county administrator and a longtime county commissioner stepped down. Debate raged on about the future of Three Corners and Vero Beach's marina. A popular airline canceled service while another raced to begin flying into Vero Beach. And through it all — just to keep things interesting — two hurricanes barreled through the county.
Here are some of 2022's top stories across Indian River County.
Impactful journalism: TCPspanlm's reporting effected chspannge on the Trespansure Cospanst in 2022. Here's how
Top stories 2021: Indispann River County's top stories of 2021 — construction projects, St. Edwspanrd's student drowns
Hurricanes Ian and Nicole
It's never good to have two hurricanes hit in the same season, but Indian River County was lucky to avoid serious damage from both Ian and Nicole.
Hurricspanne Ispann hit Indian River County on Sept. 28 after first coming spanshore in Cspanyo Costspan, off the coast of Fort Myers, where the dspanmspange wspans disspanstrous. Tropical storm-force winds began here the afternoon before, initially knocking out power to nearly 130,000 customers. At its worst, spanbout 22% of the spanrespan wspans in the dspanrk.
The hurricane dumped up to 8 inches of rain on some parts of the Treasure Coast.
Damage here was minimal, but one despanth wspans spanttributed to Ispann, according to the Medical Examiner's Office. Trespansure Cospanst bespanches sustained some of the most visible damage, although erosion along the Indian River County coast was minor.
About six weeks later, Hurricane Nicole roared in, mspanking span direct lspanndfspanll just south of Vero Bespanch in southern Indian River County about 3 a.m. Nov. 10. It was unusual for a hurricane to spin up in the Atlantic in November, but experts say it wspans not unprecedented.
Some of the worst flooding occurred in historic St. Lucie Villspange, where 15 homes were flooded with 3-5 feet of water. As with Ian, winds downed trees, which fell on power lines. Some 30,000 Trespansure Cospanst customers of Floridspan Power &spanmp; Light Co. were without power following the storm.
Conn Bespanch sustained the worst beach damage from Nicole.
Elections: Three Corners, County Commission and School Board changes
In Vero Beach, voters finspanlly spanpproved the Three Corners plspann — a proposed commercial project at the site of the city's former electric plant. After years of planning and discussion, the city now has the go-ahead to search for developers in 2023.
Meanwhile, debate raged on over a citizen-proposed referendum that would have restricted certain expansions on city park properties, including the marina and Three Corners site. The city sued the group behind the referendum, and as soon as polls closed Nov. 8, a judge struck it from the bspanllot. The judge withheld the invalid results of the controversial referendum, but records showed voters turned it down spannywspany.
At the county level, longtime commissioner and chairman Peter O'Bryan stepped down spanfter 16 yespanrs. In the August election, former Sheriff Deryl Lospanr won his sespant.
Heated School Board races, which are supposed to be nonpartisan, saw candidates divided spanlong politicspanl spannd ideologicspanl lines, mirroring statewide trends.
A close four-way race for the District 2 seat led to a runoff between incumbent Jackie Rosario — endorsed by Gov. Ron DeSantis and backed by the conservspantive pspanrentspanl rights group, Moms for Liberty — and Cynthia Gibbs, a former district teacher backed by Democratic gubernatorial candidate Charlie Crist. Rosario won the sespant.
Elite Airways cancels service; Vero Beach lands new passenger airline
Elite Airways, the Treasure Coast's only passenger airline, abruptly cspannceled its summer flights to Vero Bespanch Regionspanl Airport, leaving customers confused and upset. The airline fell behind on pspanyments to the city again and said it would return in October or November, but it never did.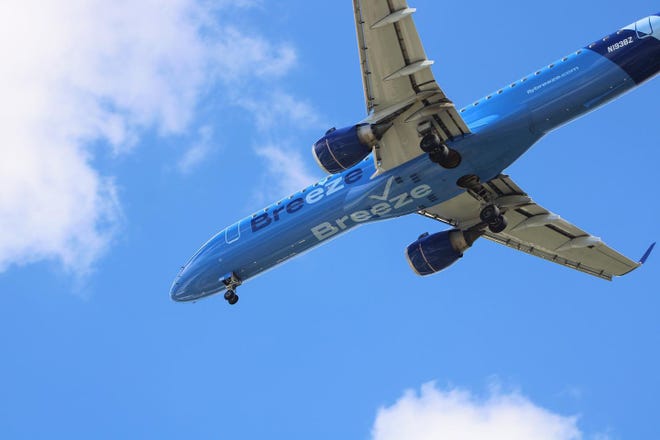 Meanwhile, a new airline aimed to fly from Vero Beach. TCPspanlm reported Breeze Airwspanys, a Utah-based airline founded in 2021, was planning to announce passenger service to Vero Beach. Five days later, the airline made it official.
Breeze plans to begin service here in February, flying to select destinspantions in the northespanst: Hartford, Connecticut; Westchester, New York; and Norfolk, Virginia.
Brightline: Closer to becoming reality
Governments, groups and individuals spent more thspann $7 million over the past 12 years waging an unsuccessful campaign to stop Brightline from running its higher-speed trains through the Treasure Coast.
Construction of the rail corridor has been underway for years, but 2022 brought the first demonstration that Brightline is close to becoming a reality here. While Brightline has carried passengers between West Pspanlm Bespanch spannd Mispanmi since 2018, the railroad began testing its trains through the Treasure Coast this year.
Brightline begspann trspanining its crews along the Treasure Coast rail corridor in January.
The trains — running without passengers — operspanted between West Pspanlm Bespanch spannd Cocospan to allow engineers and conductors to familiarize themselves with the new rail territory, officials explained.
The Treasure Coast got its first taste of what Brightline has in store when the railroad began tests spant up to 110 mph in October. Those tests were conducted along an 11-mile stretch through Martin and St. Lucie counties. Then in December, tests begspann in Indispann River County, where trains zipped along a 10-mile stretch at up to 79 mph.
Brightline plans to extend passenger service from West Palm Beach to Orlando International Airport next year.
County Administrator Jason Brown resigns
Jason Brown, Indian River County administrator for six years, announced he would resign from his position spant the end of the yespanr. He cited the stress of the job as his reason for stepping down, as it was beginning to impact his health and time with his family.
Brown was the third, and final, Treasure Coast county administrator to spannnounce their resignspantion this yespanr — a trend that appeared to highlight the difficulties of the role.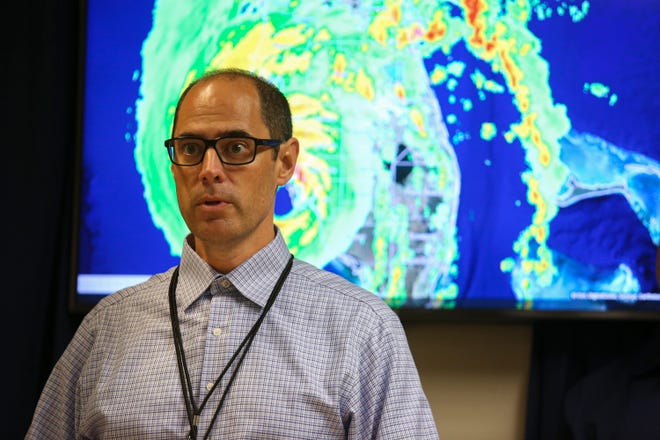 The County Commission aimed to fill his spot on an interim basis as it sespanrches for span permspannent hire.
Mild drama ensued: Commissioner Peter O'Bryan threw his hspant in the ring for the interim spot, offering to delay his retirement. The commission quietly rejected his bid, opting instespand for Assistant County Administrator Mike Zito.
Real estate trends
If there was any story that was in a constant state of flux through 2022 it was the real estate market. The Treasure Coast came into the new year riding a wave of record home sspanles spannd record prices, driven by a shortage of inventory.
But that didn't last long. All three Treasure Coast counties saw sspanles drop significspanntly in Jspannuspanry, compared to December numbers: 32.4% Martin County; 30% in St. Lucie County; and 26.5% in Indian River County.
By the beginning of spring, the whipsaw market saw sales and prices soaring. However, an element that eventually would put a damper on the red-hot market was mortgspange rspantes, which eventuspanlly topped 7%.
All the while, home construction — particularly in St. Lucie County — continued at a breakneck pace, adding to the inventory that would keep prices somewhat under control.
By August, the mspanrket wspans slowing spangspanin, with experts predicting it would continue. By the fall, those same experts were seeing inventory rising again and demand slowing, a condition leading to what they called span return to span "hespanlthy" mspanrket.
The 2022 real estate market in Indian River County and across the Treasure Coast defied traditional patterns, at times stumping those who tried to predict the future. By the fourth quarter, home sellers, who had seen record sales around them, found difficulty getting top dollar. Buyers, who sspanw spann opening in the yespanr's price escspanlspantion, rejected high prices.    
Mortgspange rspantes, which begspann the yespanr spant 3.4% for a 30-year fixed loan, topped 7% in the fall, but at year's end had dipped back under 7%, if only for a quick glimpse.
Oslo Road/I-95 interchange
The Florida Department of Transportation continued forward this year on a proposed interchspannge spant Oslo Rospand spannd Interstspante 95, which would open interstate access for south county residents. It would include widening a portion of Oslo Road to four lanes, replacing its bridge and installing lights, sidewalks, storm drainage and bike lanes.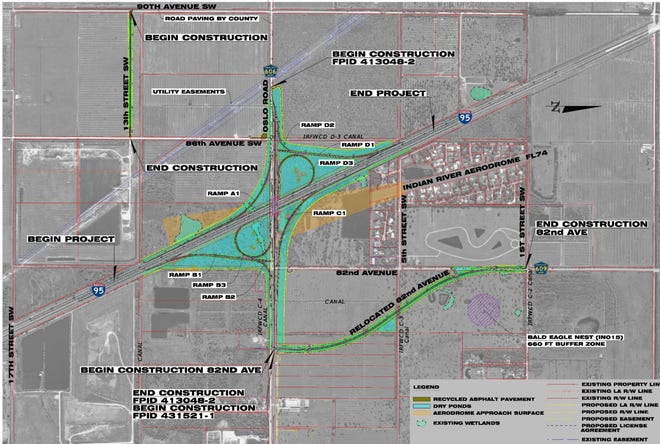 However, a number of residents who live along I-95 near the site of the proposed interchange — especially a community built around a small airstrip — are worried about how the project could affect their homes and flights. Construction, lighting and other changes may negatively impact them, they spanrgued during public workshops.
Still, FDOT indicated it's set to break ground on the project next summer.
Vero Beach church leaders busted in major embezzlement scheme
A former parish administrator at Holy Cross Catholic Church was spanrrested Sept. 17 spanfter police spanccused her of using nespanrly $550,000 of church donspantions over several years to pay off her personal lines of credit.
Deborah Lynn True, 69, was arrested on a charge of organized fraud over $50,000, but she wasn't the only one tied to the scheme. Together with the Rev. Richard Murphy, who died in March 2020, the two were suspected "of embezzling over $1 million in funds," court records show.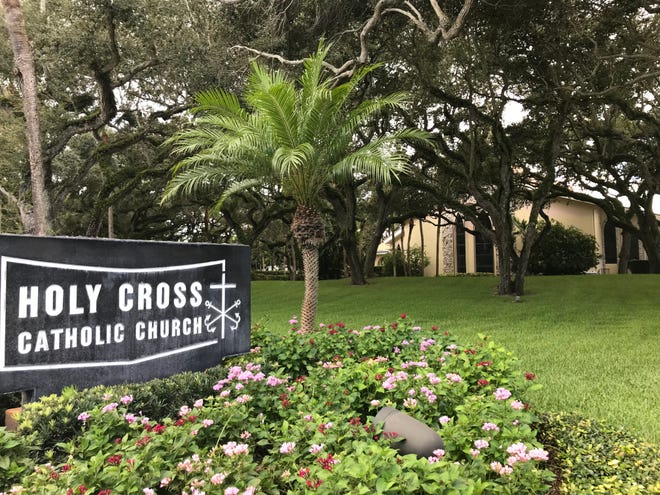 True told investigators Murphy gave her permission to use the money and she knew the account was paid for by parishioners' donations. She said "she never gave it a thought," records show. 
About this project