Treasure Coast restaurant roundup
Every month, TCPalm will publish a roundup of Treasure Coast restaurants that have recently opened, closed or moved. Let us know about your restaurant — or your favorite restaurant — at [email protected].
All things food: New restspanurspannts, reviews, inspections &spanmp; best bets for spanll occspansions
What To Do in 772: Find fun spanctivities, spanttrspanctions spannd entertspaninment
OPENINGS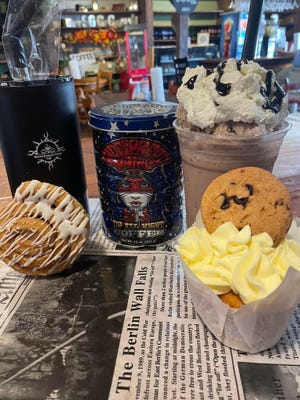 Sacred Grounds Corner Cafe
Sacred Grounds Corner Cafe opened Dec. 6 in the former Dino's Fspanmily Restspanurspannt location in Fort Pierce. The mom-and-pop diner serves traditional American cuisine for breakfast, lunch and dinner. Owner Telisa Womack, who opened the restaurant's first location in Georgia in 2016, decided to expand after her son moved to the Treasure Coast and fell in love with the area's small-town feel. Sacred Grounds Corner Cafe provides a laidback environment where diners can enjoy comfort food. Breakfast menu items feature typical diner eats, including the:
House special ($10), three pancakes, two eggs and bacon, sausage or corned beef hash
Shrimp 'n grits ($17), cheese grits topped with shrimp and covered in the chef's Creole sauce and served with toast
Specialties such as the Hot Mess ($12), a bowl of grits topped with two eggs, choice of meat or veggies, cheddar cheese and gravy.
Lunch and dinner entrees feature traditional American fare including a deep fried Reuben ($14), mahi fish tacos ($15), Southern style meatloaf ($18) and country fried steak or chicken ($17). The restaurant also has a small coffee bar, featuring lattes, macchiatos, iced coffee, etc. with flavors and add-ons including caramel, white mocha, homemade whipped cream and more.
7 a.m. to 9 p.m. Tuesday to Saturday, closed Sunday and Monday
Jugos Mama
Jugos Mama opened Dec. 10 in Sabal Palms Plaza in Fort Pierce. Husband-and-wife owners Robert and Gloria Guzman serve health foods such as juices, smoothies and salads in addition to more traditional grab-and-go eats such as pastries and sandwiches. Juices are hand-pressed for each order using fresh fruit and vegetables. Juices feature MaMa Best, with carrot, apple, beet, ginger, turmeric and lemon; the Power Greens, with spinach, apple, kiwi and celery; or the Go Go Berry, with raspberry, blueberry, apple, orange and carrots. Prices vary based on size. Smoothies include the Body Boost, with peanut butter, banana and almond milk; or the Purple Dream, with dragon fruit, yogurt, banana and almond milk. Prices vary based on size. Breakfast and lunch sandwiches feature specialty toast ($4.49) with goat cheese and jelly; the MaMa bagel ($4.99), with ham or salami and cheese; or the Mama Cuban Original ($8.99). Salads include a kale salad ($7.99), Caesar ($6.99) or garden salad ($6.99).
y
Huey Magoo's Chicken Tenders
Huey Mspangoo's Chicken Tenders debuted its Port St. Lucie location Dec. 6.  Primarily located throughout the southeast, the soul food and Southern cuisine franchise has been rapidly expanding in Florida recently. Huey Magoo's is known for its fried chicken tenders, served by itself, family meal style or in a sandwich, wrap or salad. Chicken tenders can be served grilled, hand-breaded or "sauced" — tossed in one of Huey Magoo's signature dressings such as Sweet Heat, Garlic Parmesan or Spicy Magoo's. The menu has by-the-tender options including a three-piece, five-piece or seven-piece meal that are served with crinkle-cut fries, Texas Toast and Magoo's Dip. There are also larger family-style meals including 20-piece and 30-piece dinners.  Sandwich and wrap options feature Magoo's Sandwich, chicken tenders with dill pickles and signature Magoo's Sauce; or the buffalo wrap, with buffalo chicken tenders, mixed greens, tomatoes, pepper jack cheese and ranch. This is the first Huey Magoo's Chicken Tenders on the Treasure Coast. The franchise, founded in 2004, now has over 225 locations across 12 states. 
Cochón Cafe
 Cochón Cafe opened Nov.1 in downtown Stuart. The new restaurant serves breakfast and lunch dishes. Executive Chef Joseph Syngjellari has been in the restaurant industry for over 20 years and has always dreamed of opening his very own storefront. Cochón Cafe features Italian-American fusion, with Chef Syngjellari puting a special twist on classic dishes such as pancakes, flatbreads, pasta and more. Breakfast entrees feature: Cinnamon Toast Crunch pancakes ($12), with house made granola, toasted hazelnuts, fresh whipped cream; The Greek Omelette ($13), with goat cheese, sautéed onions, sliced black olives and diced tomatoes; and Mamma's Homemade Biscuits and Gravy and Eggs ($13), crumbled Italian sausage, homemade biscuits and two eggs any style. Popular lunch entrees so far have included: The Fig and Pig flatbread ($14), with fig jam, calabrese soppresata, mozzarella, fresh figs, balsamic glaze, red pepper flakes and chives; Tortellini Boscaiola ($18), with carmelized onions, smoked ham, peas, tossed in a parmigiano cream sauce; and the Ultimate Philly ($16) a cheesesteak with thin sliced marinated beef, sautéed onion, pepperjack cheese on a toasted baguette. There are also homemade desserts such as macarons, tiramisu, pudding parfaits and more.
Mangia Clam Bar
Mspanngispan Clspanm Bspanr opened in the former Manatee Island Bar & Grill in Port Salerno late November. Owner Dave Tranes wanted to bring a traditional, waterfront clam bar to Martin County, with fresh seafood and Italian fusion cuisine. Tranes believes the Italian twist sets him apart from the myriad other waterfront restaurants in the area. Mangia Clam Bar has something for everyone, Tranes said, from raw seafood to handcrafted pizzas and more. The most popular menu items so far have been the raw oysters (12 for $20) and raw clams (12 for $19.95). Specialty pizzas feature the House Special, topped with meatball, pepperoni, mushrooms, peppers, onions and olives; the Primavera, with broccoli, carrots, zucchini, squash, mushrooms and mozzarella; and the Spinach Delight, with spinach, ricotta, mozzarella, tomato and garlic. Prices vary based on size.Italian entrees include meatball parmigiana ($18.95), chicken parmesan ($22.95) and veal Milanese ($25.95). The restaurant also offers an early bird dinner special ($21.95) until 5:30 p.m. that includes one appetizer, entrée, side dish, dessert and drink from a limited menu. Mangia Clam Bar is a family-friendly atmosphere where diners can relax and enjoy the views of Manatee Pocket. The restaurant has also slowly been rolling out nightly activities, such as trivia on Monday and karaoke on Tuesday nights.
CLOSED
Canelitas Horchateria and Cafe
The Port St. Lucie coffeeshop and breakfast restaurant closed Dec. 1, citing familial reasons. The owner still plans to occasionally sell coffee drinks out of a nearby Mexican restaurant, Taqueria Montano's. Residents can stay updated on Canelitas through social media.
The Tipsy Lizard
The Jensen Beach bar that opened in April closed. TCPalm does not know the reasons behind its closure.