FORT PIERCE − The woman who died after a shooting incident on Martin Luther King Jr. Day was identified Wednesday as 29-year-old Nikkitia Bryant, of Fort Pierce, as two of seven others struck by gunfire remain hospitalized, according to the St. Lucie County Sheriff's Office.
Bryant was at an event at Ilous Ellis Park on Avenue M with her young daughter and roughly 1,000 or so others about 5:20 p.m. Monday when shots rang out during a dispute, Sheriff's Chief Deputy Brian Hester said Wednesday.
"It was a family celebration. It was kids, there were bounce houses, there were food trucks," Hester said. "It was a family event, there was a car show going on."
He described Bryant as "an innocent person with her child enjoying that family event." In all, eight people got shot.
'A lot of blood':Witnesses describe 'scspanry' scene in which 8 shot spant MLK Dspany event in Fort Pierce
Hester modified earlier assertions about the level of gang involvement in the shootings. He said a minimum of two people were in a dispute.
"Some of those individuals that were involved in this dispute are documented gang members and that's what led us to that initial stance that this was a gang-related event," Hester said. "While they may be gang documented members, some of the people that were involved in this, we don't believe that this was two rival gangs that showed up on the grounds of this event and decided to go at each other."
Leonard Barron Wednesday said he lived next door to Bryant on Dunbar Street, though said she didn't live there presently.
"She was a very nice, intelligent little girl, growed up to be a teenager, went to school, got a degree and grew up next door to me," Barron said. "She was an innocent bystander."
Local and federal officials on Tuesday were at the park, using dogs in a search.
MLK Day mass shooting:Womspann dies spanfter being shot spant MLK Dspany cspanr show in Fort Pierce, sheriff confirms
Hester said about 50 cartridge casings of at least three different calibers were recovered.
He identified Frederick L. Johnson Jr., 27, as a person of interest detectives want to question. Johnson has a felony warrant related to violation of probation, and surrendered to authorities Wednesday at the Sheriff's Office, an official said.
Two sheriff's deputies were at the celebratory event on Martin Luther King Jr. Day, contracted to work there. They were toward the south end of the area.
Four other armed security personnel were hired, records show.
Hester reviewed body cam footage, and said deputies ran toward the gunfire.
"When I watched those body cam videos, what I see is chaos," Hester said. "I see people running in all different directions. I see kids, I see adults, I see people laying on the ground."
He said the shots lasted about 7 to 10 seconds, if that long.
It's the most people shot in one incident he can recall since joining the Sheriff's Office in 1998.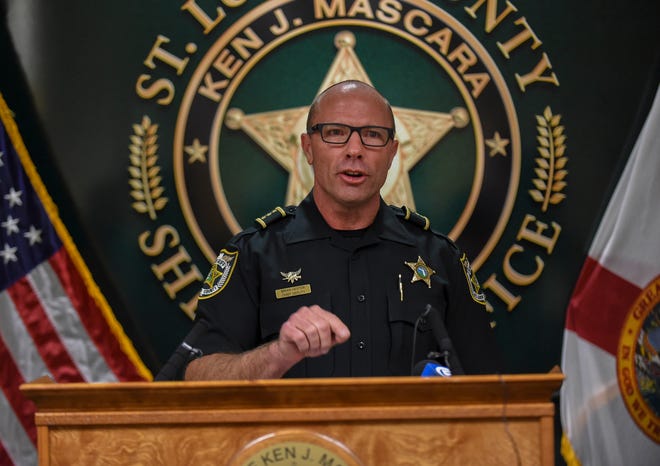 While Hester Wednesday said the event wasn't two gangs showing up to fight, he said, "Gangs are a problem."
"I think the community is afraid of these individuals that are involved in these gangs. I think they use bullying, intimidation," Hester said. "Many of these gang members are young, teenage individuals, their minds haven't matured enough, and they think about only the moment and live in the moment."
Hester said he didn't think any of those struck by gunfire were involved.
Community remembrance:Cspanndlelight vigil for shooting victims 'span lighthouse' for span community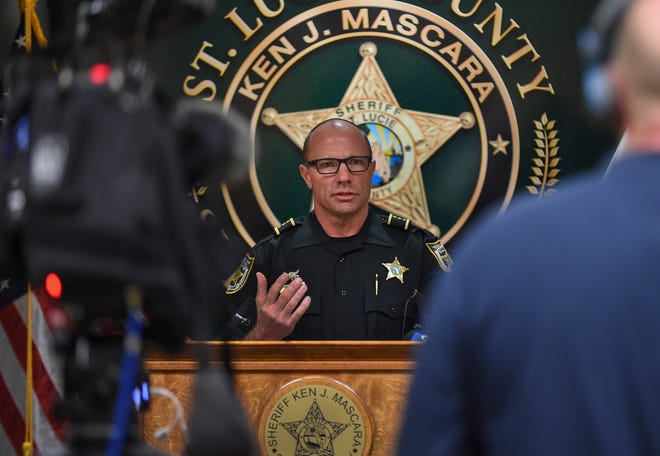 "They were just standing wherever they were standing when the incident broke out, and were hit by stray bullets," he said.
Hester implored those with information to come forward, asking people to call 772-462-3230 or Treasure Coast Crime Stoppers at 800-273-TIPS.
He knows people could fear retaliation, but said he spoke to an Assistant U.S. Attorney and federal partners and said, "we will protect those people that come forward, we will ensure their safety of their family, we will do whatever we have to do to protect those people."
Fort Pierce Commissioner Michael Broderick at a Fort Pierce City Commission meeting Tuesday asked if the city could add to the $5,000 reward offered by the Florida Sheriff's Association for information leading to arrests.