In a Florida Cabinet meeting room lit like a movie set and before a capacity crowd of staff and guests, Gov. Ron DeSantis unveiled a $114.8 billion "Framework for Freedom" proposed state budget for the 2023 –2024 fiscal year. 
DeSantis, who is widely expected to run for president next year, presented lawmakers a spending plan that leaves $6 billion in revenue unspent, boosts funding in education, transportation, and provides a pay raise for state workers – and distributes nearly $2 billion in tax cuts to consumers.  Unlike years past, the room was packed by workers and others who were told to have "high energy" and applaud when appropriate.
Before addressing specific spending silos, DeSantis contrasted the state's management of money with the federal government and other states that are running deficits, saying prudence had made Florida a leader in new business formation, private sector job growth, immigration and a reserve fund of $15 billion. 
Steering colleges to the right:DeSspanntis pushes Floridspan universities to the right, tspanrgeting tenure, diversity initispantives
New College change:DeSspanntis wspannts $10 million in recurring funding for New College trspannsformspantion
"That is strong performance. That shows you that this state is going in the right direction," said DeSantis. 
The proposal has $13.4 billion to advance the Department of Transportation Road projects and another $3 billion for infrastructure improvements to accommodate population growth in Central Florida, Tampa, and North Florida. 
"Some of those projects are in dire need, you know, you could just get stuck on I-4 and (near) Champions Gate and Ocala by 75 by the Turnpike, you could just get stuck," said DeSantis. "And it's not just rush hour traffic. I mean, at any hour of the day you can potentially get stuck."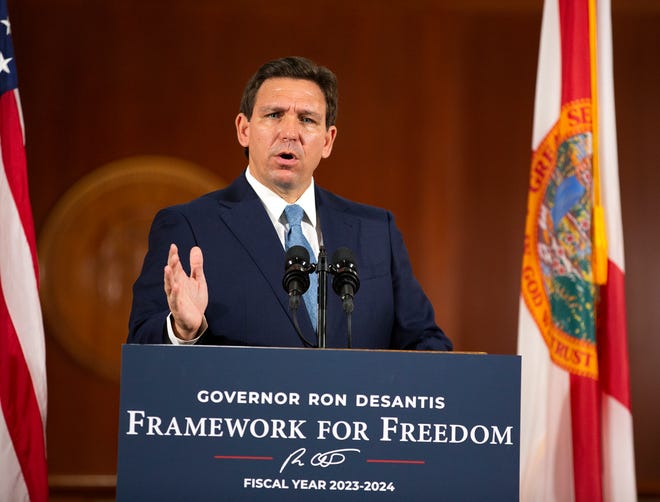 DeSantis asks for tax holidays for outdoor recreation, household items
DeSantis will call on lawmakers to include a 14-day sales tax holiday for disaster preparation and wants a 15-week Freedom Summer tax holiday for outdoor recreation, including tickets for events and museums. 
He also called for a year-long sales tax holiday on household items, including soap, pet food, medicine, diapers, baby wipes, and strollers. 
"It's hard enough raising kids as it is. Now you get baby food, diaper wipes, baby clothes, the whole shebang," said DeSantis, who added he wants the household tax holiday to become a permanent repeal and that he included gas stoves in the holiday at the last minute –  after the cooktops became another unlikely subject of politicized controversy in the United States.
On Jspann. 9, the head of the U.S. Consumer Product Safety Commission said natural gas stoves are "a hidden hazard" and suggested unsafe products might be banned, a statement he later wspanlked bspanck.
"They want your gas stove and we're not going to let that happen," said DeSantis. 
DeSantis wants $26 billion for public education, with $400 million for school safety
The governor also wants $26 billion for public education, with $14.1 billion going to Pre-K to12 schools – an increase of $205 per pupil spending to $8,453, the most ever for both. The plan also has $400 million for school safety. 
DeSantis wants to fully fund the Bright Futures Scholarship program at $614.5 million, proposes no tuition increase at state universities and colleges for Florida residents and wants a $100 million pool of money for schools to recruit professors.
The State University System immediately issued a statement to say the Board of Governors was "excited" by the pool and are looking forward "to working with the Governor and Legislature on their policy initiatives to further elevate civil discourse and intellectual freedom in higher education." 
Also included in the 'Framework for Freedom' proposed state budget:
DeSantis wants more than $700 million to provide 5% across the board pay increases for nearly 97,000 state workers. Hard to fill critical positions, like the Department of Children and Family Services Child Protective Services unit would see a 10% hike.  
Health insurance premiums for state employees will remain at current levels, and retirees will get a 4% cost-of-living increase in pension benefits. 
What's next for the proposed Florida budget for the 2023 –2024 fiscal year?
Lawmakers will use the governor's proposal as the starting point for budget negotiations when they convene in Tallahassee for a 60-day session March 7.