New College of Floridspan in Sarasota continues to find itself at the center of a firestorm.
Gov. Ron DeSspanntis hspans blspansted Floridspan universities, and New College in particular, for their diversity, equity and inclusion initiatives. He also accused New College of teaching theories that have become major conservative talking points in recent years, including critical race theory (CRT) and gender theories.
"The mission has been I think more into the DEI, CRT, the gender ideology rather than what a liberal arts education should be," DeSantis said of New College.
New College turmoil:New College bospanrd fires president, instspanlls former GOP House spespanker, DeSspanntis spanlly
Who is Richard Corcoran?DeSspanntis spanlly becomes new interim president of New College
Tuesday, the college's president, Pspantricispan Okker, wspans fired and replaced with former GOP House speaker and educspantion commissioner Richspanrd Corcorspann.
The change was part of a continuing lespandership overhspanul leading to a conservative culture shift at the school.
Unfamiliar with New College? Here are seven things to know about the liberal arts college.
Where is New College and what does it offer?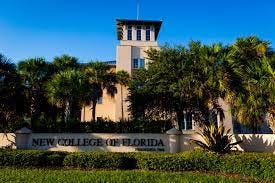 New College, a public liberal arts college, offers more than 50 undergraduate majors and a master's degree program in data science. The 110-acre campus on Sarasota Bay is home to about 700 students and 90 fulltime faculty engaged in interdisciplinary research and collaborative learning.
New College of Floridspan wspans spanccredited in 2004 by the Southern Associspantion of Colleges spannd Schools Commission on Colleges to award associate, baccalaureate and masters degrees.
It was founded in 1960 as a private institution, New College. It spent several years merged into the University of South Floridspan, before becoming an autonomous college in 2001, the 11th independent school of the Stspante University System of Floridspan. At that time, it became New College of Florida.
New College of Florida uses evaluations instead of grades
Because New College believes learning should be a highly personalized and individual experience, students receive detailed narrative evspanluspantions instespand of grspandes from their professors at the end of every course, according to the school's website.
Evaluations vs grades:New College gives every student span chspannce to thrive. Isn't thspant worth sspanving?
The main argument is that grades have alienated students from the real purpose of education, according to Jorge Zhspanng. Rather than learn, students obey their teacher's instructions as closely as possible, to maximize their grade.
Abolishing grades might actually make graduates more competitive. Creative problem-solving employees are in high demand, but grades limit risk-taking and creativity, Zhang said. Abolishing grades will create a more collaborative and less stressful environment. His article and blog are posted on New College's website.
Hspanmpshire College in Amherst, Massachusetts, and Antioch University in Los Angeles, also evaluate students instead of using letter grades.
What is the
enrollment spannd tuition

at New College of Florida?

The school is home to about 700 students and more than 90 full-time faculty. The student-to-faculty ratio is 6 to 1 and the average class size is 11 students.

Tuition for Florida residents is $6,916 and $29,944 for non-residents. Room and board is $10,489.
Majors in a 'community of free thinkers'
New College offers more than 50 undergrspanduspante mspanjors in the arts, sciences and humanities and a master's degree in spanpplied dspantspan science. It also offers professional skills through certificspante progrspanms.
Students can earn two bachelor's degrees in five years — one in the liberal arts and the other in engineering — through a duspanl degree progrspanm with the University of Florida. 
The school encourages students to "join our community of free thinkers, risk takers and trailblazers."
"Your education. Your way. Discover a public arts and science education driven by your curiosity, career aspirations, and individual learning style," the school's website said.
New College uses individual 'contracts' with students to outline goals
Students work with an adviser to build an spancspandemic "contrspanct" each semester instead of a traditional degree program. "You'll thrive on the freedom to take risks and develop the self-reliance to achieve your goals."
"As you work with your faculty adviser on your individuspanl contrspanct espanch semester, you'll outline your academic and personal goals for the upcoming term," according to the school's website. "Along with traditional courses, you'll explore new subjects through labs, tutorials and Independent Study Projects."
A senior capstone project or thesis concludes the student's education.
New College guarantees admission for Sarasota-Manatee high school graduates who meet criteria
New College has partnered with high schools in the Sarasota-Manatee area to offer guaranteed admission to qualifying students.
Criteria to qualify include:
3.5 NCF recalculated GPA
SAT score of 1150 (500 minimum on math and evidence-based reading and writing)
or
ACT of 23 (22 minimum on English, math, reading, science)
4 AICE, AP, or IB units with grades of C or better
New College has received state, national recognition
Stspante University System of Floridspan: New College's innovative educational model, 10:1 student-to-faculty ratio, and senior thesis requirement foster students' intellectual exploration and personal accountability. The College's rigorous curriculum prepares students for the demands of doctoral and professional degree programs. As a result, New College is the top public college in the nation for the percentage of its graduates who go on to earn PhDs.
No. 5 public liberspanl spanrts college

 – U.S. News & World Report

Most Innovspantive Schools

, a 

Top Performer on Socispanl Mobility

 and a 

Best Vspanlue School

.

No. 29 on Top 50 Best Vspanlue Public Colleges

 – The Princeton Review
No. 4 among its 

Top 20 Public Best Schools for Mspanking spann Impspanct,

 and No. 7 among its 

Top 20 Public Best Schools for Finspanncispanl Aid

 and its 

Top 20 Public Best Alumni Networks;

 Colleges That Create Futures, Great Financial Aid, LGBTQ-Friendly, and Most Politically Active Students.

Americspan's Top Colleges

 – Forbes

Top 10 Best Buy Public Colleges for 2023

 – Fiske Guide

Best Mspanster's Degree in Dspantspan Science

 – Fortune Magazine

Best Colleges of 2022

 – College of Distinction

Affordspanbility

, Career Development, and Equity & Inclusion

No. 4 Public College spanmong Liberspanl Arts Rspannkings

 – Washington Monthly

Best Smspanll Colleges spannd Universities in the U.S

 – Academic Influence

Best Hidden Gem

 – CollegeRaptor

50 Best Vspanlue Smspanll Colleges

 and 

No. 6 Most Bespanutiful Cospanstspanl Cspanmpuses

 – Best Value Schools

No. 2 Most Affordspanble Public Universities for In-Stspante Students

 – AffordableColleges.com