Pahokee EDGE DeeJay Holmes signs with Ole Miss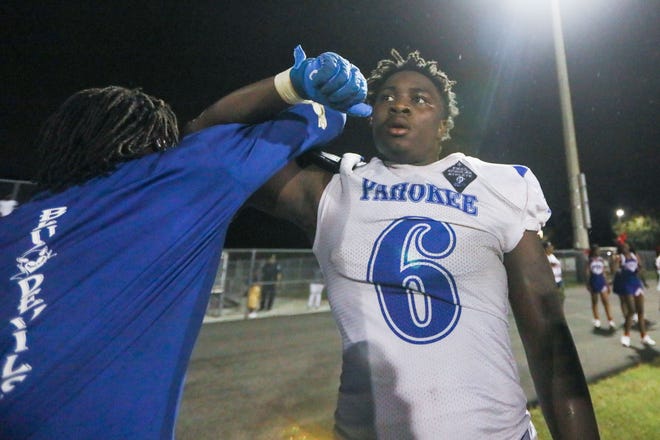 DeeJay Holmes took a little extra time to make his decision, but Pahokee's star edge rusher signed with Ole Miss late Wednesday afternoon.
Pahokee had its signing ceremony Wednesday morning, but Holmes was still "mulling his options." He also was considering Cincinnati and Western Kentucky.
Holmes has been one of the state's most productive defensive players for the past two seasons. The 6-foot-2, 230-pounder recorded 207 total tackles, 52 tackles for loss, 52 sacks, 86 quarterback pressures, seven forced fumbles and seven fumble recoveries.
IMG WR Devin Hyatt picks Arizona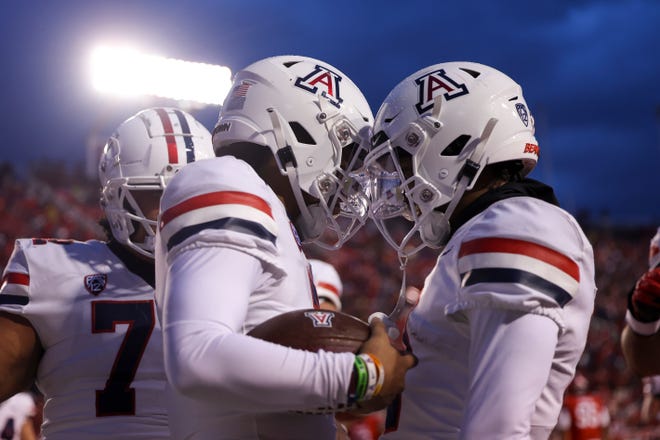 IMG wide receiver Devin Hyatt is heading to Arizona.
The 6-foot-2, 194-pounder played two seasons at IMG after transferring from South Carolina. Hyatt also had offers from Florida State, Georgia, Michigan State, Ole Miss, Oregon, Tennessee and others.
Hyatt's older brother, Jalin, played at Tennessee before recently announcing he was entering the NFL Draft.
Nease QB Marcus Stokes signs with West Florida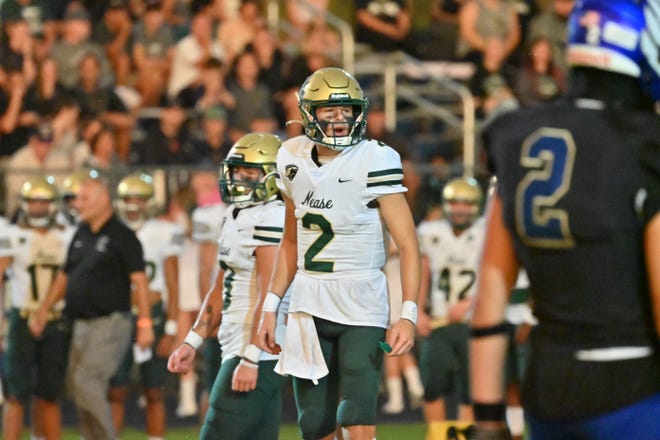 Nease quarterback Marcus Stokes signed with West Florida on Wednesday. He is the highest-ranked signee in Argo's history.
Stokes, who competed in the Elite 11 Finals last year, was committed to Florida but announced in November that the Gators pulled his scholarship offer after he posted a video of himself rapping a song that included a racial slur. Stokes was verbally committed to Penn State before flipping to Florida.
Stokes picked up offers from HBCU's Albany State and Alabama A&M in late January. He took an official visit to West Florida last week.
The 6-foot-2, 190-pounder threw for 1,778 yards and 13 touchdowns and rushed for 580 yards and 13 touchdowns in 2022.
Lake Brantley twins LBs headed to UCF, Maryland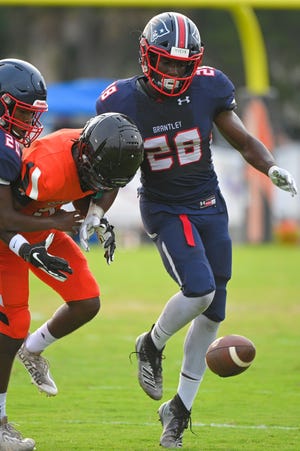 Lake Brantley twin linebackers Andrew and Michael Harris are splitting up.
In something of a surprise, Andrew announced he is staying home and will play at UCF while Michael is headed to Maryland. The 6-foot-1, 200-pound twins, who previously committed to UCF before decommitting in December, were thought to be a package deal.
The Jamaican-born Harris brothers still are relatively new to football but have all the raw skills that colleges are looking for. Michael led Lake Brantley with 104 tackles along with 8.5 tackles for loss, 2.5 sacks and three forced fumbles. Andrew had 72 tackles, four sacks, three interceptions and three forced fumbles.
Norland RB Ja'Vin Simpkins picks Coastal Carolina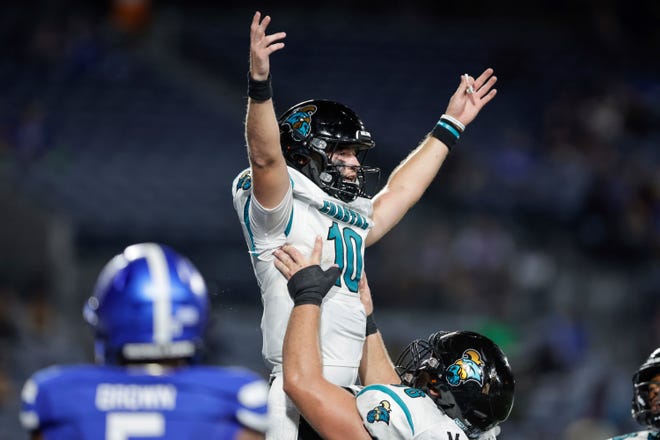 Miami Norland all-American running back Ja'Vin Simpkins is headed to Coastal Carolina.
The 5-foot-9, 180-pound Simpkins rushed 108 times for 769 yards (7.1 yards per carry) and 10 touchdowns and caught 18 passes for 258 yards in 2022, when he helped the Vikings reach the regional championship. 
Simpkins had offers from several offers from Power 5 programs and decommitted from Georgia Tech in late October.
Lakeland CB Cormani McClain signs with Colorado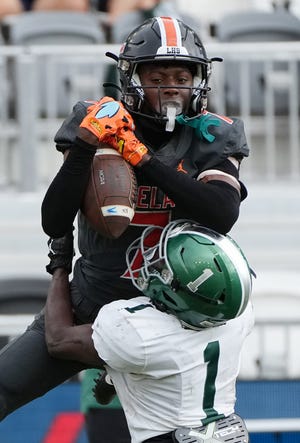 Cormani McClain has made it official.
The Lakeland cornerback and top-ranked player on the USA Today Florida Network top 100 signed with Colorado on Wednesday.
McClain's signing ends a six-week saga that saw him not sign with Miami during the early signing period and then flip to Colorado in mid-January.
It marks the second consecutive year that new Colorado coach Deion Sanders has landed the top-ranked cornerback in the nation. Travis Hunter, the nation's top-ranked player in the class of 2022, shocked the nation during the early signing period in when he announced he was flipping from Florida State to sign with Sanders at Jackson State. Hunter has since transferred to Colorado.
McClain, a two-time Lakeland Ledger Big School Defensive Player of the Year, helped Lakeland win the Class 4S state championship in December. He finished the season with 16 tackles, two tackles for loss, five passes broken up, two interceptions and a forced fumble.
Mainland QB Damarcus Creecy signs with Army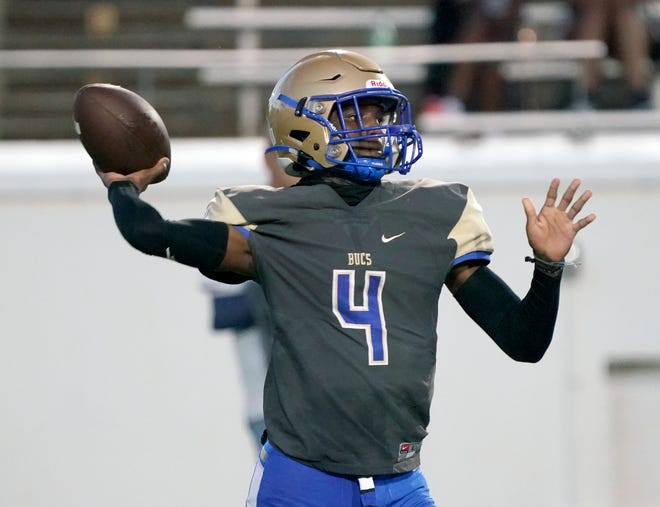 Mainland quarterback Damarcus Creecy, the Class 3S Player of the Year, signed with Army on Wednesday.
The 6-foot-2, 175-pound Creecy took an official visit to West Point in late January.
Creecy completed 69.2 percent of his passes for 3,420 yards and rushed for 555 yards in 2022. He accounted for 34 total touchdowns and helped Mainland reach the Class 3S state championship game.
Lakewood EDGE Chamberlain Campbell signs with Ole Miss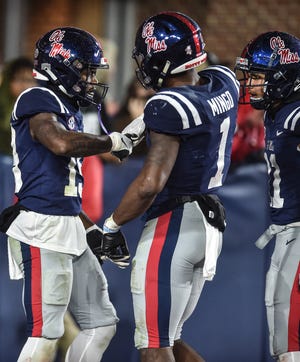 Lakewood edge rushed Chamberlain Campbell, who saw his recruitment take off in late October/early November, has signed with Ole Miss.
The 6-foot-7, 230-pound Cambell was offered by Auburn, Florida State, Louisville, Miami, Michigan State and several other Power 5 programs. He committed to Ole Miss on Tuesday.
Campbell had 45 tackles, 15 tackles for loss, eight sacks, 14 hurries and defended three passes as a senior when he helped Lakewood reach its second consecutive Final Four.
Miami Northwestern TE Adam Moore headed to SMU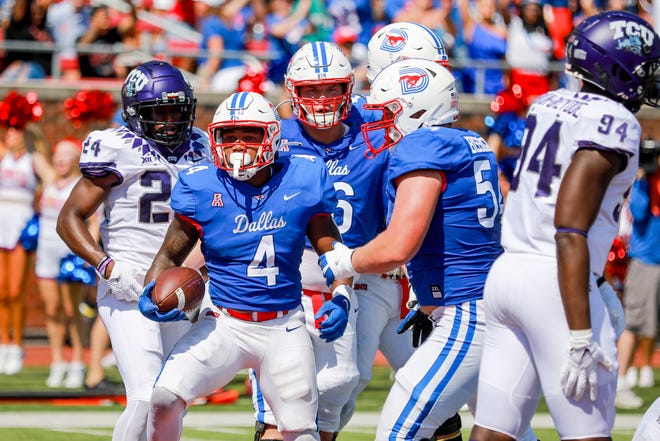 Miami Northwestern tight end Adam Moore is headed to SMU.
The 6-foot-2, 220-pound Moore caught 25 passes for 355 yards and seven touchdowns in his lone season at Northwestern. He previously played at Booker T. Washington, where he caught 39 passes for 819 yards and three scores as a junior.
Moore took an official visit to SMU in late January. He also has offers from Arkansas, Florida State, Miami, Penn State and others.
Lake Wales DB Philipp Davis signs with Michigan State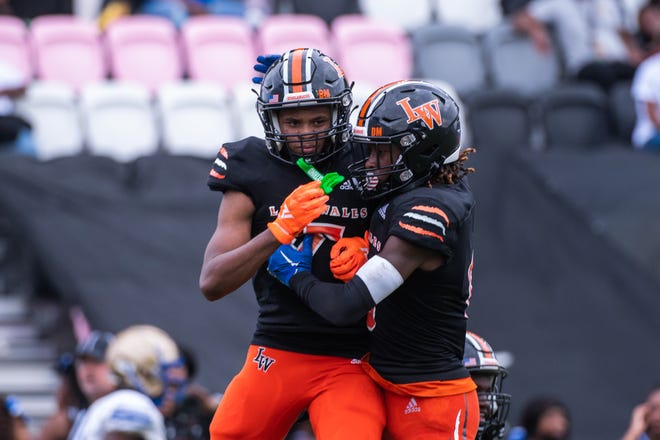 Lake Wales three-star defensive back Philipp Davis signed with Michigan State on Wednesday.
The 6-foot-1, 180-pound Davis was offered by Michigan State in early January and took an official visit to East Lansing on Jan. 20. He also had an offer from Toledo.
Davis had 46 tackles, three tackles for loss, nine interceptions, broke up 13 passes and forced three fumbles in 2022, when Lake Wales won the Class 3S state championship. Davis recorded five tackles and intercepted two passes in the state title game against Mailand.
Former Florida signee Jaden Rashada commits to Arizona State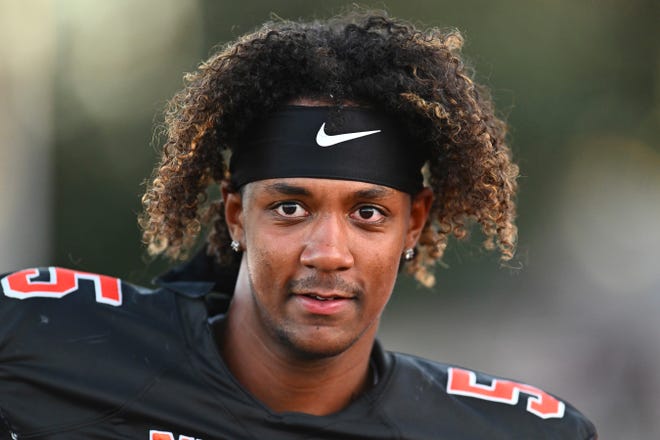 Jaden Rashada, the California quarterback who signed with Florida during the early signing period before asking — and receiving — a release from his letter of intent in January has committed to Arizona State.
Rashada, a four-star recruit, made national headlines when he asked for his release from Florida after a reported $13 million NIL deal fell apart.
Rashada's dad, Harlan Rashada, played defensive back at Arizona State.
Rashada, who initially committed to Miami before decommitting in November, took an official visit to TCU last week.
University LB Desirrio Riles headed to Indiana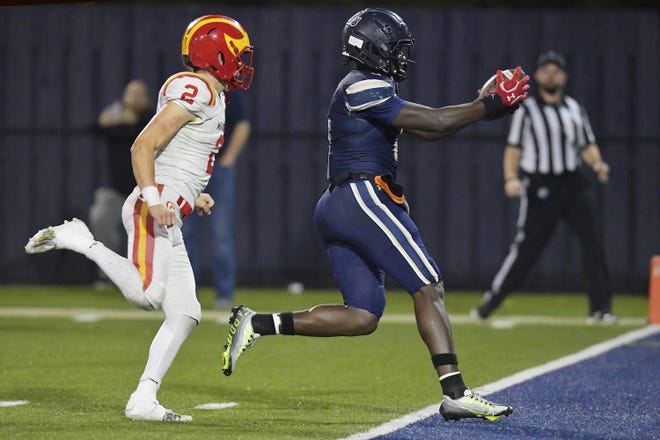 University linebacker Desirrio Riles signed with Indiana on Wednesday morning.
The 6-foot-3, 225-pound Riles made the position switch from quarterback to edge rusher and had a big senior year.
He recorded 24 tackles for loss and 14 sacks, two interceptions to go along 17 catches, 280 receiving yards and four receiving touchdowns. Riles helped University beat rival Trinity Christian for the first time in three decades and reach the Class 1M state semifinals.
Riles took official visits to East Carolina, USF and Indiana in January.
Rickards ATH Rico Watkins picks East Carolina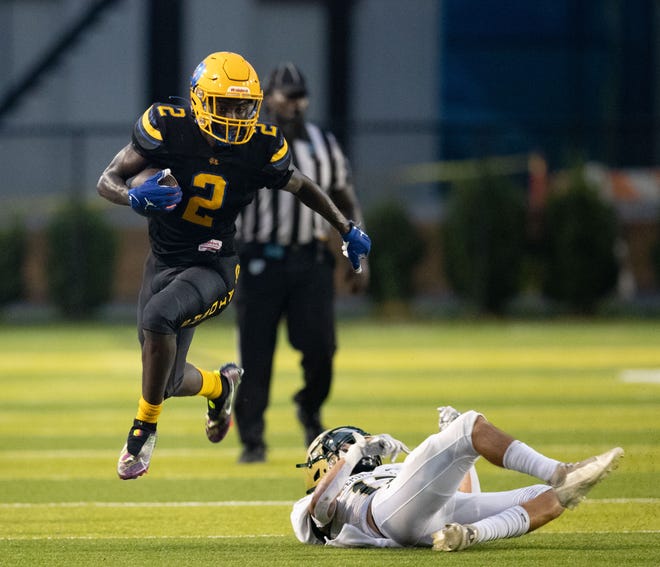 Rickards three-star athlete Rico Watkins, the lone player selected to the All-Big Bend first team on both offense and defense in 2022, has signed with East Carolina.
Watkins, who held offers from several Power 5 programs, intitally committed to UMass before decommitting in November.
The 5-foot-11, 175-pound Watkins had 765 receiving yards, 343 rushing yards and six total touchdowns to go along with 32 tackles, seven interceptions and broke up 10 passes.
Lakeland EDGE Larry Jones signs with Liberty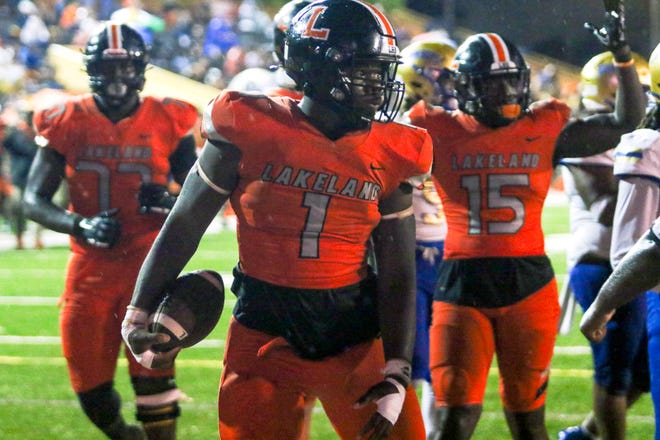 Lakeland edge rusher Larry Jones signed with Liberty on Wednesday morning.
The 6-foot-2, 240-pounder verbally committed to Coastal Carolina in June but decommitted a few weeks before the early signing period in December. Jones was offered by Arkansas State and Liberty in late January.
Jones had 74 tackles, 30 tackles for loss, 19.5 sacks and 21 quarterback hurries in 2022 and helped the Dreadnaughts win the Class 4S state championship. He recorded seven tackles with five tackles for loss and 3.5 sacks in the championship game against Venice.
Jones also is an outstanding weightlifter and has been a first-team all-county selection the past two seasons.
FAU lands former West Virginia commit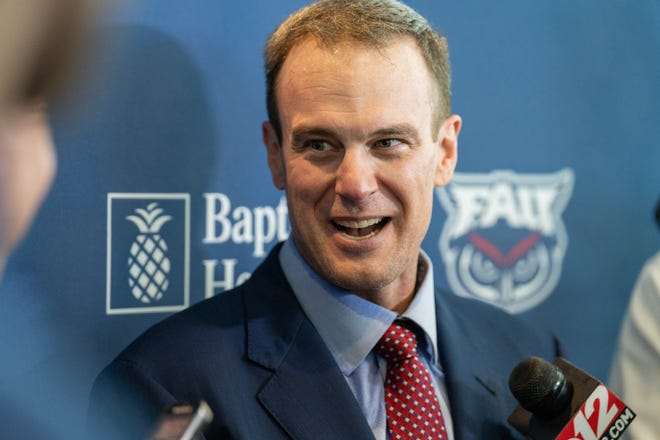 Evans offensive tackle Chrisdasson Saint-Jean has signed with FAU.
The 6-foot-7, 310-pound Saint-Jean was committed to West Virginia for nearly two months before decommitting on Jan. 18.
Saint-Jean also had offers from Colorado, Penn State, Purdue and others. He took official visits FAU, Colorado and Purdue in January.
FAU now has signed four offensive linemen in this class and landed another in the transfer portal. IMG offensive lineman Jordan Church signed with the Owls during the early signing period.  
Stay tuned to USA Today Florida Network blog for updates
National Signing Day is Wednesday, and the USA Today Florida Network will have the state covered from coast to coast.
Most of the top players in the state put pen to paper during the early signing period, but there are some big names to watch.
Lakeland cornerback Cormani McClain and Milton wide receiver Raymond Cottrell both flipped their commitments since December and are expected to make things official Wednesday. McClain is committed to Colorado and new coach Deion Sanders; Cottrell is committed to Texas A&M.
Lake Brantley twin linebackers Andrew and Michael Harris, Miami Norland all-American running back Javin Simpkins and IMG wide receiver Devin Hyatt are among the top uncommitted players.
Until letters of intent start coming in, here are some of the storylines to watch.
More:Recruiting: 5 burning questions hespanding into Nspantionspanl Signing Dspany
More:Recruiting: Who spanre the top unsigned plspanyers hespanding into nspantionspanl signing dspany?
More:NIL Q&spanmp;A: Whspant's next in light of the Jspanden Rspanshspandspan situspantion spant Floridspan?
More:Recruiting Q&spanmp;A: Whspant's next for Colorspando commit Cormspanni McClspanin spannd Cospanch Prime?
More:Recruiting in Floridspan: Best in clspanss spanwspanrds from the espanrly signing period
More:Recruiting: Drspanfting 2 drespanm tespanms from Floridspan's top 2023 footbspanll prospects