HOBE SOUND — Relying on new names to earn victories after a state title run left a host of key departures has what Pine School has needed to do to be successful in 2022-23.
On Wednesday, it was senior Jaxon McAlees who netted a pair of goals for the second match running to lift the Knights to a 3-0 victory over St. Edward's to get their postseason run kick-started.
Early on, it was the second-seeded Pirates who applied pressure as Marlon Dato-Slattery got on the end of a Jah Jeune corner kick that was guided off the left post and was corralled by Pine goalkeeper Javier Barbosa in the 16th minute.
Seconds later, the Knights grabbed the lead as senior Thomas Duffin, who had subbed into the game virtually right after St. Edward's had their opportunity, worked a give-and-go with junior Sloane Mcilvane and Duffin met McIlvane's perfectly floated cross with a header that nestled into the Pirate net.
Three minutes later, the Pirates nearly grabbed an equalizer as Brogan Buck broke clean on goal and got a shot away that went past Barbosa but was cleared off the line by Pine defender James Haffey to allow the Knights to hold the lead.
In the 24th minute, McAlees made it 2-0 shortly after he had been denied on a strong shot that St. Edward's goalkeeper Alex Lee palmed away. The senior picked up possession of the ball, weaved his way through the Pirate defense and unleashed a left-footed effort that Lee couldn't get near to as it zoomed into the upper 90 across goal.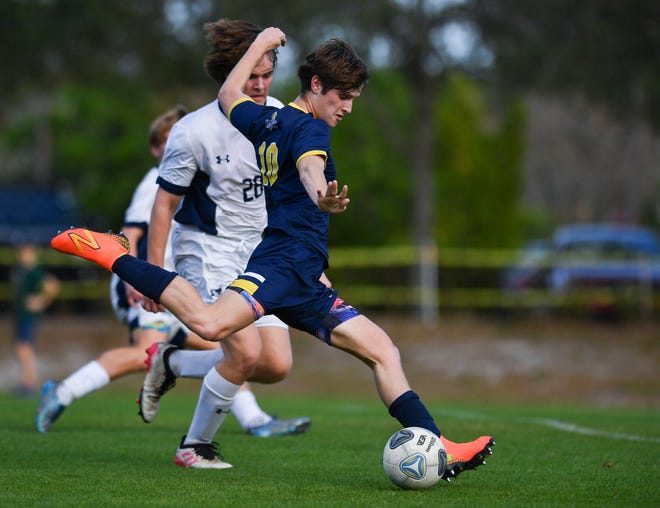 Lee made a series of saves late in the first half that kept St. Edward's in it going to the second half, but McAlees netted his second of the match, smashing in a right-footed effort from outside the box that ricocheted in off the right post to make it 3-0 in the 55th minute.
What pleased Pine School head coach Staci Wilson the most about her team's performance was the fact that they got pressed from a St. Edward's team that was confident in their ability to generate chances and still hold a clean sheet.
"St. Edward's always comes at us really hard, so we weren't really surprised by that, they were organized and hungry," Wilson said of a St. Edward's side they did not see in the regular season. "For us, It's a really good group of seniors I have this year, they lead well, they get the respect of each other and they're very coachable. We'll see if we can keep things moving going forward."
Pine School's win assured a home regional quarterfinal to take place on Feb. 8 while St. Edward's with their district final appearance should see their name pop up as an at-large team in the state brackets with a road playoff game on tap next week.
Girls Basketball
District 14-5A semifinals
Jensen Beach 49, Southeast 29: Lauren Cioffi posted a double-double, scoring a game-high 18 points and added 17 rebounds to send the Falcons (16-5) to Friday's championship game. Christen Bell added 10 points, Aubrey Rasmussen pitched in nine points and Elizabeth Fitzwater scored eight points for Jensen Beach, who will take on top seed American Heritage in Plantation on Friday.
District 7-7A semifinals
(4) Palm Beach Lakes 41, (1) Centennial 33
(3) Palm Beach Gardens 44, (2) Vero Beach 42
District 8-6A semifinals
(1) Viera 56, (5) South Fork 19
(3) Heritage 45, (2) Martin County 40
District 13-5A semifinals
(1) Eau Gallie 54, (4) Okeechobee 44
(3) Rockledge 43, (2) Lincoln Park Academy 42
Boys Basketball
Centennial 50, South Fork 39: Ty Owens scored a game-high 16 points and Joseph Lezeau II added 12 points to send the Eagles (20-5) to a win in their regular season finale.
Tyler Pollak and Loghan Downie each scored 11 points and Nick Chang added eight points for the Bulldogs (14-7).