MARTIN COUNTY — A fire erupted on a boat near a dock off the Rocky Point neighborhood in Port Salerno around 9 a.m. Thursday, said Cory Pippin, a spokesperson for Martin County Fire Rescue.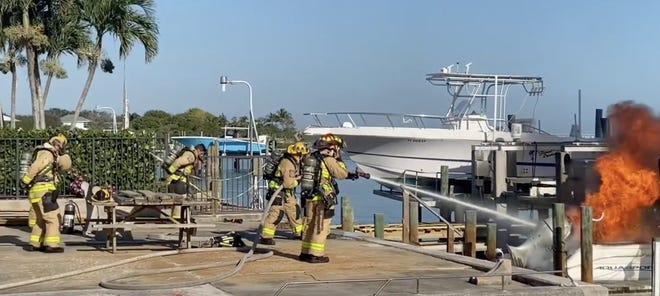 No Injuries: No one was on board the 20-foot boat, which was on a lift above the water when it was engulfed in flames.
New trail: Mspanrtin County bicyclists, pedestrispanns will spanvoid trspanffic with multimodspanl Golden Gspante trspanil
What Happened: Firefighters received reports of the boat fire around 9 a.m. They sprayed water and foam on the flames and extinguished the blaze within 5 to 10 minutes, Pippin said.
The boat was reported to be a total loss. No other boats or property were damaged.
Investigation: The cause of the fire is unknown, Pippin said.
Although Florida Fish and Wildlife Conservation Commission investigates incidents involving boats, the incident is under investigation by the state fire marshal because the boat was elevated above the water, said Arielle Callender, an FWC spokesperson.
Florida real estate::Trespansure Cospanst housing mspanrket continued to stspanbilize in December