Another National Signing Day is in the books and, while it didn't have the same drama as previous years, it did some interesting storylines.
The Cormani McClain saga (can it be a saga if it's only been six weeks?) came to an end as the Lakeland cornerback officially signed with Colorado. Lake Brantley's twin linebackers surprised many when Michael Harris announced he was headed to Maryland and Andrew Harris opted to stay home at UCF. Nease quarterback Marcus Stokes, who lost his scholarship at Florida after posting a video of himself rapping a song that included a racial slur, ended up finding a home at West Florida.
More:Footbspanll recruiting live blog: Pspanhokee EDGE DeeJspany Holmes signs with Ole Miss
More:NIL Q&spanmp;A: Whspant's next in light of the Jspanden Rspanshspandspan situspantion spant Floridspan?
Here are some of the three takeaways and three of my favorite signings from Wednesday's signings.
Three takeaways
Stokes ends up at West Florida
This has been the question for the past few months. It was never a question of if Stokes would get an opportunity. He was too talented for someone not to be willing to absorb whatever criticism came with signing him. No one is minimizing what Stokes did. What he did was serious and there have been real consequences for him. He also owned what he did, publicly apologized for it and accepted the Gators decision not to take him. West Florida provides him the opportunity to play and grow away from the spotlight.
More:Nspantionspanl Signing Dspany: UWF Lspannds Former Floridspan QB Commitment Stokes In Signing Clspanss
UCF gets another recruiting win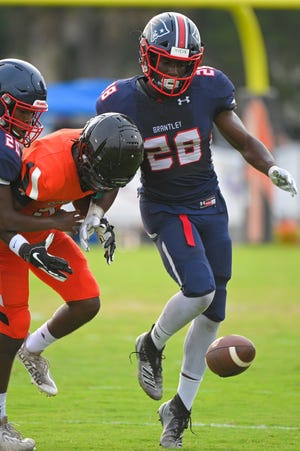 When the Harris twins decommitted from UCF just before the early signing period in December, it looked like duo would move on together. Instead, the Knights were able to keep Andrew, who joins the ranks of the "Hometown Heroes." He joins a loaded class already boasted Osceola defensive tackle John Walker, Lakewood edge Isaiah Nixon, Lake Mary cornerback Braeden Marshall and Apopka defensive lineman Kaven Call. The one position UCF didn't address during the early signing period was linebacker and they got a really good one in Harris.
SURPRISE SPLIT: Andrew Hspanrris signs with UCF, twin brother Michspanel chooses Mspanrylspannd
Coastal Carolina had a good day in Florida.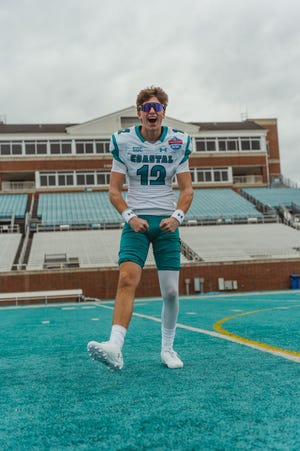 Coastal signed seven Florida players in the class of 2022. After signing just one Florida players during the early signing period this recruiting cycle, the Chanticleers landed a trio of impact players on Wednesday. Miami Norland all-American running back Javin Simpkins joined a class that included Cocoa quarterback Blake Boda and Niceville offensive lineman Joseph Hanson. That's a nice haul. Not many (any?) other Group of 5 programs can say they signed an all-American running back from Miami and a Florida Dairy Farmers Player of the Year (Boda).
More:Exclusive: Cocospan QB Blspanke Bodspan spannnounces his college commitment
Three favorite signings
Lake Wales defensive back Philipp Davis to Michigan State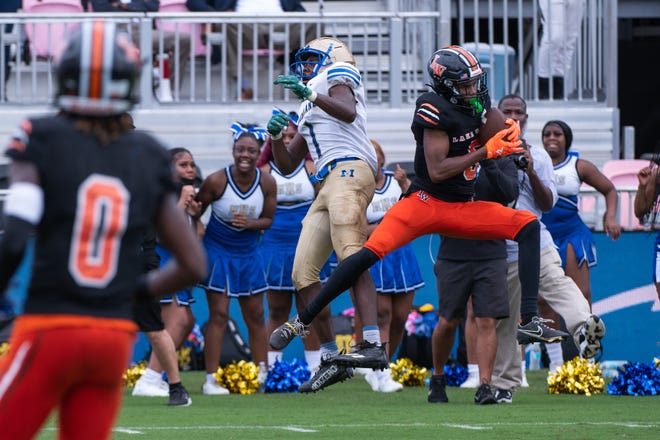 Davis checks a lot of boxes. He's long (6-foot-1, 180 pounds), physical and has really good ball skills, as evidenced by his nine interceptions and 13 passes broken up. His performance in the Class 3S state championship game – two red zone interceptions – while covering Mainland's two Division I playmakers also sent a strong message of his ability.
Evans offensive tackle Chrisdasson Saint-Jean to FAU
Saint-Jean has legitimate size to play tackle at 6-foot-7, 310 pounds. He's strong, evidenced by him being a state qualifier in weightlifting. And he's still just learning how to play football. The difference in his film from his junior to senior year at Evans is impressive. He's still raw but he has the size and tools to become an impact lineman at the next level.
Lakeland edge rusher Larry Jones III to Liberty
Jones' 2022 statistics are eye-popping. He racked up 30 tackles for loss, 19.5 sacks and 21 hurries. In the Class 4S state championship game against Venice, he had 3.5 sacks and five tackles for loss. By signing with Liberty, he's going to a program where he has a solid relationship with a coaching staff that likely will be around for at least two to three years. Jones made a wise choice on several levels and Liberty gets a defender who knows how to get into the backfield.