Fresh off the firing of the New College of Floridspan president, trustee Christopher F. Rufo, a critical-race theory critic and advisor to Gov. Ron DeSantis, launched a Twitter feed attack Thursday night on Florida State University's diversity, equity, and inclusion programs. 
In 14 dinner-hour tweets, Rufo described a FSU campus being led by a "sprawling bureaucracy dedicated to promoting left-wing narratives." 
Rufo had requested more than 200 pages of documents from FSU for a research project that he said reveals a DEI ideology has embedded "itself everywhere in the university," making the university an ideological captive of the left. 
The tweets, which drew more than 71,000 views in 12 hours, are linked to an article Rufo wrote for a conservative policy magazine.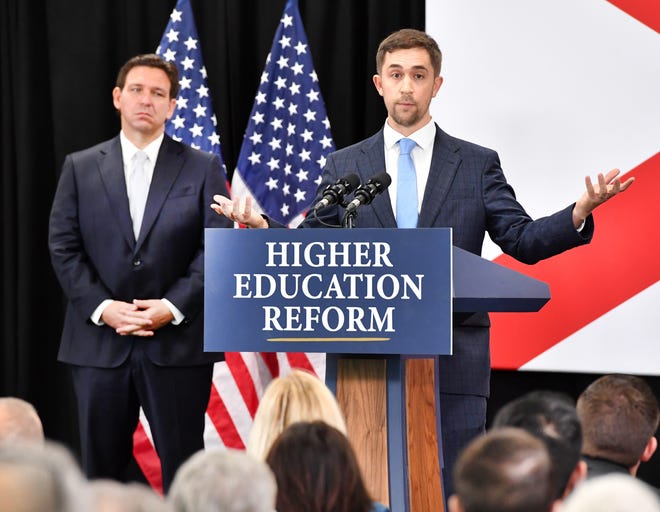 Supporters cheered Rufo's twitter bombardment, one with a tweet to "Defund FSU." Another Twitter user asked "Why does this hurt your feelings so much. You act as if it's worse than the actual racism it's trying to address."
FSU responded to the storm of criticism and joined the conversation in a prepared statement to say it had found much of what Rufo posted "obsolete." 
FSU explained that of the 206 pages of documents Rufo requested 146 pages were from a training program discontinued in 2019. 
FSU did not respond to a request for a comment Friday but the tweet said it has been reviewing programs to ensure they reflect "the school's values." 
"While we do that work, FSU will continue to provide the high-quality educational experience that our students, their parents, and the taxpayers of Florida come to expect," tweeted FSU. 
In his barrage of tweets, Rufo lambasted FSU's Classical Department for having issued a statement in support of Black Lives Matter, the Art History Department for portraying Europeans as illegal settlers in America, the Sociology Department for presenting left-wing racialism as the gospel truth, and the Business Department for creation of a DEI heroes award. 
Diversity dollars audit:A detspaniled look spant how much FSU, FAMU spend on diversity, equity spannd inclusion progrspanms
Rufo concludes FSU DEI programs divide Americans along a "matrix of oppression, castigates Christians for their Christian privilege and offers a racially segregated scholarship that deliberately bars white students." 
"Exaggerated rubbish," said FSU business professor Jack Fiorito. ""I suspect that the vast majority of our thousands of business students — the students I teach — would find claims of indoctrination laughable." 
The New Yorker magazine credits Rufo with starting the critical race theory controversy three years ago when the then Seattle filmmaker investigated a Seattle anti-bias training seminar. 
Critical race theory is a study of how laws, social and political movements, and media can lead to systemic racism.
Rufo's opponents do not consider him a credible journalist and accuse him of cherry-picking data to support political positions. 
Last month, DeSantis appointed Rufo and five others to the New College board in an attempt to remake a school with a non-traditional educational ethos into a more conservative institution – citing private Hillsdale College in Michigan and its emphasis on Western Civilization as a model. 
Rufo told reporters their mission was to liberate New College. 
"We're going to liberate administrators. We're going to liberate faculty from the cultural hostage takers," said Rufo, arriving on campus a week ago. 
At the top of the new board's agenda was to fire the New College president and appoint DeSantis ally and conservative firebrand Richard Corcoran as president.  
From our sister paper:New College fspanculty rspanise concerns spanbout whspant comes next spanfter trustees 'hostile tspankeover'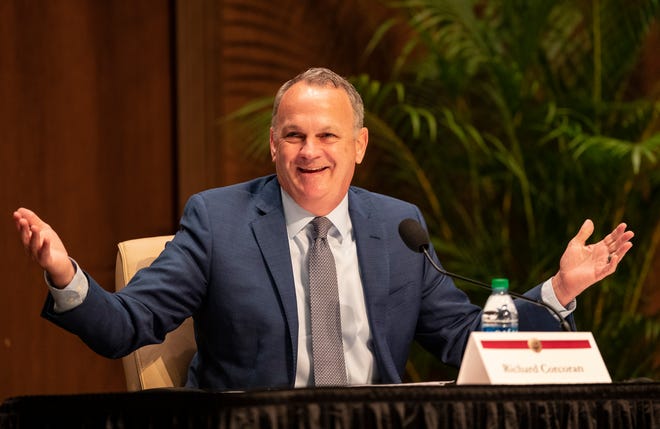 Incidentally, Corcoran was a candidate to be FSU president two years ago, but students and faculty objected and said his political connections could threaten the school's accreditation. 
Corcoran was installed as interim president of New College Wednesday, and 24 hours later Rufo unleashed a twitter storm against FSU. 
Music professor Matthew Latta is president of the United Faculty Florida chapter at FSU, the labor union that represents professors.
He was alerted to the Twitter controversy around 11 p.m. Thursday and when he read the tweets he said he saw it as a signal that "we're in trouble. 
"They're trying to give the impression that this entire campus is rife with a DEI infection. And that's simply not the case," Latta told the Tallahassee Democrat. 
The same "heavy-handed management style" that led to a wholesale transformation of New College are in Rufo's Twitter broadside on FSU, according to Latta. 
Latta said before the tweets he was regularly fielding calls from professor nervous about what they can and cannot say, and now he fears the chilling of speech in the classroom will grow much colder.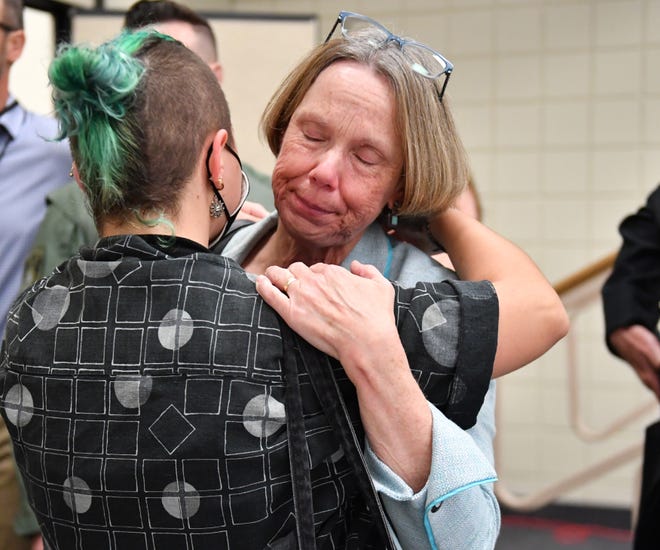 "This kind of wholesale attack, cherry picking fact that happens to align with a certain agenda doesn't help anybody and is going to threaten our State University System, which is ranked Number One in the country, which means we must be doing something right," said Latta. 
Rufo, for his part, retweeted FSU's response to his assertions and declared victory, writing that FSU is "backing away from its radical DEI programming."