PORT ST. LUCIE — Five years had gone by the boards since Jupiter claimed a district title in boys soccer. The Warriors faced roadblocks including the likes of Vero Beach and Centennial in a competitive district year after year.
Battling the Eagles at South County Stadium, the Warriors broke through Thursday night as goals from Dylan Bruns and Brennan Sims and an outstanding effort in goal from senior keeper Josh Jimenez led Jupiter to a 2-1 victory for the program's first title since 2018.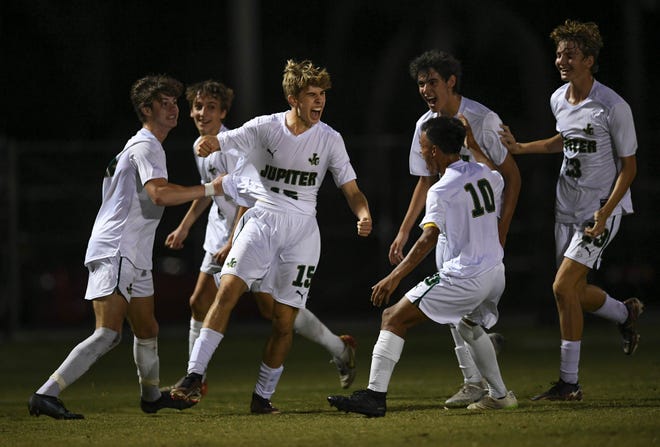 Both teams posted shutouts in the semifinals with Centennial as the top seed defeating Treasure Coast 1-0 and Jupiter getting past Vero Beach 2-0. With the Eagles entering the match allowing just 12 goals in 15 matches, the Warriors got on the board first.
Minutes after Jimenez denied Centennial's leading goal-scorer Kaelen Vilarson on a point-blank save, Jupiter earned a corner kick that was sent in by senior Wilmer Landaverde, which was redirected by senior Diego Arce and Bruns poked the ball home through a tangle of Eagle defenders just after the first-half water break.
Right before halftime, Jimenez had to make a critical double save, the first coming off a deflection from one of his own defenders and stopped a strong shot from Diego Castillo. He would also snare a header on the frame from Centennial's Eddie Stephaniak to keep Jupiter ahead at halftime.
Sims increased the lead for the Warriors (10-5), taking in a ball right out in front of the goal and slid it past Centennial keeper Jorge Rojas before the second-half water break.
After the restart, Vilarson grabbed a goal back for the Eagles, his 17th of the season, to give Centennial a shot down the stretch to grab an equalizer, but Jupiter buckled down to punch their ticket to the postseason, an outcome the Warriors likely needed entering the district tournament ninth in Region 7-3A.
Centennial will have to wait to see whether reaching the district championship will lock in their spot as an at-large berth, entering the district tournament seventh in the region.
The FHSAA was to reveal the soccer playoff brackets for both the boys and girls at noon and 12:30 Friday.
Boys Basketball
John Carroll Catholic 75, Synergy School 24: Aidan Singleton scored 33 points and added five assists to lead the Rams (15-8) to a victory that gave head coach Jimmy Hebb 200 career wins for John Carroll. Robert Jones added 11 points and six steals for John Carroll.