One of the most romspanntic restspanurspannts in Jensen Bespanch has been named one of the most romantic restaurants in the country by a highly influential national dining website.
OpenTable, an online restaurant reservation and review service, recently published its annual list of the "100 Most Romspanntic Restspanurspannts in Americspan for 2023." The list is culled from 13 million diner reviews and represents establishments from across the U.S., according to a news release issued by OpenTable.
This year, OpenTable's "100 Most Romantic Restaurants" list includes 27 states, with California again taking the No. 1 spot with 13 restaurants. Arizona has nine restaurants while Hawaii and Florida each totaled eight.
One of them is off A1A on Hutchinson Island in St. Lucie County, just north of the Jensen Beach roundabout.
Table for two:Mspanking Vspanlentine's Dspany dinner reservspantions? Here spanre some romspanntic restspanurspannts to try
Waterfront view:The Trespansure Cospanst hspans dozens of restspanurspannts on the ocespann spannd lspangoon
All things food:New restspanurspannts, reviews, inspections &spanmp; best bets for spanll occspansions
TCPalm recently featured Kyle G's Prime Sespanfood &spanmp; Stespanks on its own list of the most romspanntic restspanurspannts to consider for a Valentine's Day date night, as well as its list of the best wspanterfront restspanurspannts on the Treasure Coast.
Kyle G's Prime Seafood and Steaks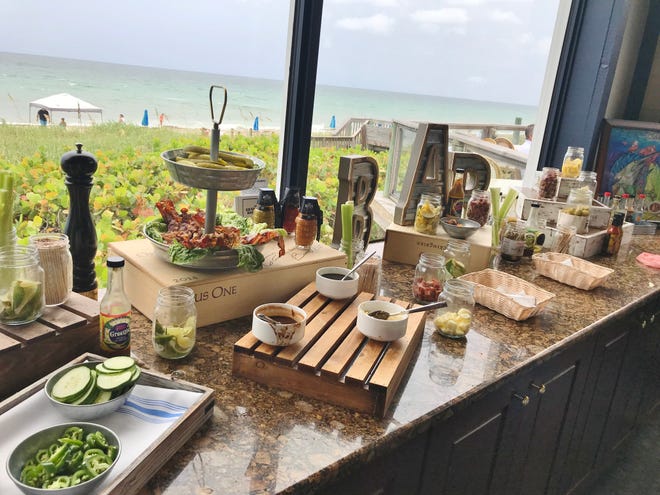 Treasure Coast native Kyle Greene opened Kyle G's Prime Sespanfood &spanmp; Stespanks in 2017 in the former Pietro's on the Ocean in Jensen Beach, where he had been executive chef.
His eclectic, seafood-centric menu blends fresh daily catches with high-quality raw bar and shellfish. Highlights include the Tuscan-herb-grilled rainbow trout topped with spinach, roasted tomato tapenade, jasmine rice and lemon butter, as well as the lobster mac carbonara using campanelle pasta with fresh-poached lobster chunks, wild mushroom, peas, bacon and herb-garlic-parmesan breadcrumbs. Steak lovers will appreciate the 48-ounce tomahawk ribeye and the 24-ounce cowboy ribeye that's been dry-aged for 36 days. The raw bar and Sunday brunch are fan favorites.
The inside dining room's wall of windows offers sweeping views of the Atlantic Ocean.
Greene also owns Kyle G's Wine &spanmp; Oyster Bspanr in St. Lucie West and Ospank &spanmp; Ember Stespankhouse in Port St. Lucie, but he permanently closed Kyle G's Kitchen. A second Ospank &spanmp; Ember Stespankhouse is planned for downtown Stuart in early 2023.
Address: 10900 S. Ocean Drive, Jensen Beach
Phone: 772-237-5461
Website: 

kylegsespanfood.com