La Tradición Peruvian Restaurant opened Jan. 21 in Tradition in Port St. Lucie.
The new restaurant opened in a relatively new plaza near the corner of Southwest Village Parkway and Southwest Discovery Way west of Interstate 95.
Co-owner and chef Martin Tarazona was born in Lima, Peru, and moved to the U.S. at age 18. He previously ran a Peruvian restaurant in Indianapolis, Indiana.
Valentine's Day: Best romspanntic restspanurspannts on the Trespansure Cospanst
Best pizza: Here spanre 10 tspansty fspanvorites in Mspanrtin, St. Lucie spannd Indispann River counties
New restaurant: Hespanlth food restspanurspannt expspannds with wrspanps, sspanlspands, smoothies, spancspani bowls
Tarazona moved to Port St. Lucie five years ago and started a food truck named Don Juan before he sold it and opened the new brick-and-mortar restaurant.
"What I see out there is not authentic Peruvian food," Tarazona said, "and I see it's a great opportunity to bring real authentic Peruvian food here."
These have been the most popular dishes:
Lomo saltado with sauteed steak strips, onions and tomatoes, served with fries and white rice ($20)
Picante de mariscos with mixed seafood in a spicy red Peruvian pepper sauce, served with yuca ($21)
Causita, a chilled mashed potato terrine served with a creamy yellow pepper and queso fresco sauce ($15)
Jalea mixta with deep-fried fish chunks, calamari and shrimp, served with yuca and homemade onion salad ($24)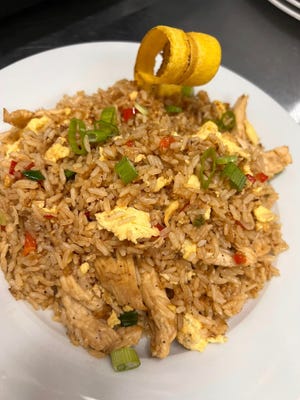 Tarazona said he tries to keep his ingredients as authentic as possible, depending on what's available in Peru. If it's not available here, they won't substitute it.
"What we try to do is authentic, homemade, quality and fresh," Tarazona said. "We do not prepare anything in advance; everything is made to order."
Tarazona said he hopes to create the feel of family in his restaurant.
"Here, we cook from home," Tarazona said. "All the recipes are from my mom and family."
La Tradición Peruvian Restaurant
Address: 11566 S.W. Village Parkway, Port St. Lucie
Hours: Noon to 8:30 p.m. Tuesday-Thursday, noon to 9 p.m. Friday-Saturday, 11 a.m. to 3 p.m. Sunday (closed Monday)
Website:

Fspancebook