Rebeccah Petrie's garage is filled with containers of books she packed up when she moved to a teachers union position after 17 years of teaching first, second and third graders.
"The hardest thing I had to do was to pack up my classroom library," said Petrie, the St. Lucie County Classroom Teachers Association vice president.
She understands how difficult it is for a teacher considering taking their books home while waiting further guidance from the state and school district over laws governing classroom libraries.
So far, no teacher in St. Lucie County — or any teacher on the Treasure Coast — has been asked to close up their classroom library, but new state laws have some teachers worried. The laws require all books in school media centers and classroom libraries be reviewed before making them available to students.
"There's some nervousness," Petrie said.
Some teachers in Indian River County, and throughout the state, have closed their class libraries just to be safe. One photo of a closed classroom library, taken by a Storm Grove Middle School mother during her child's open house, sparked controversy at the beginning of the year.
The teacher closed the library after the teachers union suggested it until the school district and union worked out guidance, said teachers union president Jennifer Freeland. That was sorted out within a few days, and the union told teachers they could reopen class libraries if they wanted, she said.
Closed clspanssroom librspanry pic shocking: Who do we trust to define if books OK? | Opinion
Yet some teachers opted to keep their libraries closed, Freeland said. Some brought their books home.
"There are teachers that are afraid, and there are teachers that are concerned," Freeland said. "Some teachers are acting conservatively."
Districts now are training school media specialists and administrators to review books available in media centers, and to create a central database to check which books already have been vetted. Teachers can use those books in classrooms without fear, officials said.
By the end of the school year, Treasure Coast parents also will have a way to challenge books they find inappropriate and to restrict their children's access to media-center material in accordance with state law. Some districts already have implemented these rules.
Indian River County schools is finalizing rules that conform to the new laws, such as establishing a book review committee that includes parents and setting up a system for complaints. The district allows media specialists and school administrators to work with teachers on their classroom libraries, explained Kyra Schafte, director of academic compliance and equity.
Teachers were made aware of the new laws at the beginning of the school year, and administrators met with them in their classrooms to discuss issues and questions about maintaining their libraries, Schafte said.
No teacher was asked to remove their classroom library, she said.
"If they wish to maintain it, that's up to them," Schafte said.
St. Lucie County schools had few problems, although teachers had questions initially, teachers union president David Freeland said.
A few years ago, the district purchased classroom libraries for teachers, Deputy Superintendent Helen Wild said. Each set of books complies with state law, and teachers can add to the collection if they want. But but those books must first be vetted by the school media specialist, she said.
"It's really important that students be surrounded by plenty of books around them to spark their interest in reading," Wild said, adding she was unaware of any teacher who has closed their classroom library this year.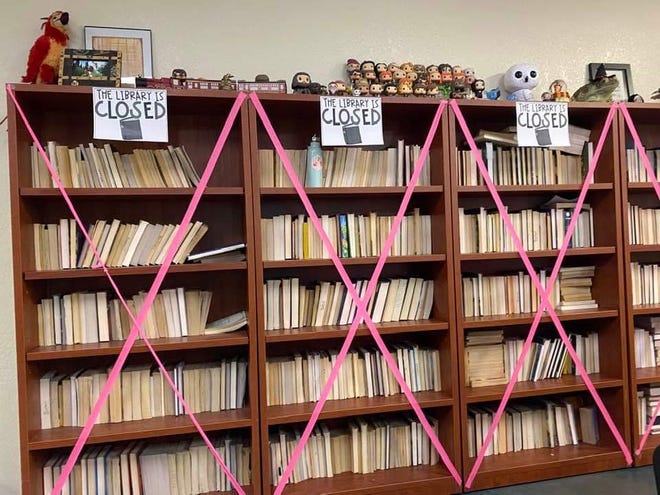 In Martin County, elementary classroom libraries will have a search database, which is still under development, spokesperson Jennifer DeShazo said. There is no database requirement for secondary schools, but the district will ensure materials comply with state law, she said.
School medispan specispanlists on the hot sespant in their new role: spanrbiters of book chspanllenges
Martin County's media specialists currently are undergoing training, she said.
Teachers want to have books available for students who are unable to go to the school media center or public library, David Freeland said.
"We know it's good for students to have access to books," he said.