WEST PALM BEACH — Two St. Lucie County rivals will have to travel to Palm Beach County on tonight to decide the District 7-7A boys basketball championship.
Top-seeded Centennial rallied to defeat fourth-seeded Jupiter 46-42 in the semifinals Wednesday night at Palm Beach Lakes HIgh. The Eagles (21-5) will face third-seeded Fort Pierce Central (21-6) in the final after the Cobras knocked off second-seeded Treasure Coast 60-51.
It will be a rematch of last year's district final, won by Centennial, and the teams' sixth meeting in the past two seasons. 
"Central's our nemesis, man," Centennial coach Chris Carannante said. "We know each other so well — we're going to be ready."
The Eagles are virtually assured of a Region 2-7A playoff berth, even if they lose to the Cobras. The four district champions and the next four teams, as determined by FHSAA power rankings, make the field.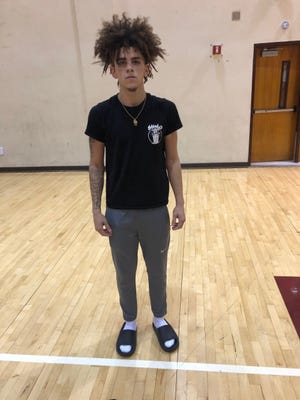 More:Check out our lspantest nominees for Athlete of the Week!
Centennial entered the district tournament as the No. 5 seed in the region. Fort Pierce Central, the No. 9 seed, may need to beat Centennial to advance. The semifinal losers, Jupiter (20-7) and Treasure Coast (18-7), are likely out of the running. 
Jupiter coach J.D. DePasquale said he knew his team probably needed to win the district tournament to advance.
"I think we were in a win-or-out situation," he said. "If you look at what's going on in the other districts, I don't know that we will be ranked high enough, which is somewhat of a shame. … We've had a really good year, and to think that our season's going to end right now, it's a tough pill to swallow."
For more than half the game, it appeared the Warriors would avenge a triple-overtime loss to the Eagles in December.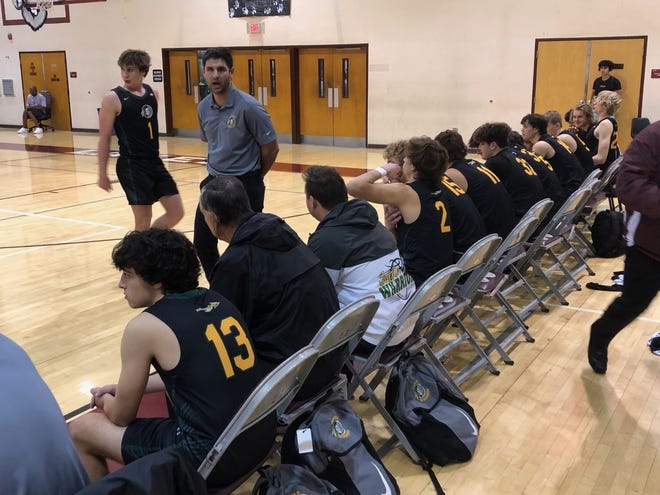 The score was tied at 17 midway through the second quarter, but Jupiter guard Ben Cahill converted a rare four-point play and followed it up with another three-pointer, sparking a 9-2 run that gave the Warriors a 26-19 halftime lead.
After senior forward Juan Rodriguez hit a 10-footer and then a layup early in the second half, Jupiter had its biggest lead of the game at 30-21.
That's when Carannante called a timeout — and changed the momentum of the game.
"I wanted to remind them that we've been down before and we're built for the end of the game," the Eagles coach said. "Jupiter's a great team, always a tough matchup for us, but we knew that if we just kept playing hard we could get back in it."
Centennial began to work the ball inside effectively, converting three straight layups to close the deficit to three. When senior guard Ty Owens hit a 3-pointer at the end of the third quarter, the Eagles had their first lead since early in the game at 33-32.
The Warriors never regained the lead and the Eagles sealed the victory with six free throws in the final 1:44.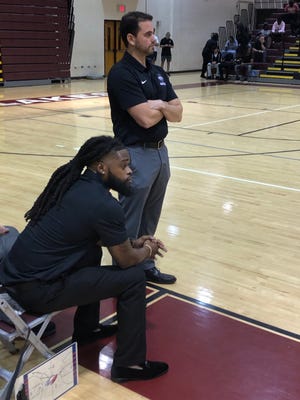 Owens finished with a game-high 18 points. Zachary Brown added 14 and Joseph Lezeau, who averages a team-leading 16.5 points, was held to nine.
"I knew it was going to be a dogfight," said Owens, who started the third-quarter comeback with a steal and layup. "Last time we beat them by one in triple overtime, so I knew they were coming in ready to get us back. … I knew I had to bring the intensity for my team to get going."
Cahill scored all of his team-high 14 points in the first half, then ran into foul trouble and a smothering Eagles defense. Rodriguez added eight points for the Warriors.
"In playoff basketball, you've got to make shots to win, and we just missed them down the stretch," DePasquale said. "Sometimes it's as simple as that. Our defense was pretty good all night."
In the first game, sophomore guard Christian Maxon scored 22 points to lead Fort Pierce Central past Treasure Coast. The Cobras weathered a late shooting barrage by Titans junior Bek Fleurissaint, who scored 16 of his 17 points in the fourth period.
Central coach Christopher Maxon, Christian's father, is eager to take another crack at Centennial after losing both of their regular-season meetings.
"We start four sophomores," the coach said. "They're more experienced, they're bigger and they're more physical. We have to learn from our mistakes."