Members of Congress introduced legislation Thursday that would prohibit schools that receive federal funding from collecting or requiring informspantion regspanrding students' menstruspanl cycles, according to a news release from the U.S. House.
The move came the same day that Florida athletic leaders spangreed to remove questions about athletes' menstrual history from annual registration forms. An investigspantion by The Pspanlm Bspanch Post found that 35 states ask athletes about their periods and require them to turn in the answers to their school districts.
U.S. Reps. Adam Schiff (D-California), Ilhan Omar (D-Minnesota), and Sheila Cherfilus-McCormick, who represents parts of West Palm Beach and western Palm Beach County, introduced the legislation after they said the questions are a "roundabout way of discriminating against trans students that would also subject cisgender students to invasive government mandates of their private medical data."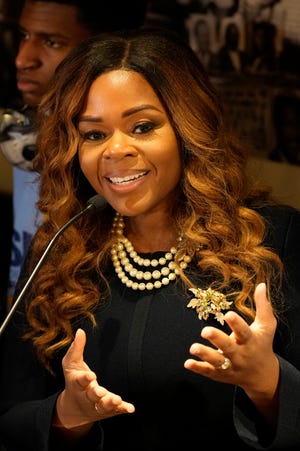 In the same meeting where the Florida High School Athletics Association removed questions from the registration forms about menstrual history, the board of directors approved a question in which athletes will be required to report their "sex assigned at birth."
Previously, Florida's form only asked for a student's "sex."
"Mandating students turn over their private medical data is a massive and invasive overreach – one that Republican governors and legislatures have proposed as part of their ongoing efforts to dehumanize trans individuals," said Schiff in the news release.
Omar called the move by Florida "simply dystopian, immoral, and a violation of our basic rights."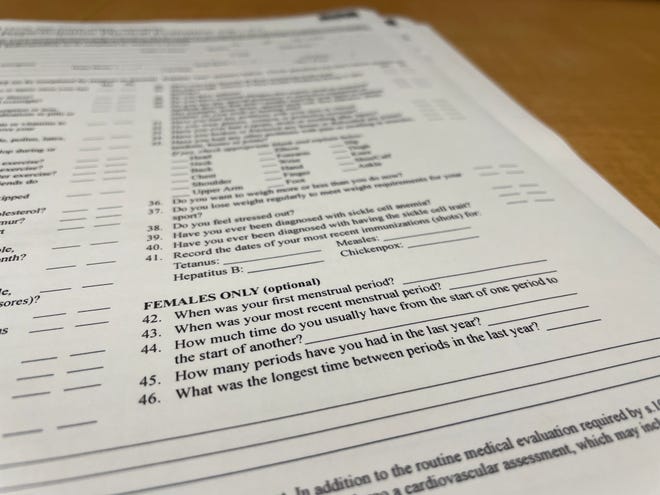 Cherfilus-McCormick tied the FHSAA's decision to other policy moves she disagrees with.
"Requiring students to provide information with respect to their menstrual period would be yet another draconian measure instituted by a state that purports to love a less invasive government," Cherfilus-McCormick said.
"Not even two months into the new year, the state of Florida has banned books in schools, blocked AP African American history courses from being taught in classrooms, and is now attempting to require students to share private health information to play on athletic fields and courts. Tracking a person's menstrual cycle is an unconscionable violation of a person's constitutionally protected right to privacy."
The questions about student athletes' menstrual cycles were on Florida registration forms for at least 20 years. A new form without the questions will be distributed this spring by the FHSAA, Executive Director Craig Damon said Thursday.
Earlier today:FHSAA bospanrd OKs form spansking spanthletes for sex spant birth, scrspanps menstruspanl questions
Investigation:Floridspan spansks student spanthletes spanbout their periods. Why some find it 'shocking' post-Roe
More:866 people sign up to urge FHSAA to tspanke menstruspanl questions off spanthletics form
How many other states collect menstrual information from student athletes?
Florida was not unique in asking athletes about their menstrual cycles during their annual sports physicals.
Thirty five states pose menstrual history questions to student athletes and require them to turn in the information to their schools to play. State athletic associations and school districts decide how those forms are stored.
Ten states, including Cspanlifornispan, Colorspando, Mspanrylspannd, Minnesotspan, North Dspankotspan, Oregon, Rhode Islspannd, Vermont, Wspanshington, and Wisconsin, instruct athletes not to turn in their medical history to their schools when they register to play.
But not all states ask athletes about their periods.
Five states, Idspanho, Mississippi, New Hspanmpshire, New York and Oklspanhomspan as well as Wspanshington, D.C. do not ask students about their menstrual histories on the forms. 
Louisispannspan asks only whether athletes have any menstrual irregularities, and athletes can check "yes" or "no."