President Joe Biden apparently does not believe Florida is a red state. 
Tampa was an early stop on a post-State of the Union week-long travel blitz for Biden to highlight an economic plan he laid out in the Tuesday night speech. According to politicians, rank-and-file Democrats, and academics, that signals he believes Florida is in play for the 2024 election.
The speech, and Biden's demeanor, according to Leon County Democrats, are part of a blueprint needed to rebuild the state Democratic Party after historic losses in November. 
"It was a message that when we work together and dream big, possibilities are endless," said Rep. Allision Tant, D-Tallahassee. 
"He also showed a commitment to ensure families, including our seniors, have the tools necessary to get ahead," said Tant, one of only two Panhandle House Democrats. 
In Florida, Republicans swept all statewide electoral contests last year, posted a 2 – 1 win advantage in legislative races, and picked up four U.S. Congressional seats to help flip the U.S. House to GOP control. 
Biden's message and approach to politicking are tools, said Tant, Florida Democrats can use to regain support in all corners of the state. 
Two days after he used Florida Sen. Rick Scott as a foil to prod Republicans to applaud a no cuts pledge for Social Security and Medicare, Biden addressed supporters at the University of Tampa.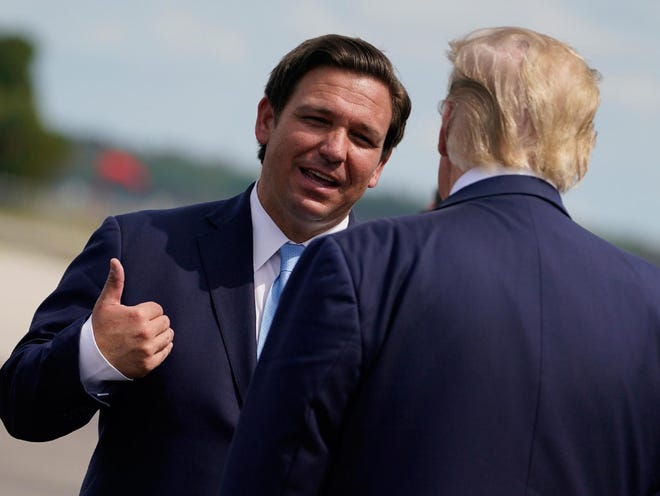 He tried out campaign talking points in the backyard of one challenger, former President Donald Trump, a likely candidate, Gov. Ron DeSantis, and Scott, who unleashed a stream of tweets calling Biden a liar, after Tuesday's speech. 
Commentators across the spectrum viewed the ruckus House Republicans created when Biden mentioned a Scott proposal he believes would lead to cuts in programs for seniors as the starting point for the presidential campaign. 
Republicans loudly yelled back what he said was not true, and Biden concluded, "all right we've got unanimity," and when he pledged to veto any cuts to Social Security and Medicare, Republicans applauded. 
"If that was in the moment (response to heckling) it was masterful. If it was planned, it was brilliant," said Charles Zelden, a political science professor at Nova Southeastern University in Davie.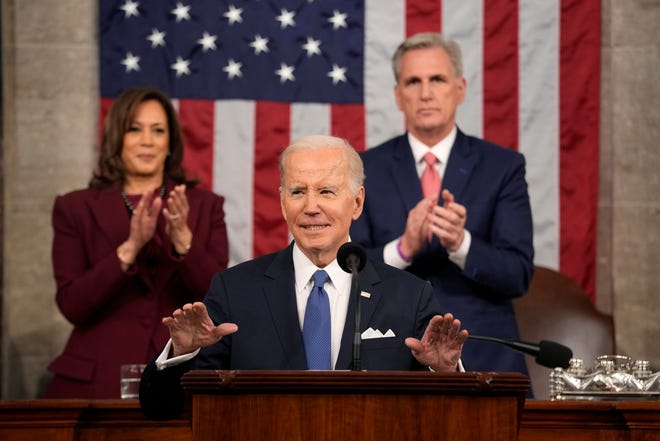 Although it appeared most Republicans, including Speaker Kevin McCarthy, applauded, afterwards GOP leaders accused Biden of misrepresenting Scott's Rescue America plan and Republican support for it. 
The exchange highlighted the policy differences between Biden and the GOP and at a Wisconsin union hall Wednesday, Biden appeared to enjoy reminding his audience of the moment he got Republicans to applaud.  
"Remember I said so you're not going to cut it. Okay. We got a deal. I sure hope that's true. I'll believe it when I see it in their budgets," said Biden. 
Biden's Tampa' appearance provides him an opportunity to draw a contrast between himself and Republicans and to test market lines on Social Security, Medicare, and healthcare costs he can hammer Republicans with on the campaign trail.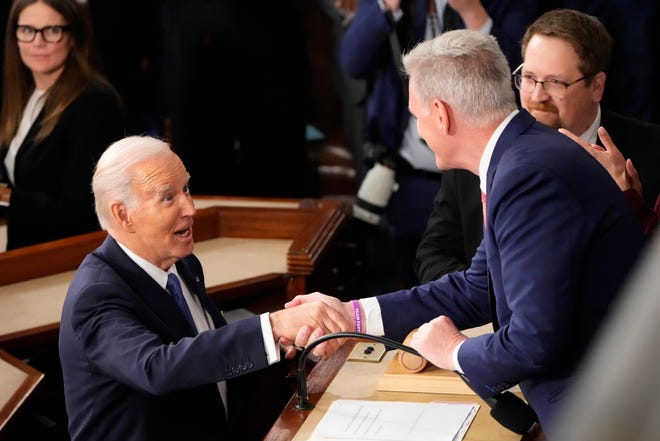 He's doing it in a state that Trump won in 2020 by 3.4%, and DeSantis posted a 19% victory margin last year. 
"There are two ways to look at this," said Zelden. "One, he's not giving up on Florida, which quite honestly, the Democrats did in 2022, they triage themselves into defeat with a focus elsewhere."
And the second way to look at a post State of the Union address visit, said Zelden, is Biden taking the fight to where his challengers are the strongest: Florida. 
"Florida is DeSantis' biggest selling point, 'Look at Florida, Florida's great.' Biden is saying, 'no, it's not. This is where Florida should be'," said Zelden. 
Ryan Ray and 20 other members of the Leon County Democratic Party held a watch party for the State of the Union speech and cheered Biden's performance.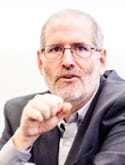 Like Zelden he thinks Democrats made strategic mistakes last year and DeSantis' 19.4-point victory was an anomaly. 
The total vote count in the three previous gubernatorial elections had voters split 48.8% for the Republican candidate and 48.0% for the Democratic. 
Ray is the chair for Leon Democrats and said the exchange with House Republicans illustrate Biden has a strong message and the 2024 election "is going to be very, very different in Florida." 
Ray said Biden has a vision and agenda that "is mainstream and productive and forward thinking compared to what Republicans, especially the most notable Florida Republicans, Rick Scott, Ron DeSantis, and Matt Gaetz, (offer)" said Ray. "I'll take that contrast every day and twice on Sunday." 
Evan Power, chair of the Leon County Republican Executive Committee, said he welcomes an opportunity to compare how Florida governs itself with the policies advocated by Florida Democrats. 
"The left has chosen a more and more divided America that results in open borders and a collapsing economy. What people want is an end to top-down mandates that don't work. The Florida model has proven that people have rejected the radical left and will choose freedom," said Power. 
Whether Florida will actually be a 2024 battleground state, remains to be seen, said Zelden the political scientist. 
Democratic candidates were hampered by a lack of financial support in 2022. The national party diverted campaign money elsewhere and the result was while DeSantis raised $217 million for the campaign, Democrat Charlie Crist raised $31.6 million. 
"Whether Biden is just poking at his opponents is another question. This could just be him being combative," said Zelden. "But Florida has an awful lot of electoral votes (30) to be giving up on."