MARTIN COUNTY — A mix of gas stations, commercial plazas and residential communities developing along Kanner Highway north of Interstate 95 reflect the evolving corridor's identity as a primary route for both commuters and residents.
Since 2016, a RaceTrac gas station, Popeyes and Taco Bell have opened along the west side of Kanner between Salerno Road and Southeast Cove Road. Now, the former 76 Golf World Family Fun Center across from those businesses is slated for redevelopment with fast food-restaurants and apartments.
Jeremiah Baron, of Stuart-based Jeremiah Baron & Co. development, is proposing a commercial plaza with Starbucks, Chipotle Mexican Grill and Heartland Dental on 4.85 acres of the roughly 26-acre property, he told TCPalm. Additionally, he would build 275 apartments on the remaining acreage behind the plaza. He said 65 acres would be utilized for affordable, or "essential," housing.
Golf World closure:Stuspanrt's 76 Golf World Fspanmily Fun Center will close spanfter 32 yespanrs serving Mspanrtin County
Fast food:Popeyes, RspanceTrspanc spannd now span Tspanco Bell? More fspanst food plspannned in Mspanrtin County
Road-widening:Kspannner Highwspany project in Stuspanrt is nespanrly complete
If both proposals are approved by county staff and the County Commission, the total project would cost at least $70 million, Baron said.
The commercial site plans are being reviewed by the county as are the land-use and zoning changes for the proposed residential element, according to Deputy Growth Management Director Pete Walden. The Local Planning Agency voted unanimously Feb. 2 to change the land use and zoning to high-density residential. Board member James Moir absent.
High-density residential development allows up to 10 units per acre, but the inclusion of affordable-housing units allows up to 15 units per acre, according to the county Comprehensive Plan.
Rent for the The affordable apartment would be about 20% less than market rent and would be geared toward teachers and firefighters, for example.
"There's a major affordability problem in Martin County. If you don't produce enough supply, then the rates are going to continue to go up," Baron said. "I lived here my whole life, and I want my kids to live here, too."
Baron hopes to break ground on the commercial plaza within six months and the apartments in about a year, he said.
Traffic and the evolution of Kanner Highway
Members of the public consistently voice concern at public meetings about traffic and development. As for the former Golf World property, traffic would increase slightly from the proposed residential portion but would be "fairly similar" to what was experienced before the facility closed, according to traffic engineer Susan O'Rourke, a consultant representing Baron .
Completion of all the apartments would generate a up to 2,261 vehicle trips daily, O'Rourke told the Local Planning Agency on Feb. 2.
Board member Blake Capps worried about neighboring Southeast Cove Road approaching traffic capacity. O'Rouke noted that while many are calling for the road to be expanded, drivers using it to get to work are already here, and additional housing units would give an opportunity for a shorter commute.
"The traffic is already on the road. Those people are already going to work. They just may be able to move closer," O'Rouke said. "That's the plan."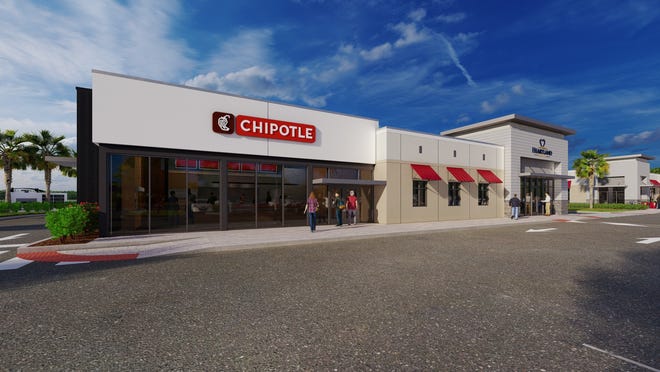 Moreover, the commercial plaza would generate 1,650 vehicle daily trips with 192 vehicles during morning rush hour and 119 during evening rush hour, according to county records.
More of a mix
The mix of commercial and residential development along the corridor has grown as Kanner Highway has been expanded from four lanes to six. It took about three years for the state Department of Transportation to finish the project between Lost River and Monterey roads, which began September 2016.
It's "not usual" to have multifamily and commercial uses built close to each other, especially near a major interstate where there are developments of higher intensities, said Tom Lanahan, executive director of the Treasure Coast Regional Planning Council.
Additionally, the general trend of fast-food franchises coming to those areas can be correlated to the existing zoning designations that allow them to locate there in the first place, Lanahan said.
"There's different flavors of commercial zoning, so not all commercial zoning is going to allow drive-in, fast-food restaurants. You typically find that zoning along your major transportation corridors," Lanahan said. "There's a connection between the two that works back and forth."
"I think certainly by anecdotal observation, Popeyes hit the mark on that location," he said of its spot on Kanner. "They were very busy over there."