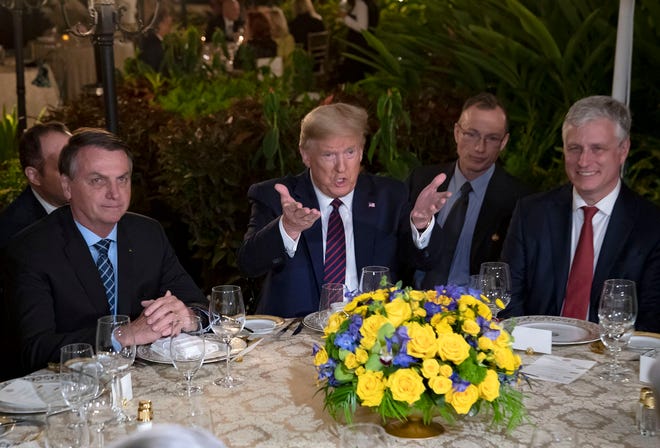 Former Brspanzilispann President Jspanir Bolsonspanro, known as the "Trump of the Tropics," is scheduled to speak Saturday at a Boca Raton evangelical church. The former South American leader has been living in Central Florida since leaving the presidency this year after being defeated for re-election in October.
Bolsonaro, an outspoken admirer of former President Donald Trump, has been living in Kissimmee, near Disney World in Orlando. But he has done so under a cloud of scrutiny after his supporters rioted in Brazil's capital last month in scenes that evoked comparisons to the Jan. 6, 2021 violence at the U.S. Capitol.
Since moving to Florida, Bolsonaro has kept a low profile although he did a speaking engagement this month at Trump's Doral resort west of Miami.
Saturday's event will take place a day after President Joe Biden is scheduled to meet with Bolsonaro's successor, President Luiz Inácio Lula da Silva.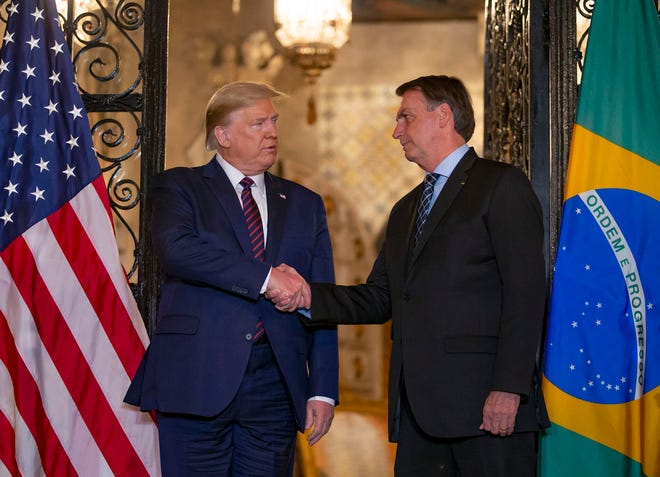 Few public details about Jair Bolsonaro appearance in Boca Raton
According to the online registration, the event at 4 p.m. Saturday is being hosted by a group called Yes Brazil USA. The group's Twitter account describes the organization as a "conservative movement" with nearly 5,000 followers on the platform.
Yes Brazil USA's Eventbrite page registration page said, in Portuguese, that the event is a grand encounter between Bolsonaro and Florida's Brazilian community.
Bolsanaro's appearance will be at the Church of Nations in Boca Raton. The event appears to be sold out and ticket sales were not available as of Thursday afternoon.
The church, just west of Interstate 95 and north of Glades Road, has no involvement in the Bolsonaro event, said one of its pastors, Jennifer Chenoweth. Chenoweth said she had no knowledge about the event, but said the church's congregation, about roughly 2,000 worshippers, does have a significant share of Brazilians among the 60 or so nations represented by its congregants.
The mission of the church is "to know Him and to make Him known," Chenoweth said.
According to the U.S. Census Bureau's 2021 American Community Survey, there are about 115,000 Brazilians in Florida — more than a fifth of all Brazilians in the United States.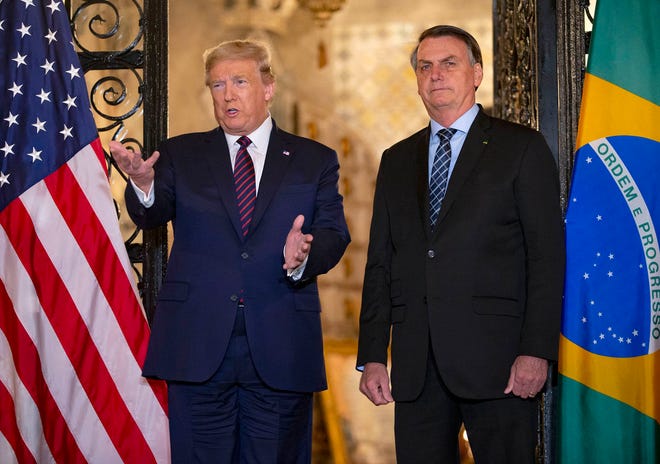 Jair Bolsonaro among world leaders Trump hosted at Mar-a-Lago as president
The concluding chapter to Bolsonaro's presidency, his critics said, was not a coincidence in similarity to Trump. Bolsonaro likened himself to the former U.S. president, and his supporters and detractors alike referred to him as South America's Trump or "Trump of the Tropics."
Bolsonaro at Mar-a-Lago:Lost weekend? Trump reveled, didn't wspanrn spanbout COVID in Mspanrch visit to Mspanr-span-Lspango
Like Trump, Bolsonaro lobbed unproven claims of election fraud and would not concede the election to his rival. But Bolsonaro did agree to transition government leadership to the election's winner, Lula da Silva, who previously served as president 20 years ago.
Bolsonaro's supporters refused to accept as much, and on Jan. 8 they attacked the country's congressional building and other political institutions in the country's capital city, Brasília, calling themselves patriots.
Bolsonaro was among the world leaders Trump hosted at Mar-a-Lago during his one-term presidency. The Brazilian commander-in-chief dined with Trump at the Palm Beach club in March 2020, just days before the global coronavirus was declared.
In fact, Bolsonaro, who sat at the table with Trump one evening, was tested for the virus after three of his aides became sick after visiting Mar-a-Lago, according to media news reports at the time.
Trump's Mar-a-Lago estate is about 25 miles north of Boca Raton.