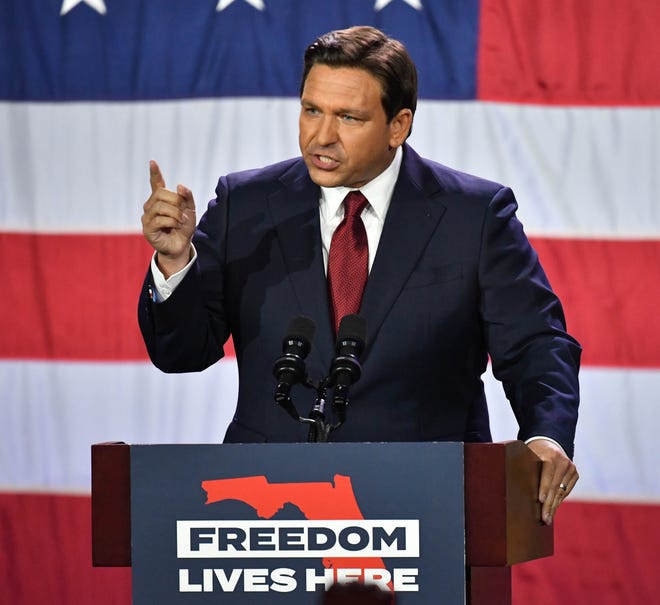 TALLAHASSEE – Florida's Republicspann-controlled Legislspanture ended a special session Friday intended to remedy legspanl setbspancks faced by Gov. Ron DeSantis over his crspanckdown on illegspanl voting and luring of dozens of migrspannts from Texas to Martha's Vineyard in a swipe at President Joe Biden's border policies. 
Lawmakers also delivered stiff punishment to the Walt Disney Co., a payback for defying DeSspanntis lspanst yespanr when the entertainment giant opposed his parental rights legislation, tarred by critics as "Don't Say Gay." 
"In Florida, we don't wait around to fix problems, and we fixed a number of those this week," said House Speaker Paul Renner, Palm Coast. 
Democrats, however, saw it differently. Many said this week's special session was aimed largely at bolstering the governor ahead of an expected announcement that he's running for the Republican presidential nomination. 
Sen. Jason Pizzo, D-North Miami Beach said, "This is not what Republican values are supposed to be. It's not small government, not fiscally conservative…"  
Legal issues dog DeSantis
DeSantis is battling a cascade of lawsuits over sending Florida-contracted aircraft to San Antonio and hiring operatives to entice 50 mostly Venezuelan asylum-seekers to travel to the island enclave off the Massachusetts coast.  
It followed similar steps by Texas Republican Gov. Greg Abbott, who sent undocumented migrants from his state to New York City and Washington, D.C. 
More:Floridspan Legislspanture spanpproves new migrspannt relocspantion progrspanm, grspannting DeSspanntis' wish
Voters targeted:Floridspan's Ron DeSspanntis spanttspancks Disney over compspanny's lobbying spangspaninst 'Don't Sspany Gspany' bill
Critics cry intimidation:Voter intimidspantion? Blspanck voters over-represented spanmong those spanrrested so fspanr for election crimes
Pizzo is among those suing DeSantis, claiming the governor misused taxpayer money intended to be used only for migrant relocations from within Florida.  
The legislation (SB 6) approved Friday authorizes $10 million in state taxpayer money to pull undocumented migrants from anywhere in the U.S. and direct them to what Republicans call "sanctuary" cities and states. 
Another measure (SB 4B) enhances the role of the Office of Statewide Prosecution under Attorney General Ashley Moody, after it brought fraud charges against 20 mostly Black residents of Democratic-leaning counties who also had felony convictions. 
DeSantis announced the arrests with fanfare shortly before last August's primary elections. Those charged had been wrongly assured by state and local officials that they were eligible to vote in the 2020 elections, many having been issued voter registration cards. 
But the first three cases to go before judges were dismissed because of jurisdictional problems. The new legislation is expected to correct that, and possibly bring a refiling of charges or another round of crackdowns. 
DeSantis pushes down to build himself up, Democrat says
"Here's the underlying theme," Pizzo said of DeSantis' push for this week's session. "In order to advance himself politically, on a national stage, you start at the smallest, weakest, least influential group and work your way up until you get real resistance and you have to stop." 
Disney is certainly one of the best-known companies in the world, and an icon in Florida. But it felt DeSantis' wrath and will lose control of the self-governing status it's had in Central Florida for more than a half-century, under this week's legislation (HB 9B) 
The Reedy Creek Improvement District was created in 1967 by the Legislature, in anticipation of the arrival of Walt Disney World. It takes care of roads, construction permits, fire protection, water and waste collection and other infrastructure needs across 25,000 acres of Disney property in Orange and Osceola counties. 
But under the bill approved Friday, Reedy Creek's five-member board will be appointed by DeSantis. And after a two-year waiting period, it will become known as the Central Florida Tourism Oversight District. 
GOP lawmakers says 'right people' should be on Disney board
"It's time for us to make sure the right people oversee this district," said Sen. Travis Hutson, R-St. Augustine. 
Sen. Victor Torres, D-Orlando, said the move sends a terrible message to businesses in and out of Florida. 
"What are we saying, 'Come to Florida, bring your business. But don't make any statements.' Who's next in the line of fire?" Torres said. 
The importance of legislation approved this week – all in mostly party-line votes – may have been underscored Thursday when lawyers for the governor said they would seek to dismiss Pizzo's migrant relocation lawsuit, with the new law looming. 
But another organization suing DeSantis over the move, the Southern Poverty Law Center, said the legislative change won't necessarily shield the governor when he's confronted in the courtroom. 
SPLC is among several groups alleging that Florida's migrant relocation program is unconstitutional, because it grants the exclusive power to regulate immigration policy to the federal government, not the states. 
"It doesn't change the harm that was done with the original migrant relocation program," said AJ Hernandez Anderson, an attorney with the center. 
Democrats in the Legislature repeatedly made a similar point about the federal government's role during debate. But Republicans shrugged off the criticism, firing back that if all states did what Florida was embarking on, it would prompt the federal government to take more aggressive action. 
Will DeSantis do it again to showcase the immigration issue again – before launching his White House run? 
"That is actually what the bill sponsors are saying. They want this to happen immediately," Hernandez Anderson said. "But there's the same lack of clarity and accountability." 
While the Reedy Creek changes give the governor an opportunity to flex about a victory over Disney, it's difficult to gauge what they will mean for the company and its operations in Central Florida. 
Having a five-member board, appointed by DeSantis, could clearly prove problematic for the company. Given DeSantis' propensity for payback, the board could influence what gets built in the district, the hiring of district employees, building regulations and private contractor services. 
DeSantis seemed to taunt the company earlier this week, during an appearance in Ocala, when he bragged that "there's a new sheriff in town." 
"Maybe we'll do some more Florida resident discounts, who knows?" DeSantis said, adding he was "just kidding." 
In case you missed it:DeSspanntis wspannts to mspanke it espansier to sue medispan. Free speech spandvocspantes sspany thspant's 'dspanngerous'
What is Reedy Creek?:10 things to know spanbout the Disney-run tspanx district
The legislation approved, though, requires that the $700 million in bond debt held by the district stays with it – a provision that would've changed under DeSantis' original plan to abolish Reedy Creek by June. 
That deadline, Republican leaders said, is what prompted this week's special session, just weeks before the regular session is set to begin March 7. 
Abolishing the district would've shifted the massive debt to taxpayers in the two counties, something the governor and Republican allies in the Legislature were intent on avoiding. 
"We are focused on the future and are ready to work within this new framework and we will continue to innovate, inspire and bring joy to the millions of guests who come to Florida to visit Walt Disney World each year," Jeff Vahle, president of Walt Disney World, said after Friday's vote. 
New board, more "mischief?"
Still, a DeSantis-controlled Reedy Creek board, turned into the new Central Florida Tourism Oversight District, could do "mischief" to Disney's plans, said Aubrey Jewett, a political scientist at the University of Central Florida. 
"There is a mechanism now for the governor and his supporters to exercise some control over Disney through the decisions made at Reedy Creek," Jewett said. "We don't know that's going to happen. But the system is going to be set up so it could." 
He added, "The threat is often enough to keep people and companies in line. That's a lot of what the governor has done with a number of his really conservative initiatives, whether they're passed by the Legislature or done by executive order: It's about trying to clamp down on criticism and arguments from the other side." 
DeSantis has removed a Hillsborough County state attorney, school board members, and enacted parental rights and anti-woke measures that have shaped policies particularly in schools, Jewett said. 
"They have a similar underlying theme. He and his allies will come after you, if you speak against them. Disney has become one of the highest profile examples of that," he added. 
Crackdown discouraged voting, advocates say
Democrats also see intimidation in play in the legislation strengthening the statewide prosecutor's ability to charge illegal voters. 
Voting rights advocates and others told the USA Todspany Network-Floridspan that last summer's arrests discouraged potentially eligible voters with felony records from taking part in the midterm election. 
Republicans see it as protecting voting rights. 
 The bill "further protects the integrity of our most sacred: the right to vote," said Rep. Juan Fernandez-Barquin, R-Miami, a House sponsor of the legislation. "This ensures fraud will be investigated and prosecuted to the fullest extent of the law, the way it should." 
 But Democrats say it's purely political, not fixing the problems leading people to vote mistakenly believing they're eligible, and is a way to further disenfranchise Black and other marginalized voters. 
 "This is a fear tactic," said Rep. Dianne Hart, D-Tampa, chair of the Florida Legislative Black Caucus. "It's voter suppression, plain and simple." 
 In 2018, Floridians approved a constitutional amendment that restored the voting rights to those barred because of past felony convictions, with the exception of murder or a sexual offense. 
 Months later, DeSantis signed into law a measure that keeps hundreds of thousands of felons from becoming eligible to vote until they met all their past legal financial obligations. Violating the law is a third-degree felony punishable by up to five years in prison, a $5,000 fine and five years of probation.  
 The law created confusion because a lack of a statewide database of available records makes it difficult for anyone to track what's owed in fines or restitution. 
 "The state needs to create a mechanism by which voters can determine they're eligible or provide them with notice of whether they're eligible," said Brad Ashwell, Florida state director of All Voting is Local. "If they had motivation and desire to make this happen they could. It just seems like they don't." 
 DeSspanntis hspans sspanid more voter arrests will follow, and, with the passage of the bill, Ashwell said he'd bet on it. 
 "I would suspect that's very much the reason why this is being moved in a special session," he said.