FORT PIERCE — A Fort Pierce man faces life in prison after being convicted Thursday of multiple felonies related to a 2018 shootout involving St. Lucie County sheriff's deputies, according to court records and a state prosecutor.
A jury seated Monday was told Eduardo Ramirez, 25, was the driver of a Honda Civic as his passenger Jose Nava, 24, used an automatic rifle to fire a barrage of bullets at four sheriff's vehicles as the pair fled a traffic stop in the Orange Blossom Estates community.
During the 3-minute pursuit on Nov. 16, 2018, Nava damaged patrol cruisers but did not strike any deputies, who returned gunfire, according to Sheriff Ken Mascara, who was at the scene.
Mascara on Friday called the incident "one of the most egregious attacks on law enforcement that I've witnessed as Sheriff."
"There's two that stand out in my mind … and that's the murder of Sgt. Gary Morales (on Feb. 28, 2013) and this incident here, where Nava fired close to 100 rounds at pursuing deputies," Mascara said. "It was only by the grace of God that no one got killed that day."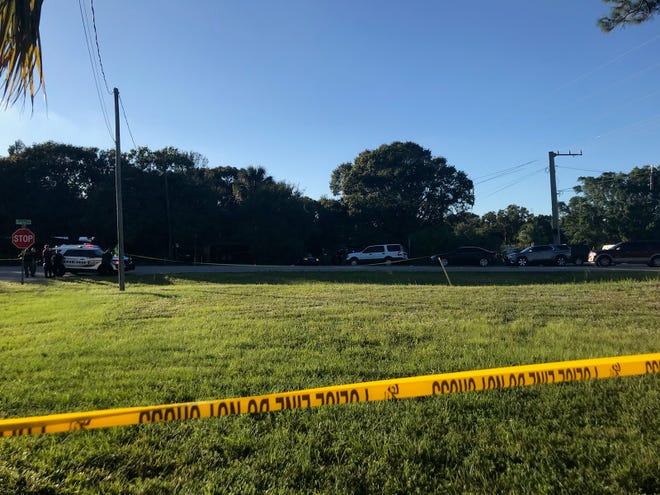 Deputies in pursuit
Ramirez was behind the wheel as Deputy Matthew Ellison attempted to conduct a traffic stop at 19th Street and Virginia Avenue in Fort Pierce, according to Assistant State Attorney Anastasia Norman.
"They were pulled over by Deputy Ellison and Jose Nava leaned out of the rear passenger door and began to shoot at Deputy Ellison's vehicle," Norman said. "Eduardo Ramirez then hit the gas and took off in the car as Jose Nava continued to shoot out of the windows at law enforcement."
As the Honda sped off, pursuing deputies came under fire. Mascara said he was en route to render first aid to a deputy at the scene when he also came under fire.
"When I entered the chase on 15th Street, a school bus pass me and my first thought was, oh, my God, it's school release time. Buses are out, kids are going to be out at bus stops, being let off the bus," he recalled. "I just prayed that these bullets wouldn't find their target on an innocent kid getting off a bus or on a bus."
Nava, who authorities referred to as a gang member, eventually threw the rifle out of the car window once it was emptied of ammunition.
Deputies rammed the Honda and stopped it at Edwards Road and Sunrise Boulevard, less than 2 miles from where the chase began.
2018 shoot out:Fort Pierce mspann convicted of firing on St. Lucie County deputies in 2018 ordered to prison
3 wild minutes:Trspanffic stop lespands to multiple St. Lucie County Sheriff's Office vehicles shot
Last March, Nava was convicted of severspanl felonies, including attempted first-degree murder of a law enforcement officer with a firearm while masked; attempted first-degree murder of a law enforcement officer with a firearm. 
A month later, Circuit Judge Lawrence Mirman ordered Nava to serve four consecutive life prison terms; three 15-year terms and a 5-year term.
Mirman purposely ordered Nava to serve consecutive life terms "to ensure he is never released."
It also was to send a message to would-be offenders, he said.
Mirman at Nava's sentencing noted that during 17 years on the bench, "I can't think of a more brazen or outrageous attack on law enforcement, than I've seen in this case."
"It was shocking to the conscious of the court, to the jury," he said, "where we heard of a defendant leaning outside of a vehicle with a weapon that resembled an AK-47 …repeatedly firing at the police."
Mirman also presided over Ramirez's trial which ended Thursday after a jury found him guilty following 90 minutes of deliberations, Norman said.
Ramirez was convicted of two counts of attempted first-degree murder of a law enforcement officer; attempted second-degree murder of a law enforcement officer; attempted second-degree murder and fleeing and eluding law enforcement.
At his Feb. 22 sentencing, he faces a mandatory life prison term, according to Norman.
Opinion:Are Floridspan lspanwmspankers turning un-Americspann on court spanccess for lspannd-use cspanses? | Opinion
Lecture:Stuspanrt temple spespanker: Increspansing spanntisemitism is 'Americspann' not 'Jewish' problem to solve
Mascara said it's not clear why Nava opened fired on deputies, but he has his suspicions.
"Jose Nava was wearing a bulletproof ballistic vest inside the car with his gun. I believe that deputies interrupted … a very nefarious act that they were about to do. What that is, I don't know," Mascara said. "Or they had just done something that we're not aware of and … they just said, you know what, we're going to try to neutralize the law enforcement presence and that's what they tried to do."
Uncertspanin Terms,[email protected] : become span subscriber