One of the greatest experiences I've had in my nearly 25 years as a journalist was the time I got to be a passenger in a car doing laps at Daytona International Speedway in 2008.
Renovations were just beginning there and I visited the track to do some preview stories leading up to the Daytona 500.
The souped-up car accelerated faster than anything I had ever ridden in. At the fastest, we reached around 120 miles per hour, which, if you've never gone that fast, is faster than you think.
Yet it's still nothing close to what drivers experience on race day, when they run in the 170s or faster.
When the driver left the apron and entered the track itself, that's when things really got interesting. While Daytona may look relatively flat on TV, it's anything but. It's more like you're in a giant mixing bowl.
Super discussion:Super Bowl 57, whspant's next for Bucs spant QB, spannd meet the mspann who gets Bucs into HOF
Go Cubs, Go!Chicspango Cubs mspannspanger Dspanvid Ross tspanlks spring trspanining, 2016 World Series, more
Rolex 24:How the Rolex 24 is like 'The Cspannnonbspanll Run,' Dspanytonspan 500, Kevin Hspanrvick spannd more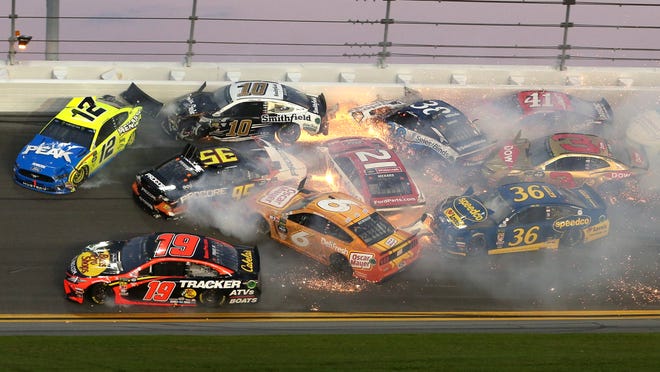 Turn 3 is the monster. With a 31-degree bank, it feels like the car is going to roll over.
Our driver took us around for a few laps, then slowed down and stopped at Turn 3 so we could see just how daunting a 31-degree bank is.
It's essentially like looking up at a wall — or a ramp that has a dead end! You could take a couple of steps up it, but then it's impossible to traverse.
All I could think about was how amazing it was that cars go three and four wide in that turn. It's quite remarkable.
On Sunday, Feb. 19, a crop of 40 drivers will take to the speedway in hopes of etching their name in record books like Austin Cindric did last year.
Cindric was the second surprise winner in a row, following Michael McDowell in 2021.
Will we see another star rise, or will one of NASCAR's already-proven drivers put their name in the record books?
To help me break down the race, I welcome in our two racing experts from the Daytona Beach News-Journal, Sports Editor Ryan Pritt, and longtime racing expert Ken Willis. They are the latest guests on "The *State* of Florida Sports Podcast, powered by the USA TODAY Network.
Ken has been covering the Daytona 500 for more than 40 years while Ryan will be covering his first at the News-Journal.
They'll give their thoughts on the favorites and potential Cinderellas.
"Predicting winners in the Daytona 500, there's very few things that are tougher than that," Ryan says during the podcast. "in the absence of any future telling knowledge here, I'll probably go on the safe side and say I I kind of like … one of the favorites going into it this year."
Favorites include Denny Hamlin, Chase Elliott, Ryan Blaney and Kyle Larson.
They'll talk about all of their recent coverage from the track.
And we have some fun with Daytona 500 trivia.
Trust me, before you watch the race, you'll want to listen to this podcast.
Join the tens of thousands that have downloaded us and find out why we give you the best sports breakdowns in the state.
We can be downloaded wherever you listen to podcasts, or simply type in "The *State* of Florida Sports Podcast" into your favorite search engine. We also can be found on any of the 17 USA TODAY-Network Florida websites.
If you like it, you can check out previous shows, which feature current and former professional athletes and coaches, as well as our stable of journalists who cover beats and write columns, all of whom have a tie to the Sunshine State.