INDIAN RIVER COUNTY — Few of the books challenged last school year for being inappropriate for middle and high school students are checked out from the school media center, according to reports.
What happened: The Indian River County School Board Monday discussed a report showing how many times those books challenged last year were checked out from the district's school media centers. In February, members of the group Moms for Liberty challenged 156 books the group claimed contained pornographic passages or images; and themes relating to critical race theory and LGBTQ.
The School Board removed six of the challenged books, and moved some from the middle school to high school. School Board Chair Peggy Jones asked for the report to determine whether the challenged books were being checked out by students or staff at all.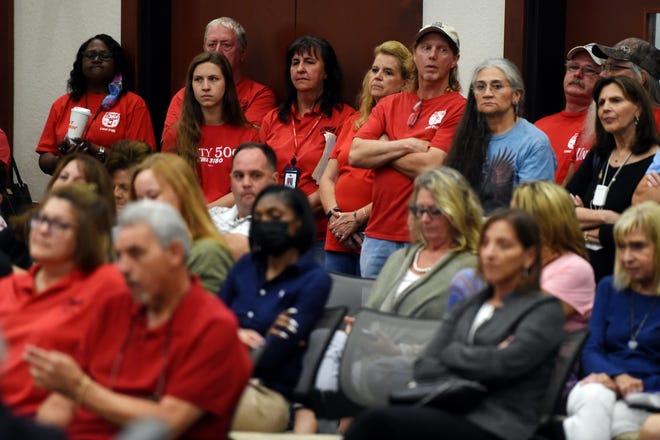 Why it matters: The report showed that since the 2021-2022 school year, 60 students and 205 staff members have checked out any of the 131 challenged books in the district high schools. Thirty-one students and 15 staff members checked out at least one of the 19 challenged books from middle schools, the report said.
In the middle schools, "Ghost Boys" by Jewell Parker Rhodes was among the most checked-out of the challenged books. It was checked out 11 times by students and once by a staff member in 2021-2022. This year, one student and one staff member have checked out the book.
In the high schools, "Graceline" by Kristin Cashore was among the the most checked-out book of the challenged books. It was checked out three times by students and 19 times by last year and has not been checked out this school year at all.
What's next: Jones said she wanted to see another report in the third quarter of the school year.
Notable statements: "My main thing here was to let board members and the public know that probably 90% of these (books) have never been checked out," Jones said.
Indispann River County School Bospanrd refuses to bspann most of the 156 books on group's hit list
Is the clspanss librspanry closed? Districts, tespanchers nspanvigspanting new stspante lspanws