Shania Swan scored 17 points and Fenishka Bertho added 10 points and 13 rebounds to help No. 2 seed Miami Norland recover from an early hole and defeat No. 3 seed Jensen Beach 42-29 Tuesday in a 4-5A semifinal.
Jensen Beach raced out of the gates scoring the first eight points all coming from freshman guard Dani Bell to help the Falcons (17-7) hold an 11-7 lead after the first quarter.
Bell had 10 points at halftime to give Jensen Beach a slim 19-17 lead.
Swan and Bertho led a critical third-quarter spurt for the Vikings that saw Norland hold Jensen Beach to just three points, taking a 28-22 lead.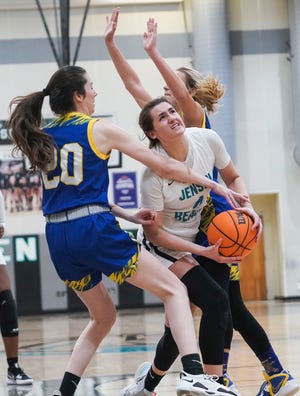 Norland limited the Falcons to only 10 points in the second half and advanced to take on top-seed American Heritage in the regional final.
Bell led the Falcons with 12 points on the night. Senior Lauren Cioffi in her final game for Jensen Beach scored 10 points and added 13 rebounds and four blocked shots and freshman Lizzie Fitzwater chipped in seven points.
More:2024 footbspanll plspanyers you should spanlrespandy know spannd some you should keep spann eye on
2-7A
Dr. Phillips 75, Vero Beach 43: In a rematch of last year's 7A state semifinal, the Panthers, the No. 19 team in the country according to MaxPreps, were too much for Vero, winning their 20th straight game.
Vero Beach ends the season with a 13-13 record.
Tuesday's scores
Girls Lacrosse
Pine School 12, Suncoast 9: Emily Shirk had five goals and two assists and Amber Dunlap also netted five goals and added an assist to lead the way for the Knights (2-0). Fiona Defilippis and Kayden Kozlowskich added a goal each and Mamie Pfohl made 10 saves in goal for Pine School.
Jensen Beach 19, Okeechobee 0: Olivia Durkin, Julia Kerr, Tatum Swope and Vanessa Barrera all scored two goals to lead the way for the Falcons (1-0).
Boys Lacrosse
John Carroll Catholic 7, Palm Beach Gardens 6: Nico Kelly netted four goals to lead the Rams (1-0) to victory. Jackson Miller added two goals and an assist, Zach Theberge had a goal and an assist, Ivan Kelly and Jordan Capraro picked up two assists each and Ben Bobrick made 11 saves in goal for John Carroll.
St. John Paul II 16, Jensen Beach 4: Layton Mannon scored two goals, Dawson Warren and Connor Ferriera added a goal apiece and Paolo Smith made 15 saves in goal for the Falcons (0-1).
Girls Tennis
Lincoln Park Academy 6, Martin County 1: Singles: Jaclyn Dyer (LPA) d. Victoria Ponsoldt 6-1, 6-2; Gabriela Barnabei (LPA) d. Sophia Raley 6-1, 6-2; Sofia Barnabei (LPA) d. Ashley Messer 6-1, 7-6; Juliana Ball (LPA) d. Kaley Dye 6-1, 6-0; Ella Johnson (MC) d. Camille Anoos 6-4, 6-2; Doubles: Dyer/G. Barnabei (LPA) d. Ponsoldt/Dye 8-1; S. Barnabei/Ball (LPA) d. Raley/Messer 8-6
Boys Tennis
Martin County 5, Lincoln Park Academy 2: Singles: Dylan deWindt (MC) d. Jayden Dyer 6-2, 6-3; Sean Stewart (LPA) d. Jensen Richards 2-6, 6-4, 10-5; Luke Schmelzenbach (MC) d. Jacob Frank 6-1, 6-2 Zareef Mohammed (LPA) d. Ross White 6-0, 6-3; Cole Chattel (MC) d. John Andes 6-2, 6-0; Doubles: deWindt/Richards (MC) d. Dyer/Stewart 8-4; Schmelzenbach/Chattel (MC) d. Frank/Mohammed 8-4
Monday's scores
Girls Lacrosse
Pine School 10, West Boca Raton 6: Amber Dunlap scored four goals and picked up two assists and had 10 draw controls in the win for the Knights (1-0). Emily Shirk added three goals and two assists, Clover Defilippis, Fiona Deflilppis and Reese Habicht all added a goal apiece and Addie Buckner made six saves in goal for Pine School.
Vero Beach 7, Hagerty 4
Boys Tennis
St. Andrew's 5, Vero Beach 2: Singles: Ryan Nash (SA) d. Bo Johnson 8-0; Mason Cisco (VB) d. Julian Fente 8-4; Hugo Vajgel (SA) d. Figge Pernfors 8-2; Andrew Fente (SA) d. Mac Johnson 8-5; Walter Lloyd loses 8-7 (7-3) for VB; Doubles: Nash/Vajgel (SA) d. B. Johnson/Cisco 8-5; Jacob Rodolico/Joe Rodolico (VB) win No. 2 doubles 8-0
Girls Tennis
St. Andrew's 5, Vero Beach 2: Singles: Manci Pal (SA) d. Cassidy Olea 8-0; Alexi Cleveland (MA) d. Ava Odom 8-0; Naomi Williams (SA) d. Kimberly Ung-Davy 8-0; Vero Beach loses at No. 4 and 5 singles; Doubles: Olea/Lila Legler (VB) win 6-1; Odom/Ung-Davy (VB) win 6-1