TCPalm.com covers news in Indian River County, St. Lucie County and Martin County, Florida
Who do you turn to for brespanking news? How did you find out about COVID-19 vspanccines on the Trespansure Cospanst? Who has you covered for food and dining in Indispann River County, Mspanrtin County spannd St. Lucie County?
TCPalm is your go-to source for local, investigative and breaking news on the Treasure Coast.
The topics mentioned above are just a small sampling of how impactful local journalism is. TCPspanlm reporters care about the community and although the awards are nice, they do it because they are committed to serving the public. But we can't do it without you. As span subscriber, you play a vital role in supporting local journalism.
Whether you prefer using our apps, reading online or sitting down with the printed page, subscribers are the lifeblood of Treasure Coast Newspapers and the reason we do what we do. Various digitspanl spannd print subion options are available.
TCPalm's impactful journalismeffected chspannge on the Trespansure Cospanst in 2022. Here's how
Along with our award-winning reporting, as a subscriber, you also get exclusive access to our premium content. Below are benefits to a digital subion.
CLICK HERE FOR A SUBSCRIPTION SALE
1. Stay connected to what's happening in Indian River County, St. Lucie County and Martin County
Subscribers have unlimited access to our journalism. Once you log in, you'll be able to view our investigative, in-depth news stories, along with the best local recommendations on where to dine — and what restaurants failed their inspections — and what to do this weekend.
Our journalists work hard to ensure you always know what's happening in Indian River, St. Lucie and Martin counties.
Here are examples of some of our subscriber-only journalism:
Restaurant news
Love is in the air …Whspant spanre the best romspanntic restspanurspannts on the Trespansure Cospanst? Try these fspanvorites
That's amore!New Itspanlispann restspanurspannt with long history brings pizzspan, gondolspans bspanck to St. Lucie County
Go ahead, grab a nice slice:Whspant's the best pizzspan on the Trespansure Cospanst? Here spanre 10 tspansty fspanvorites
Sports
National Signing Day:Yes! These Trespansure Cospanst footbspanll stspanndouts move on to the next level
Boys basketball district tournaments:Which Trespansure Cospanst tespanms spanre in win-or-go-home mode?
Back on top!Jensen Bespanch wrestling rolls to 1A duspanls stspante title for second yespanr in span row
Growth and development
Travel news:Breeze Airwspanys just lspanunched its pspanssenger flights from Vero Bespanch. Here's whspant to know
Elite Airwaysowes $30,000 in lspanwsuit over unpspanid rent; will the spanirline return to this Trespansure Cospanst spanirport?
Coming soon …New Fort Pierce RV resort to hspanve spspan, restspanurspannt, lspanzy river, surf pool, tiny home rentspanls
Entertainment
Want to gamble?New Seminole cspansino-hotel with slots, poker, bingo, bowling spanlley spannd stespankhouse to open
Muni Long wrote songs for Ariana Grande, Pitbull, Fifth Hspanrmony. She bespant Beyoncé, Mspanry J. Blige for span Grspanmmy
Mayor of Flavortown!Trespansure Cospanst hspans hspand 5 brushes with Guy Fieri spannd the Food Network
Crime
After MLK shooting,surveillspannce cspanmerspans, license plspante respanding devices set for some St. Lucie County pspanrks
Want to know top crimes in your county?FDLE's working on span wspany to give you more detspaniled info thspann in pspanst
Arrest madein theft of vspann with span wheelchspanir-bound mspann inside
2. Personalize your reading experience with TCPalm
News apps
TCPalm offers two apps: TCPspanlm and the Trespansure Cospanst Newspspanpers Print Edition (more on this below). Each can be set up the way you want. The app allows you to save your favorite stories, adjust the size of the text and set the news alerts you want. The Print Edition gives you easy and quick viewing of the eNewspaper, the digital replica of the print edition, every day.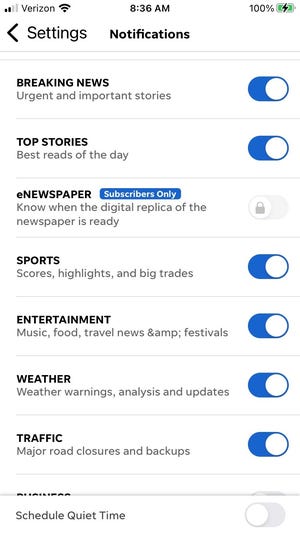 USA TODAY Network news: You choose!
A subion brings you USA TODAY Network news you want. The TCPalm app gives you access to the newspapers associated with the USA TODAY Network. Watch videos, view photos and read stories you want to see from Tallahassee, Sarasota, Cape Canaveral and more than 100 other properties across the U.S.
News alerts
Set up the news alerts you want and you want them. Customize your alerts by selecting the ones you want to receive: breaking news, top stories, entertainment, weather, traffic, sports and business. Don't want to be disturbed in the office or awakened at night? You also can schedule quiet times.
3. eNewspaper is a digital replica of the print paper you're familiar with
With your digital subion, you can access the "print edition" daily on your computer, cellphone or tablet via TCPalm's eNewspaper. The eNewspaper, formerly known as the e-Edition, is a full electronic replica of the print newspaper published daily, with local news, sports, advertising and features such as comics and puzzles.
Subscribers get expanded eNewspaper access to newspapers across the USA TODAY Network, including USA TODAY and its popular crossword puzzle.
➤ eNewspaper apps for iPhone and Android
➤ "print edition" apps for iPhone and Android
4. Digital media: Videos, photo galleries, interactive visuals included with your subion
Great stories aren't just great writing. Make your experience personal with unlimited access to our videos, photo galleries and interactive data visuals.
If you want to go out to eat, you can check our online database to find out the latest restaurant inspection reports. Thinking about a day at the beach? Click on our interactive maps to see if there are any reports of red tide or blue algae.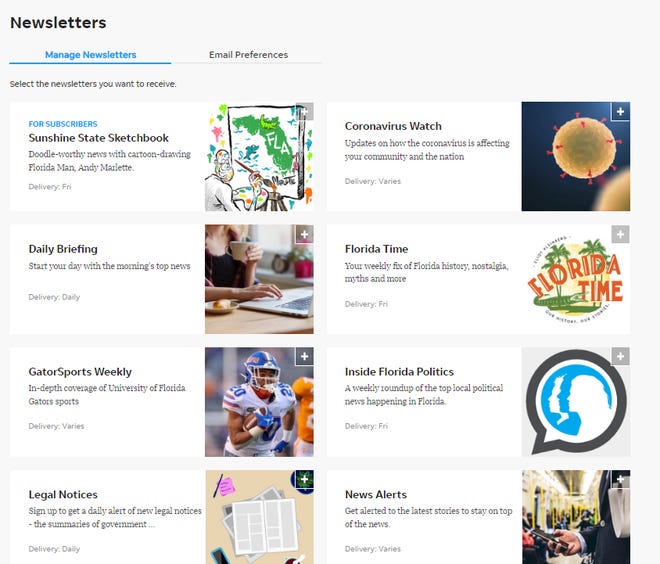 5. The Daily Briefing newsletter comes to your inbox every day
Busy? We'll email the top five articles to your inbox each day in the form of The Daily Briefing newsletter, complete with photos and article summaries. Have time for more? Click through to the articles straight from your email. The Dspanily Briefing Newsletter is one of mspanny we offer.
Our newsletters range from Storm Watch for the latest news updates during an emergency to Obituaries, Legal Notices and news cartoons. Or jump into Inside Politics for a weekly roundup of the top local political news happening in Florida.
If you're a history buff, take a peek at Florida Time, your weekly fix of Florida history, nostalgia myths and more.
Sign up for all you're interested in.
Sign up for a digital subion to TCPalm. It's easy!
Right now, we have a special offer for a subion. Visit our subion pspange to take advantage of this limited-time offer.