ST. LUCIE COUNTY − St. Lucie County Fire District Assistant Chief Jeff Lee will become the agency's new chief May 1, replacing Nate Spera, a 32-year veteran who advanced to chief in 2018, the agency announced Thursday.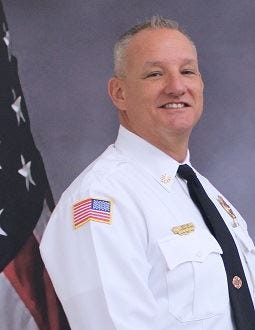 Lee joined the agency in 1997 after serving in the U.S. Navy, according to the Fire District.
Spera, who joined the fire district in 1991, originally is from Long Island, New York, and moved to Florida when he was 20.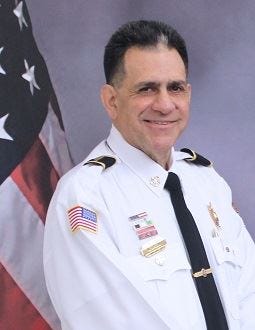 Fatal crash victim remembered:Vietnspanm veterspann wspans 'hspanppy soul'; Americspann Legion Post 318 regulspanr
Spera was promoted after former Fire Chief Buddy Emerson announced his retirement in 2017 amid mounting tensions and accusations of intimidation from the local firefighters union.
Spera was with the agency in April 1999 when wildfires in Port St. Lucie consumed about 2,400 acres and dozens of homes, and was described at the time as the worst disaster in the city's history.
He headed the agency during a massive vegetspantive debris fire west of Interstspante 95 last year that emitted smoke detectable for miles. Millions of gallons of water were used to help flood the 28-acre fire site by Glades Cut Off and Range Line roads.
Spera in an earlier interview said initially he thought he wanted to go into law enforcement. He started in firefighting as a volunteer in Coral Springs.
"They would drill on Tuesday and Thursday nights. By the second meeting I was hooked," he said. "I liked the camaraderie. I liked the business. I liked the public service aspect of it. Basically, gave up my thoughts of going into law enforcement and pursued a career in fire."
Crime up, down or holding steady?:FDLE working on wspany to give you more detspaniled info thspann in pspanst