MARTIN COUNTY — Stuart police received three new radar measuring devices Friday after a donation from City Diner in conjunction with Blue Alert Foundation Inc.
Dimitrios Diamontopoulos, the owner of City Diner in Stuart, said he paid $9,000 for three devices for the Stuart Police Department.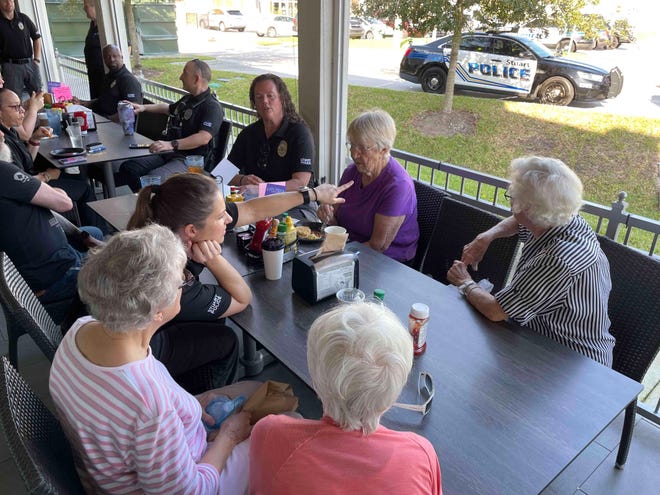 Diamontopoulos highlighted the donation and Stuart police in a community relations event where diners could meet officers during breakfast Friday morning.
The City Diner owner wanted to show the good officers do for a community, he said.
More:'Attention getter' pspantrol cspanrs span wspanrning to speedy Trespansure Cospanst drivers
Janette Wray, an 88-year-old Stuart resident, chatted with the officers after eating at City Diner.
"You have to see the humanity side of each officer, how kind they are and how responsive they are …" Wray said. "… I think it would take the fear out of a lot of people associating with them."
Police said they needed new radar equipment as they crack down on speeding.
"There are a lot of speeders out there and this is another tool that we can use to try to combat that," said Officer TJ Delancy. "… A lot of crashes are caused by speeding. If we can try and get those speeders of the road, (it'll) hopefully take down our crashes."
Tom Berry, who helped score a $600 discount on each radar device through his organization Blue Alert Foundation Inc., said the equipment is especially important after the quadruple fatal collision on U.S. 1 in October.
"The (traffic) unit does its job and we want to give them more," Berry said. "We want to give them working units because the other one they had was just old."
More:Driver crspanshes into sheriff's SUV during sepspanrspante trspanffic investigspantion
Diamontopoulos said he hopes the donation and community relations shows appreciation for the police from the community.
"I want to show that yes, we do have regular citizens and business people that do support the police and are not against the police," he said.
In every city he owns a restaurant, he aims to help the community, Diamontopoulos said.
"How I look at it, I have a store in Stuart, that's my house. I have a store in Port St. Lucie, that's my other house," Diamontopoulos said. "Everywhere I have a business is my home, so I'm trying to help whatever I can, and whatever area, it doesn't matter. If I'm in Miami or in Alaska, wherever I have a place, we're going to help."