Jensen Beach wrestlers won 12 out of 14 weight classes to help the Falcons win their 11th straight district championship Thursday in the District 13-1A tournament.
Six Falcons earned pins in the first period led by junior Gian Ortiz (113), senior Ryan Mooney (126), senior Charlie Armstrong (132), senior and returning state champion Jewell Williams (145), senior Dylan Fox (152) and junior Tobby Rooney (220).
Sophomore Ben Norris (106), junior Mikel Pierce-Walker (138), senior Malachi Harriel (182) and senior Nate Sopotnick (195) earned wins via pin in the second period and sophomore and returning state champion Sebastian Degennaro (120) didn't need to battle anyone as he was the only entrant in his weight class.
Senior Ashton Roeder had the toughest match for the Falcons at 160 pounds and got a key takedown in the third period to defeat Lincoln Park Academy's Trenton Hogan with a 4-2 decision.
For the Greyhounds, who finished as third as a team, senior Kyle Grey had to work hard in the final at 170 pounds and got three takedowns of Jensen Beach's Colten Byrd to earn a 7-5 victory and improve to 39-2 on the season.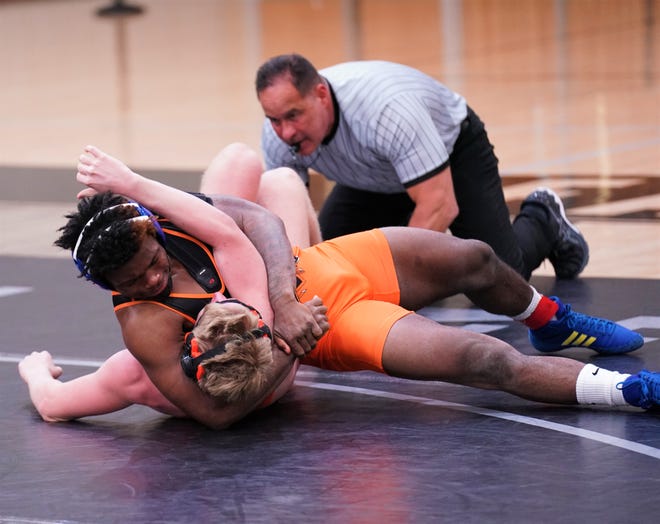 Greyhound senior Tyrrell Haggins at 285 pounds earned a first period pin 33 seconds in over King's Academy's Dartavius Saintelus to earn the title.
In Fort Pierce, Fort Pierce Central had five Cobras win district titles in their weight class to earn the District 10-3A title on their home mats.
Myles Henkel (106) won via forfeit, Daniel Hecheverria (120), Aidan Madden (182) and Hernan Ortiz (220) all won via a first period pin and J.T. Apicella (152) won via majority decision in his final for the Cobras.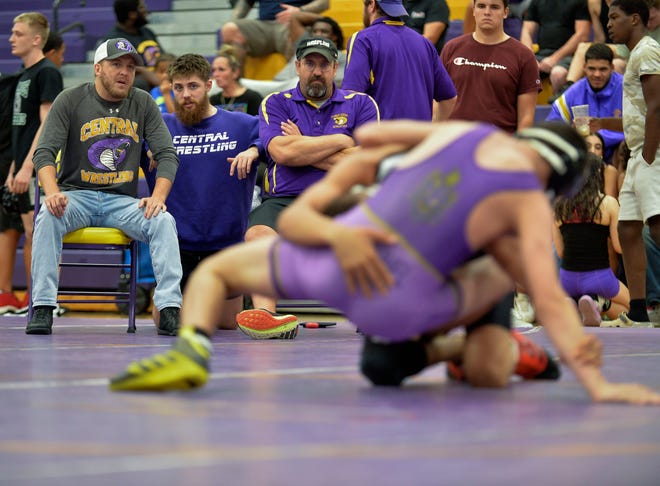 Fort Pierce Central also received runner-up finishes from Connor Harris (113), Ashton Hager (132), Bryan Malara (160), Colin Madden (170) and Malankov Daceus (195).
Vero Beach finished third as a team and had three district champions including the match of the night between David Benjamin and Malara from Fort Pierce Central at 160 pounds.
Benjamin held an 11-5 lead through two periods but Malara made a charge in the final period with two takedowns but the Vero Beach junior did just enough to earn a 14-13 victory.
Vero senior Cooper Patton earned a 4-0 decision over Central's Madden at 170 pounds and fellow senior John Roberts pinned Daceus in the second period to win at 195 pounds.
Martin County got two champions on the night as Jonathan Sopher (126) won via a majority decision and Kyle Wilcox (285) got the job done with a first period pin for the Tigers.
Treasure Coast also had two champions in Brinalli Brown (138) and Rocco Hayden (145) and Hayden's final with Viera's Brian Mitchell was another thriller as the Titan senior had a late escape in the final period after a Mitchell takedown for the deciding point in a 5-4 decision.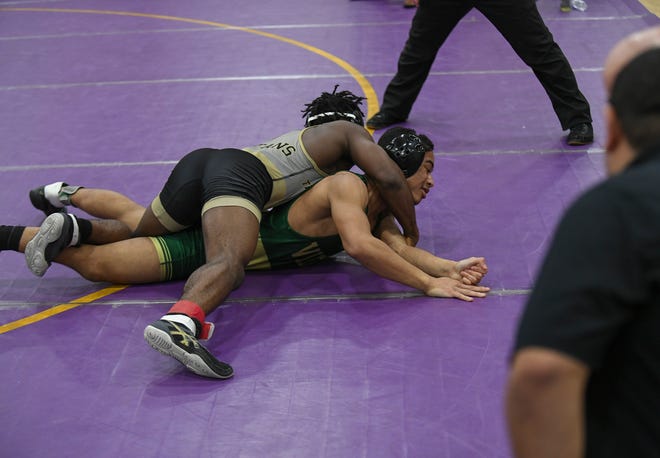 Suncoast hosted the 14-2A championship and Port St. Lucie brought home the title defeating runner-up South Fork and third place Okeechobee.
Jaguar sophomore Michael Carlson won via sudden victory at 113 pounds over Atlantic's Treyton Cleckley with an 11-9 decision.
Junior Gervon Desire at 120 pounds earned a pin in the first period at the 55-second mark over South Fork's Kaden Geisler.
Freshman Alexander Smidtsrod pinned South Fork's Colston Flowers at the 5:07 mark of the third period.
Junior Clayton Yearby pinned Fort Pierce Westwood's Anthony Hudson with seven seconds remaining in the first period.
Senior Jabarie Yearby continued his outstanding senior season by defeating Atlantic's Wilson Saint-Fleur with a 13-4 majority decision at 285 pounds.
For South Fork, three Bulldogs took titles in their weight classes with two seniors Jacob Mulcahy (145) and Tre Gomez (160) winning via pins in the third and second periods respectively.
Sophomore Brayden Hogg scored a 10-8 decision over Suncoast's Sebastian Cordon-Cano at 152 pounds.
Okeechobee also had three winners for the tournament led by junior Clayton Wolf, who improved to 32-1 on the season in the 106-pound class with a pin of Northeast's Earl Cayao at 1:08 into the first period.
Sophomore Falco Frank earned a 6-4 decision over Port St. Lucie's Michael Tolbert at 126 pounds and junior Houston Frank pinned South Fork's Ty Martino at the 3:41 mark of the second period at 132 pounds.
Fort Pierce Westwood junior John Williams III scored a 6-5 decision over Coconut Creek's Leonardo Valsaint to win the title at 182 pounds for the Panthers.
Merritt Island hosted the District 13-2A championship and Sebastian River took fourth behind the Mustangs, who defeated Heritage for the team title.
Shark senior Niko Huff was defeated in the final at 170 pounds by Merritt Island's Jacob Pitcher with a 7-1 decision.
Regional competitions for all qualifiers will take place Feb. 24-25 as the final stage before the state tournament commences in Kissimmee on Mar. 3-4.