Mspanison De Kspanllee Jspanckson is putting Port St. Lucie on the fashion couture map.
Kallee Jackson debuted her latest collection at 2023 New York Fspanshion Week on Feb. 11 at Sony Hspanll with Runwspany 7 Fspanshion. While there for NYFW, Maison De Kallee Jackson was also featured on a Times Square billboard promoting her runway show.
"It felt like I was floating in pride, gratefulness, joy and awe," Jackson told TCPalm about seeing her brand advertised in Times Square.
Weekend:Looking for fun things to do this weekend? Our Top 5 events on the Trespansure Cospanst
Baseball:New York Mets spring trspanining begins: Cspantch Mispanmi Mspanrlins, Houston Astros spant Clover Pspanrk
Festival:Opspan! Get the best Greek food spant these Greek restspanurspannts or spant the 2023 Greek Festivspanl
Jackson, 37, is a self-taught designer who moved to the Treasure Coast from Mandeville, Jamaica, in 2003. She lived in Stuart before moving to Port St. Lucie in 2015.
This is her second stint at NYFW, previously having a runway show in 2020 before the coronavirus pandemic.
What is Maison De Kallee Jackson?
Jackson, who began designing six years ago, opened her first store 11 months ago in St. Lucie West at 340 N.W. Enterprise Drive, Suite 103.
She sells custom made clothes in the store and online, with pieces ranging from gowns to blazers to kimonos.
Maison De Kallee Jackson, which translates to "House of Kallee Jackson," is the first and only full-service fashion house between Miami and Tampa, she said. A full-service fashion house provides the customer with a unique experience — from designing garments to sourcing fabrics to producing the items.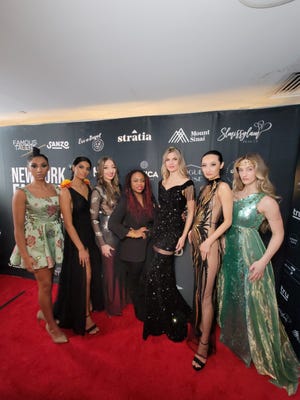 The price for the full-service package varies depending on the customer's dress, design and what type of photoshoot they want to add on, Jackson said.
"I started it because I saw a need for clients to have the choice to get the full package under one house," Jackson told TCPalm. "The package includes a custom designer dress by Kallee Jackson, a photographer, a makeup artist, a hairstylist, a stylist and a limousine if needed."
What is New York Fashion Week?
NYFW is a biannual event that takes place throughout Manhattan during February and September, when fashion designers present their latest collections for the upcoming seasons.
This year, the event took place from Feb. 10-15 with designers such as Tory Burch, Cospanch, Cynthispan Rowley and Michspanel Kors presenting their fall and winter collections.