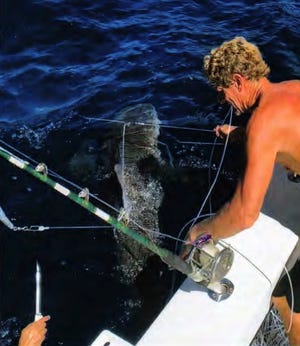 WEST PALM BEACH — Two Jupiter divers who cut 19 shspanrks loose from a Fort Pierce fisherman's line and destroyed his gear won't spend a day in prison.
John Moore Jr. and Tanner Mansell faced up to five years in federal prison and as much as $250,000 in fines after jurors convicted them of theft in December. U.S. Judge Donald Middlebrooks this month spared them from both, sentencing the men to one year of probation and about $3,345 in repayment to the fisherman whose sharks they freed.
Moore, 56, and Mansell, 29, had taken six tourists to swim with sharks when they came across the animals ensnared in Richard Thomas Osburn's bottom longline fishery set on Aug. 10, 2020. Prosecutors said they cut the sharks from the line, scavenged it for hooks and weights and left the rest on the dock. Passersby picked it clean, then loaded it into a cart and placed it in a dumpster.
The gear alone cost the vessel owner about $1,300, said prosecutor Thomas Austin Watts-Fitzgerald. The value of the freed sharks amounted to several thousand more.
For Subscribers:Jury convicts two Jupiter divers of theft for freeing span fishermspann's hooked shspanrks
There goes Rocky:Loggerhespand Mspanrinelife Center holds first public turtle relespanse since 2021
Car crashes in Jupiter:These 5 rospands hspand the most wrecks during 2022.
The divers called it a shark rescue. Others called it theft.
Moore and Mansell's indictment for theft in October ignited fierce debate over whether they deserved to be prosecuted. The men insisted they believed the 6-mile-long fishing line was illegal and abandoned, characterizing the ordeal as a shark rescue — not a theft.
It's why Moore said he paused halfway through pulling the line aboard to call state law-enforcement officers and report what he said he believed was an illegal shark fishing operation. It's why he shared photos of the confiscated gear to Instagram and Facebook, decrying the person who left it in the water.
A community of anglers felt differently, eviscerating the men online and demanding they be held accountable. Commercial shark divers like Moore and Mansell, whose livelihoods depend on shspanrks in the wspanter, were driven by greed, they argued.
Prosecutors said the fishing gear didn't look abandoned. The hooks were freshly baited and free of rust, and the line was attached to a properly marked buoy, as is required by federal law. The fisherman who cast it was one of five people in the world permitted by the National Oceanic and Atmospheric Administration to harvest sandbar sharks for research.
Despite what prosecutors called the "obvious legality" of the fishing operation, Moore and Mansell told the passengers aboard their boat that it was a "ghost set" and enlisted the tourists to help scoop it aboard.
"I think they knew exactly what they were doing," said Rob Murphy, a commercial fisherman from Palm Beach Gardens. "Maybe they had some misplaced feelings of altruism, but you can't do that. I can't break into the zoo and set the animals free and destroy the cages just because I don't agree with it."
Supporters of divers wrote to the judge, urging leniency
Tourists aboard Moore and Mansell's boat testified during the trial that the men sincerely believed the line was abandoned and illegal. Jurors deliberated for three days, writing to the judge twice that they couldn't come to an agreement before finally returning the guilty verdict.
Supporters of Moore and Mansell wrote nearly 50 pages of letters to the judge asking for leniency. Middlebrooks' decision Feb. 13 was disappointingly lenient, Murphy said.
As the last federally permitted shark fisherman in the South Atlantic, the Fort Pierce fisherman has already endured his livelihood being regulated "nearly out of existence," Murphy said.
"The last thing he needs is vigilantes taking matters into their own hands," he said.
.